University of Miami Athletics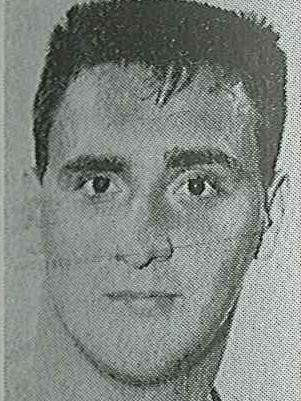 Junior: Grob started off well and had at least an even chance to wrest the first string job away from Don Patrician but an injured arm kept him out of seven on Miami's first 10 battles and allowed him only short action in the next two. Charlie once seemed on his way with back to back 11 point performances against Miami of Ohio and Oklahoma City, but he slipped up again and not until an eight point showing against FSU in the season finale did he lend much help to the team.
Sophomore: center from Roselle Park, NJ . . . Business Administration . . . nickname, Charlie . . . age 22 . . . hgt. 6-8 . . . wgt. 245 . . . letters earned, 2 . . . Starting slowly, Charley scored only two points during the first five games but improved from then on in and wound up the year with a 4.2 scoring average and 87 rebounds. His best scoring and rebounding games since joining the varsity team resulted during the 1963-64 season as he tallied 13 points against Florida Southern. His top rebounding game was against Florida Southern College.
 High School: Roselle High . . . letters earned in high school-basketball 4, football 1, track 1 . . . honors won in high school-All-Union County, All-Watchung Conference, All-State group 111, New York News All-State-high school coach-Ralph Arminio.
Personal: Grob comes from the same area which produced the fabled Hurricane All-American, Rick Barry. He's married and the father of a girl. His wife is an outstanding pianist. 
 Charles Grob
Year
GP
GS
Min
Avg
FG
FGA
Pct
3FG
3A
3Pct
FT
FTA
Pct
Off
Def
Tot
Avg
PF
FO
A
TO
B
S
Pts
Avg
 1963-64
 22
 
 
 
 34
 82
 .415
 
 
 
 24
 50
.480 
 
 
 
 
 
 
 
 
 
 
 92
 4.2
 1964-65
 16
 
 
 
 18
 46
 .391
 
 
 
 12
 23
 .522
 
 
 
 
 
 
 
 
 
 
 48
 3.0
 1965-66
 15
 
 
 
 13
 40
 .325
 
 
 
 10
 21
 .476
 
 
 
 
 
 
 
 
 
 
 36
 2.4
TOTAL
 53
 
 
 
 65
 168
 1.131
 
 
 
 46
 94
 1.478
 
 
 
 
 
 
 
 
 
 
 176
 9.6