University of Miami Athletics
Carla Girbau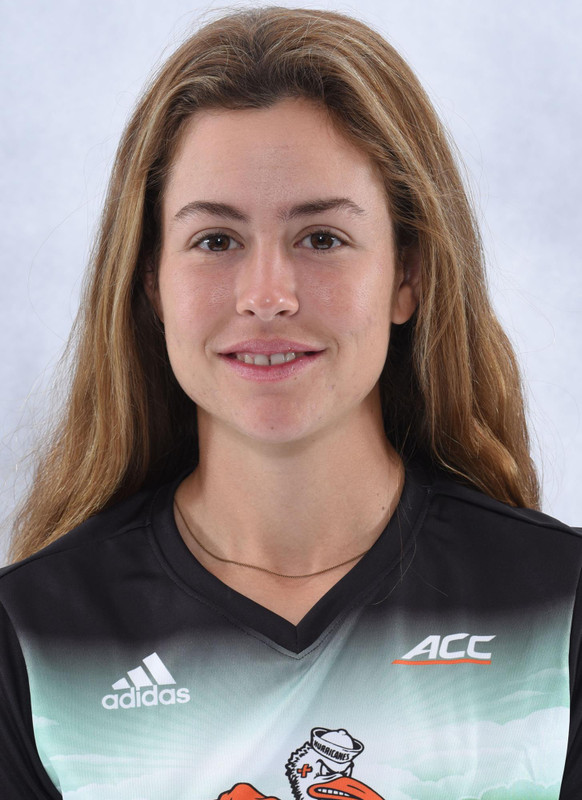 As a Freshman (2018-19): Enrolled at Miami for the spring semester … Logged an 8-5 record in singles and 1-3 ledger in doubles … Went 6-4 in dual match singles competition, including 3-1 at the No. 5 spot … Earned her first collegiate victory with a 6-4, 6-4 triumph over second-ranked Vanderbilt's Emma Kurtz in the Miami Spring Invite, beginning a five-match winning streak … In her first dual match, topped Natalie Kallmunzerova, 6-2, 6-4, at Florida Atlantic … Posted a 6-2, 6-4 decision against Arianna Capogrosso of No. 23 Tulsa in ITA Kick-Off Weekend action … Earned a 6-1, 6-2 result against Nadia Gizdova of No. 31 Georgia Tech … Went 1-1 in doubles with Lucia Marzal and 0-2 with Ana Madcur … Recorded her lone doubles triumph with a 6-2 victory against Diana Tkachenko/Brianna Tulloch of Kentucky in the Miami Spring Invite.
Prior to College: Entered Miami with a 10.40 UTR … Logged three wins over players who earned top-100 ITF Juniors rankings, including Switzerland's Simona Waltert, who peaked at ninth on the list … Defeated at least six players with an 11-plus UTR … Logged her first WTA point in January 2018 … Ascended as high as No. 45 in the Spanish national rankings … Won the 2015 Catalonia Championship and the 2014 Nike Junior Cup … Finished as the runner-up at the Spanish Doubles Championship in 2012 and made the semifinals in both 2016 and 2017 at the U12, U16 and U17 levels, respectively … Reached the Spanish Championship semifinals with her club team, Cercle Sabadelles 1856, in 2014 and 2016 … Club team qualified for the senior level championships in 2015 with a juniors-only team.
Personal: Full name is Carla Girbau … Last name is pronounced Gurr-BOWW … Nickname is Karlie … Born March 9, 2000 … Parents are Francisco Xavier Girbau Rola and Luisa Romero Montoro … Father is the CEO of a publishing company … Has a younger sister, Berta … Intends to major in entrepreneurship … Favorite athlete is Rafael Nadal because of his mentality, ambition and humility … Best sports memory is winning the Open Benjamins Gradignan Gironde in 2012 … Chose Miami because of the high-level academics and tennis, as well as the city and weather … Committed to Miami over Arizona, Auburn, Georgia Tech, Kentucky and Rice.
 SINGLES
YEAR
TOTAL
FALL
SPRING
DUAL
ACC
*RNK
2018-19
8-5
0-0
8-5
6-4
1-3
0-1
CAREER
8-5
0-0
8-5
6-4
1-3
0-1
DOUBLES
YEAR
TOTAL
FALL
SPRING
DUAL
ACC
*RNK
2018-19
1-3
0-0
1-3
0-2
0-0
0-0
CAREER
1-3
0-0
1-3
0-2
0-0
0-0
*RNK = record vs. ranked opponents