University of Miami Athletics
Carl Sundberg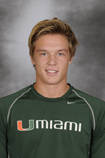 2010-11 (Senior): 
Fall: 6-5 singles, 1-5 doubles. Spring: 14-6 singles, 11-10 doubles. 
Closed his collegiate career ranked eighth in Miami history in career doubles wins with 64 and 12th in singles wins with 71… Among three Canes to compile 20-or-more singles victories this season with a 20-11 mark, including a team-best 9-2 record in ACC play… Marked his second 20-win campaign… The last Hurricane to win as many conference matches was All-American Luigi D'Agord in 2007, going a perfect 11-0 versus ACC opponents en route to his second-straight ACC Player of the Year honors… Competed at the No. 3 and 4 spots, going a perfect 4-0 at No. 3 and 10-6 at No. 4… Ranked No. 96 in the preseason singles poll… Won eight-straight matches to finish the regular season, including a straight-sets defeat of No. 19 North Carolina's 90th-ranked Joey Burkhardt (6-2,6-2) and No. 10 Duke's Fred Saba (6-3, 6-3)…Compiled a 12-15 mark in doubles, including a 9-7 record with Christian Blöcker… The duo went 7-4 in ACC play and 8-3 at No. 2… Cruised past No. 36 Virginia Tech's 52nd-ranked duo of Luka Somen and Carrado Tocci, 8-4… The duo put together three- and four-match win streaks, defeating tandems from No. 16 Georgia Tech and No. 23 Minnesota… In the fall, put together a 6-5 singles record and 1-5 mark in doubles play… Won three of four matches at the UM Invitational, defeating Florida State's Anderson Reed, 7-5,6-1, USF's Yanick Yoshizawa, 7-5, 6-3 and FAU's Ervin Garibovic, 6-1, 3-6, 13-11… Cruised past Temple's Kurt Mauro, 6-0, 6-0 at the Lakewood Ranch Clay Classic, and also defeated Eastern Kentucky's Alex Das in straight sets, 6-3 6-2… Paired with Omar Aly for lone doubles win of the fall over Arkansas' Mike Nott and Taj Harrison, 8-4, at the UM Invitational.
2009-10 (Junior):
Fall: 5-7 singles, 5-5 doubles. Spring: 9-13 singles, 10-8 doubles. 
Put together a 13-20 overall singles record, including an 8-13 mark in dual match play, competing in the No. 1 and 2 positions… Ranked as high as No. 57 in the nation… Won four matches in each spot, including a 6-4, 3-6, 6-1 win over 37th-ranked Alex Musialek of No. 9 Kentucky at the No. 2 position… Used straight sets to knock off Joshua Graves of No. 36 Northwestern at No. 1, 6-4, 6-2… Went 14-13 in doubles competition, including a 9-8 mark in the spring with four wins over ACC tandems… Pairing with Ignacio Taboada, the duo went 6-4 overall, winning four of their last five matches versus ACC competition – knocking off duos from Maryland, Boston College, No. 14 Duke and No. 51 NC State during ACC Tournament play… Entered the fall ranked No. 79 in the nation, posting a 5-7 singles record and a 5-5 doubles mark in tournament play… Advanced to the Round of 16 at the ITA Southeast Regional Championships after defeating Stetson's Maksim Levanovich, 5-7, 6-4, 7-5, and Florida Atlantic's Daniel Vardag, 6-4, 7-6, before falling to Florida's 117th-ranked Johnny Hamui in three sets… Knocked off 109th-ranked George Coupland of Mississippi State, 5-7, 6-3, 1-0, at the Gator Invitational… Posted a 3-1 mark in doubles play with David Simon and earned a pair of wins with Hector Nieto… Put together a three-match win streak with Simon.
2008-09 (Sophomore):
Fall: 3-3 singles, 3-2 doubles. Spring: 17-4 singles, 10-13 doubles. 
Compiled a 20-7 singles record and a team-best 9-1 mark in ACC play en route to All-ACC Men's Tennis Team honors… One of three Hurricanes to win 20-plus singles matches on the season… Played in the No. 3 through 5 positions, posting a perfect 6-0 mark at No. 4 and a 9-2 record at No. 5… Was nationally ranked throughout most of the season, peaking at No. 78… Went 2-0 versus ranked competition, defeating Florida State's No. 47 Clint Bowles, 6-7, 6-3, 6-2, and No. 11 Florida's 85th-ranked Johnny Hamui, 4-6, 6-3, 1-0 (10-5)… Won 16 of 18 singles matches that finished between Jan. 22 and April 10, while 13 of his 17 springs wins came in straight sets… Clinched the match for the Hurricanes in a dramatic 4-3 win at No. 10 Florida in the second round of the NCAA Tournament, defeating Antoine Benneteau, 6-7, 6-4, 6-1 at the No. 3 position in a match that lasted three hours and eight minutes… Finished the season ranked No. 69 in doubles play with Daniel Vallverdu… Overall, compiled a 14-14 doubles record, including a 7-4 mark versus ACC competition… Paired with Keith Crowley to go 7-7, including 5-3 in ACC play… Entered the fall ranked No. 1 in the nation in doubles play with Vallverdu… Went on to post a 3-3 mark in singles play and a 3-2 record in doubles competition… Went 1-1 with Vallverdu in the main draw of the All-American Championships, defeating Oklahoma State's 10th-ranked tandem of Oleksandr Nedovyesov and Nathan Byrnes, 8-6, before falling to No. 16 Clay Donato and Taylor Fogleman of North Carolina, 8-6, in the Round of 16… Won a pair of doubles matches with Hector Nieto at the Seminole Invitational before dropping their semifinal match to Auburn's Lukas Marsoun and Alexander Stamchev, 9-7.
2007-08 (Freshman):
Singles: 17-13, Doubles: 24-9
Earned his first All-America honors in doubles play alongside Daniel Vallverdu… The tandem — who was ranked as high as third in the nation — was seeded third in the NCAA Doubles Tournament and advanced to the NCAA's Round of 16 after defeating TCU's 50th-ranked duo of Kriegler Brink and Cosmin Cotet, 2-6, 6-2, 7-5… The pair picked up eight wins over ranked opponents, including victories over North Carolina's fourth-ranked Chris Kearney and Taylor Fogleman, 8-4; Maryland's eighth-ranked Andrew Orban and Boris Fetbroyt, 8-6; and NC State's No. 9 duo of Jay Weinacker and Nick Cavaday, 8-3… Played predominantly at the No. 1 position in doubles, compiling a 26-12 overall record in doubles play — tying for fourth most doubles wins in a season in program history… Put together a 25-9 record with Vallverdu, a 17-7 record in dual matches and a 6-4 mark in the ACC… Went 18-13 in singles play, including 11 wins at the No. 4 spot and a win at No. 3… Defeated Alabama's No. 97 Mathieu Thibaudeau, 6-0, 6-4, in the fall… Also earned five wins in ACC play, knocking off opponents from nationally-ranked Georgia Tech, Clemson, NC State and Wake Forest, as well as Boston College… Won a pair of matches during ACC Tournament play, defeating No. 11 North Carolina's Clay Donato, 6-3, 6-3 and No. 10 Florida State's Maciek Sykut, 6-4, 6-3.
Prep:
Ranked No. 1 in Norway in the 14s, 16s and 18s singles divisions… ITF champion of a grade 5 event in Norway… Won 13 Norwegian national championships — in singles, doubles and mixed doubles… Four runner-up finishes in ITFs… Runner-up in doubles at the 2004 European Championship… Played with Norway's Davis Cup team in 2006 and 2007… Ranked as high as 100 by the International Tennis Federation.
Personal:
The son of Morten and Lena Sundberg… Has a younger brother who also plays tennis… Off the court, enjoys golf and soccer… Graduated from Miami with a business degree in May 2011… A two-time UM Book Buster (3.0 GPA or higher) and was also named to the Athletic Director's Honor Roll in the Fall of 2010 (3.2 GPA or higher).