University of Miami Athletics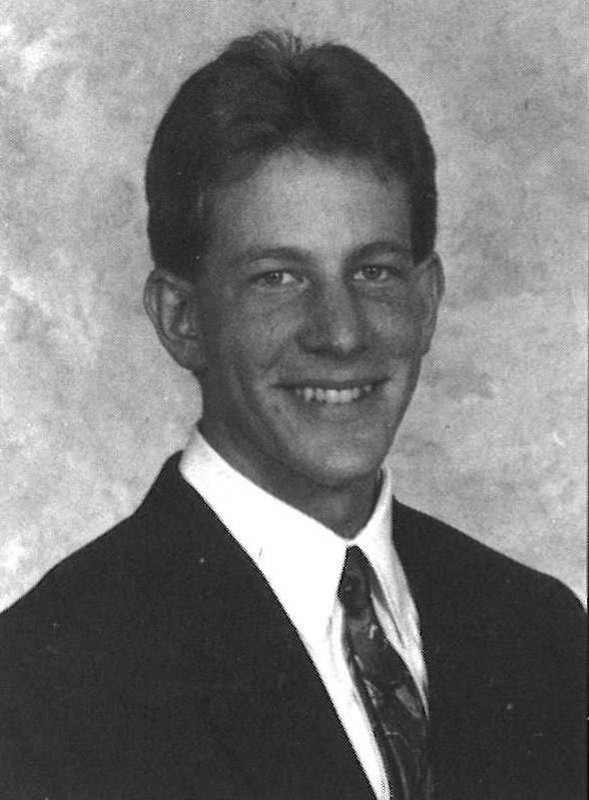 Junior guard, 6-10 ft., 240 lb. …originally from Coral Springs, Florida. Redshirt junior who looks to overcome a knee injury that benched him for the entire 1994-95 season…worked hard during rehab in the off-season to get his knee stronger and should be fully recovered by the beginning of practice. Timpf will add size, strength and depth to the Miami front line, he is a diligent worker both on and off the court…is an aggressive player with a great competitive instinct. He will battle for time in the front court…chose UM because it has an excellent medical school…signed a letter of intent in the fall of 1991…is one of five current Hurricanes from the state of Florida.
Sophomore Year (1994-95)
Forced to miss the whole season after landing wrong on his right knee, during a jump stop…tearing the medial collateral ligament and the anterior cruciate ligament … just two minutes into UM's Midnight Madness scrimmage on October 15…had successful surgery on the knee in mid-November…ISRAEL TOUR: Appeared in five of the six games and average per game 8.6 minutes per contest…averaged 0.8 points and 1.2 rebounds…grabbed three rebounds I six minutes vs. Maccabee Jerusalem (Aug. 15)…had two points and one rebound in 12 minutes in the tour-finale against Hapoel Jerusalem (Aug. 21).
Freshman Year (1993-94)
Got action in 15 games totaling 47 minutes…made his collegiate debut against Florida Atlantic (Nov. 26) established career highs in minutes played (eight) and points (three). Grabbed a season high three rebounds in seven minutes vs. Bethune-Cookman (Dec. 10)…scored three points and one rebound in two minutes vs. Connecticut (Feb. 22)…hit his only field goal attempt for two points in one minute of play against Seton Hall in the BIG EAST Tournament (March 10).
Redshirt Year
Used this year to gain 15 pounds and one inch to his frame…gained valuable experience working in practice against Constantin Popa and Will Davis
HIGH SCHOOL
Attended Tarvella High School in Coral Springs, FL…was a two year starter…average 12 points, 10 rebounds and five blocked shots as a senior…led his team to a 22-7 record. As a junior averaging 13 points, 12 rebounds and four blocks per game…was a great student who graduated with a 3.9 GPA…coached by Jeff Linde.
Personal
Majoring in microbiology..Full name is Bradley Damon Timpf…nickname is "Doogie" after the television show Doogie Howster, MD…born January 19, 1974…parents are Con and Linda Timpf…his sister, Abbey, is a freshman at the University of Florida…Brad was on the All-Star team that toured Portugal in the summer of 1994, playing eight games in 11 days…enjoys beach volleyball, music and playing the drums in his spare time.
 
Year
GP
GS
Min
Avg
FG
FGA
Pct
3FG
3A
3Pct
FT
FTA
Pct
Off
Def
Tot
Avg
PF
FO
A
TO
B
S
Pts
Avg
1992-93
 
 
 
 
 
 
 
 
 
 
 
 
 
  DNP-Redshirt
 
 
 
 
 
 
 
 
 
 
 
1993-94
 15
 0
 47
 3.1
 5
 13
 .385
 0
 0
 .000
 2
 5
 .400
 2
 5
 7
 0.5
 6
 
 1
 6
 4
 0
 12
 0.8
1994-95
 
 
 
 
 
 
 
 
 
 
 
 
 
DNP-Knee Injury
 
 
 
 
 
 
 
 
 
 
 
TOTAL
 15
 0
 47
 3.1
 5
 13
 .385
 0
 0
 .000
 2
 5
 .400
 2
 5
 7
 0.5
 6
 
 1
 6
 4
 0
 12
 0.8