University of Miami Athletics
Bojan Jankulovski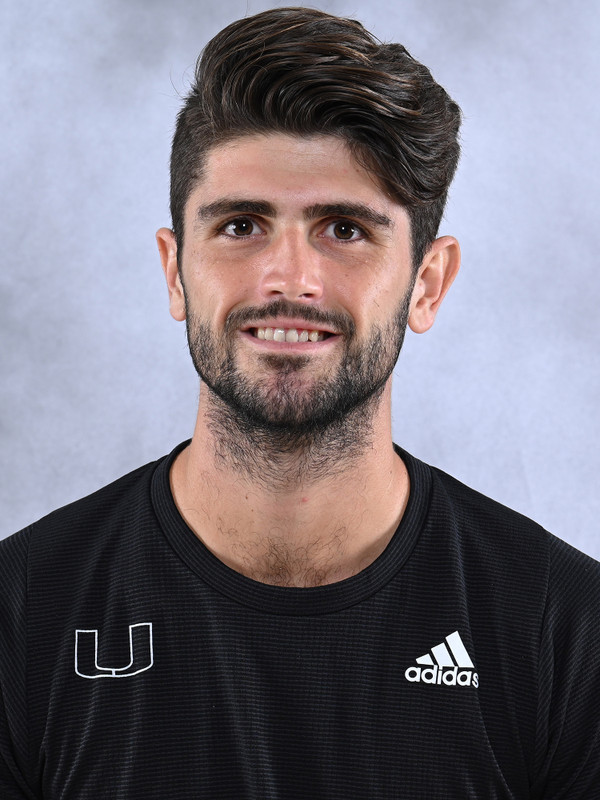 As a Senior (2020-21)
Went 10-6 in spring singles play, becoming a mainstay at the second position…mainstay at third doubles… won three doubles matches in a row with partner Stefan Millicevic, including against pairs from ranked teams #41 Duke and #31 Georgia Tech.
As a Junior (2019-20)
Went 8-2 in singles play before the season was canceled due to COVID-19… Went 7-4 in spring doubles play.
As a Sophomore (2018-19)
Went 6-2 in Fall singles play… won three doubles matches in a row at the ITA Southeast Regionals with partner Francisco Bastias… Went 9-2 in spring doubles play.
As a Freshman (2017-18)
2018 All-ACC Third Team
Fall: 7-4 singles, 4-5 doubles … defeated No. 92 Josef Dodridge (Wisconsin) – 6-1, 7-6 (4) at the ITA Men's All-American Championships – in his debut as a Hurricane … teamed up with fellow freshman Adria Soriano to reach the Doubles A final at the Bedford Cup (Oct. 5-8), where the two fell to teammates Christian Langmo and Dane Dunlap, 6-3 … recorded team-best three combined victories at the ITA Southeast Championships (Oct. 12-16) after winning two three-set matches in singles competition to advance to the quarterfinals and then assisted Soriano in a dramatic 8-7 (8) triumph over Florida State's Escobar/Ruiz pair … completed the fall by going 3-1 at the CCB Collegiate Invitational to finish fifth of 16 in the Crimson Singles Draw.
Spring: 20-6 singles, 11-11 doubles … split opening weekend of the spring at the No. 2 singles position, beating New Orleans' Christian Fjeldstad, 6-1, 6-0, for first spring victory (Jan. 19) … won first eight matches at No. 3 position, including roac ACC victories against Georgia Tech's Elijah Melendez and No. 50 Clemson's Sam Edwards … reached double figures with victories in doubleheader against William & Mary and Cleveland State (March 11) … Debuted at No. 4 with a straight-set victory against Julian Zlobinsky of No. 1 Wake Forest, 6-2, 7-6 (7-5) (March 23) … Two days later, clinched Miami's first conference win of the season with a three-set comeback against Georgiy Malyshev of No. 23 NC State (March 25), 1-6, 6-2, 7-6 (7-5) … defeated Virginia' Matthew Lord, 6-1, 6-4, in Miami's memorable 4-3 victory against the three-time-reigning national champion, making for his second five-match win streak of the season (April 6) … closed out the regular season with his second win at the No. 2 spot, dominating Dayton's Zach Berry, 6-0, 6-2 (April 22) … earned his 20th win of the season at his debut at the NCAA Team Championship, downing North Florida's Sahil Deskmukh (May 12), 6-4, 6-1, in the Canes' first tournament win since 2011, 4-0 … finished the season undefeated at home (13-0) with a set margin of 24-1 … partnered Soriano for first three doubles wins of the season, before teaming up with Dunlap for four straight victories at No. 2 and No. 3 positions … took down No. 1 Wake Forest's Skander Mansouri and Alan Gadjiev with a tiebreaker, 7-6 (7-3), to clinch the Hurricanes' first doubles point in ACC play (March 23) … Picked up home victories against South Alabama (March 30) and Louisville (April 1) with a game margin of 12-7 … Downed No. 28 Notre Dame's Alex Lebedev and Guillermo Cabrera, 6-3, for first road ACC win (April 13) … contribute to Miami's sweep over North Florida (May 12) in the opening round of the NCAA Team Championship, partnering Dunlap to a 6-3 win at No. 2
Juniors
A native of Skopje, Macedonia, Bojan Jankulovski is a left-hander who has peaked at No. 53 in the ITF junior world rankings. The ATP World Tour has also ranked him as high as No. 1,421 in singles. Won over 15 international junior tournaments. Nominated to the Macedonian Devis Cup team twice, becoming the youngest player to play in the cup. Also was a part of the Junior Roland Garros. His highest ranking in the Under 14 years old rankings was No. 42 and his highest ranking U16 was No. 2. He was a part of the Masters U16 held in Regio di Calabria, Italy. Made it to the quarter-final of the U16 European Championship in Moscow.