University of Miami Athletics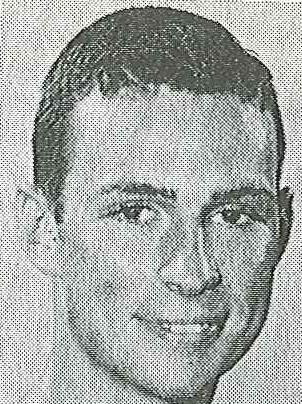 Sophomore: 6 ft. 2, 180 lbs. HS coach, John Dotson. Education Major. Bob showed the most improvement of any freshman player during the 1962-63 campaign. He took a while to adjust to the high speed, high scoring tactics which have worked so well in University of Miami basketball but eventually he found his niche and wound up the campaign starting in most of the games. Not a high scoring player himself, he passes well, has developed the knack of being in the right place to feed off for the scoring play. He keeps on moving up and though he starts this year with a reserve tag, he's going to see quite a bit of action and that may be all he needs. He has proven receptive to coaching, plays hard.    
 Junior: Green is a hardworking, steady player who has improved considerably throughout his UM career. He carved out a position for himself as a reserve guard last season and earned a letter. Bob is at his best in working the ball into scoring position and then feeding off, however, he is accurate and capable of scoring on his own. He hit eight points on three occasions last year-against St. Marys, Creighton and Florida Southern. Not built for great rebounding, the Indiana cager nevertheless had three each in the St. Marys, LaSalle and Rhode Island games. He played exceptionally well on the team's South American trip.
Personal: Green comes from a basketball family, his father, Robert Green, formerly serving as a player, coach and referee. His brother is a member of the UM fresh team. 
 Bob Green 
Year
GP
GS
Min
Avg
FG
FGA
Pct
3FG
3A
3Pct
FT
FTA
Pct
Off
Def
Tot
Avg
PF
FO
A
TO
B
S
Pts
Avg
 1963-64
15 
 
 
 
 14
 33
 .750
 
 
 
 
 
 
 
 
 
 
 
 
 
 
 
 
 34
 2.3
 1964-65
 16
 
 
 
 14
 36
 .541
 
 
 
 
 
 
 
 
 
 
 
 
 
 
 
 
 41
 2.6
 1965-66
 19
 
 
 
 10
 40
 .640
 
 
 
 
 
 
 
 
 
 
 
 
 
 
 
 
 36
 1.9
TOTAL