University of Miami Athletics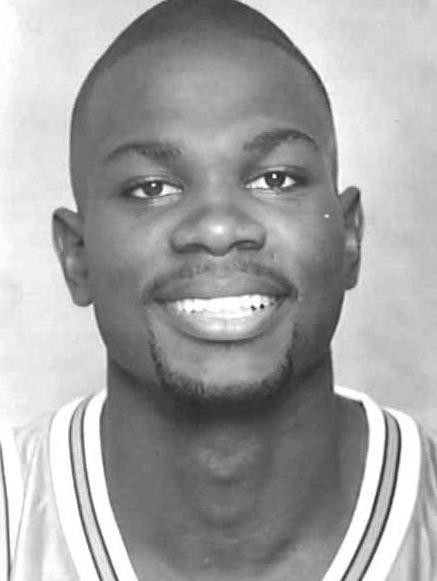 At Miami
Will serve as captain for the second consecutive year … Is one of only four players in Hurricane history to serve as captain for more than one season … Fourth year senior who provides the Hurricanes with leadership and toughness on the boards … Is a solid interior defender … Has started 69 of his last 70 games, the lone exception was Senior Night last march when senior Lorenzo Pearson replaced him in the starting lineup … Ranks among UM's all-time leaders in games started (7th), steals (12th), minutes played (14th), games played (tied-14th) and blocked shots (15th) … His 336 points scored in BIG EAST games rank fourth in UM history and are tops among current Hurricanes … Needs to start nine league contests this year to become UM's all-time leader in BIG EAST play, he enters the season third with 48 starts … 42 percent (145) of his 342 career rebounds are on offensive boards … Has led the team in rebounds on 16 occasions and in scoring eight times … Signed a national letter of intent to attend Miami in the fall of 1992 … One of three current Hurricanes from Miami.
As A Junior (1995-96)
Appeared in all 28 games and started on 27 occasions … Served as co-captain along with Steven Edwards, Marking the first time since the rebirth of the program in 1985 that the Hurricanes named captains … Was a co-recipient of the Hustle Award at the teams port-season banquet … Finished third on the team in field goals and percentage (.486) and steals (30), tied for third in dunks (eight) and fourth in all rebound categories … Led UM in field goal percentage (.527) in BIG EAST games … Shot a UM BIG EAST record 6-6 (1.000) from the floor in the ?Canes' win over 11th-ranked Syracuse (Jan. 3) … Set a career-high in field goal percentage and steals … Led team in scoring three times and in rebounds on four occasions … Had a season high 17 points (6-8 FGs) and a team high eight rebounds in UM's 80-70 victory over Seton Hall (Dec. 2) … Scored in double figures in six games, including each of the first four contests.
As A Sophomore (1994-95)
Started all 27 games in which he appeared … Ranked second on the team in offensive (62), defensive (84) and total rebounds (147), rebound average (5.4 rpg) and double-doubles (two) … Was fourth in blocked shots (11) and dunks (eight) … Led or tied for the team lead in rebounds on nine occasions, including three of the final six contests … Led the team in scoring with 19 points against Florida A&M (Dec. 10) and 14 points vs Providence (Feb. 11th) … Recorded his third career double-double and established career high in points (19), rebounds (16), FGM (8) and blocked shots (three) vs. Florida A&M (Dec. 10th) … Led the team in scoring, rebounding and blocked shots in the Florida A&M contest … Also registered a double-double with 10 points and team high 11 rebounds against Robert Morris (Nov. 30) … Missed the Jan. 25 game against Villanova and practice the following day due to an infected right foot ending the streak of 28 consecutive starts, the longest active streak on the team … Missed most of the summer after requiring surgery in June on his left wrist to repair ligament damage … ISREAL TOUR: Made the trip but did not appear in and games as her was still recuperating from injury to his left wrist … His diary of the basketball team's trip appeared in the 1994-95 UM media guide, and UM school newspaper, The Hurricane
As A Freshman (1993-94)
Saw Action in 26 games and started the final 15 … Missed only the Dec. 19th game at Buffalo … Led UM in scoring on three occasions and in rebounding three times … Finished fourth on the squad in offensive rebounds … 41 of his 87 rebounds were on the offensive glass (47 percent), including 29 of 58 rebounds during in conference play (50 percent) … Recorded a double-double with team-high 14 points verses Syracuse (Mar. 1) … Scored 12 points on 5-10 shooting from the floor and amassed a career-high four assists against Villanova (Feb. 12) … Totaled 10 points (4-5 FGs) and three rebounds in 16 minutes in his collegiate debut against Florida Atlantic (Nov. 26).
High School: Monsignor Pace High School in Miami, FL … four-year starter at forward and center … senior year averages were 24.3 points, 11.2 rebounds, 6.8 blocks, and 4.0 assists … Led his team to a 25-7 record and a 3-A district championship … Voted Dade County "Player of the Year" in both his junior and senior seasons … Was second-team all-state his junior year and first-team his senior campaign … Rated as one of the top 100 prospects coming out of the prestigious Nike camp … Coached in high school by David Ahern.
Personal: Is on schedule to graduate with a degree in business in May … Full name is Guido Alex Alfonso Fraser … born on September 17, 1975 in Kingston, Jamaica and moved to Miami at the age of two … Parents are Guy Fraser and Irma Morris … Is a member of the "Join a Team, Not a Gang" community service program sponsored by Metro-Dade Police and Florida Power and Light, where Hurricane athletes encourage area youth to stay in school, as a positive alternative to gangs … Volunteered to serve as a surrogate father to a local youngster (four-year old Daniel Morris) from his church … Spends most weekends and several hours during the week spending time with and serving as a positive role model for Daniel … Has made several visits to local hospitals to spend time with children … Was part of Athletes in Action all-star team that traveled to Greece in August of 1995 … Enjoys pool, bowling and Nintendo baseball in his free time.
Alex Fraser
Year
GP
GS
Min
Avg
FG
FGA
Pct
3FG
3A
3Pct
FT
FTA
Pct
Off
Def
Tot
Avg
PF
FO
A
TO
B
S
Pts
Avg
93-94
26
15
409
15.7
54
119
.454
0
1
.0
12
27
.444
41
46
87
3.3
40
0
25
45
7
15
120
4.6
94-95
27
27
734
27.2
80
187
.428
0
2
.0
41
71
.577
63
84
147
5.4
71
1
22
47
11
27
201
7.4
95-96
28
27
579
20.7
68
140
.486
0
1
.0
36
66
.545
41
67
108
4.2
62
2
18
43
9
30
172
6.1
TOTAL
81
69
1722
21.3
202
446
.453
0
4
.0
89
164
.543
145
197
342
4.2
173
3
65
135
27
72
493
6.1