University of Miami Athletics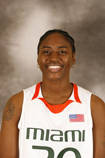 2006-07 (Junior)
Miami's only player to start all 30 games… Averaged 7.5 points, 3.4 rebounds and a team-high 2.7 assists per game, while converting 46.3 percent of her field goals… Shot 31.3 percent from beyond the arc to rank third on the squad… Scored in double figures in 11 games, including a career-best 20-point performance on 9-of-12 shooting in a 92-67 rout of Texas State (12/16)… Finished with 10 points versus Georgia Tech (2/15), converting 4-of-5 field goal attempts… Hit a season-high and team- season-best 83.3 percent (5-6) from the field in the UM Holiday Tournament championship game versus Auburn (12/29)… Named to the UM Holiday All-Tournament Team after averaging 12.5 points against Coppin State (12/28) and Auburn (12/29)… Nearly matched her career high with 19 points at Virginia (2/4)… Scored 13 of her 15 points at Florida State (1/7) in the second half… Poured in a career-high three three-pointers in an 11-point, five-rebound performance versus Boston College (1/28)… Grabbed five-or-more rebounds nine times–including five at No. 2 North Carolina… Dished out six assists at Virginia Tech (1/25)–just one shy of her career- and team- season-high seven versus Nicholls State (11/24), and added a game-high five versus Clemson (1/28)… Recorded multiple assists in nine-straight games (1/10-2/11)… Had a career-high five steals, five assists, five rebounds and five points in the UM Thanksgiving Tournament title game win over Indiana (11/25)… Tied her career high with a pair of blocks versus Georgia Tech (2/15).
2005-06 (Sophomore)
Came off the bench to average 4.5 points and 3.5 rebounds per game… Finished fourth on the team, and first among all non-starters, in field goal percentage (.471), hitting 56-of-119 shots from the field… Fourth on the team in rebounding (3.5 per game) and third in defensive rebounding (2.3 per game)… Fifth on the team in minutes played (601), averaging 20.0 per game… Averaged 5.5 points per game in ACC play… Recorded a season-high 12 points, adding four rebounds, in UM's double-overtime thriller with No. 1 Duke (2/19)… Grabbed a season-high eight rebounds against No. 21 Boston College (1/19)… Hit a career-high six free throws on eight attempts–also a career high–in that same game against the Eagles… Tied a career best with seven assists against North Carolina A&T (12/28).
2004-05 (Freshman)
Started 24-of-29 games played as true freshman… One of only five players on the UM roster to see action in all 29 games… Averaged 6.0 points, 3.3 rebounds and 2.6 assists per game… Ranked third on the team in scoring (6.0 ppg) and field goals attempted (178)… Scored in double figures in five games… Scored a season-high 18 points against Loyola Marymount (12/29) at the UM Holiday Classic, and was named to the all-tournament team after that outing against LMU and a seven-assist performance versus Fairfield (12/28)… Posted nine points with nine rebounds in her first game as a Hurricane… Had back-to-back 15-point games against North Carolina (1/17) and NC State (1/20).
Prior to Miami
One of the top prep players in the nation coming out of St. Lucie's West Centennial High School… A Florida District 5A First Team selection as a senior and a District 4A All-State selection as a junior… Named a McDonald's Top-100 National Player and ranked as the No. 31 point guard in the nation by the All-Star Girls Report.
Personal
A Caribbean and African Studies major… Off the court, enjoys shopping.