Miami Outlasts FIU, 86-80
CORAL GABLES, Fla. – The University of Miami men's basketball team (3-0) defeated the FIU Panthers (0-3), 86-80, Monday night at the Watsco Center for their third victory of the season.
The No. 12/11 Hurricanes shot 61.9 percent (13-of-21) from 3-point range, with three different Miami players connecting on three-plus 3-pointers. Juniors Bensley Joseph and Wooga Poplar each knocked down four 3-pointers in the game, while junior Matthew Cleveland went a perfect 3-for-3 from beyond the arc.
"I thought both teams tonight showed the willingness to play really hard from start to finish," head coach Jim Larrañaga said. "There was not let up by either team…With 30 seconds left, it was just a couple possessions [that could] make a difference. I'm very proud of our guys for hanging in there and I was very impressed with FIU."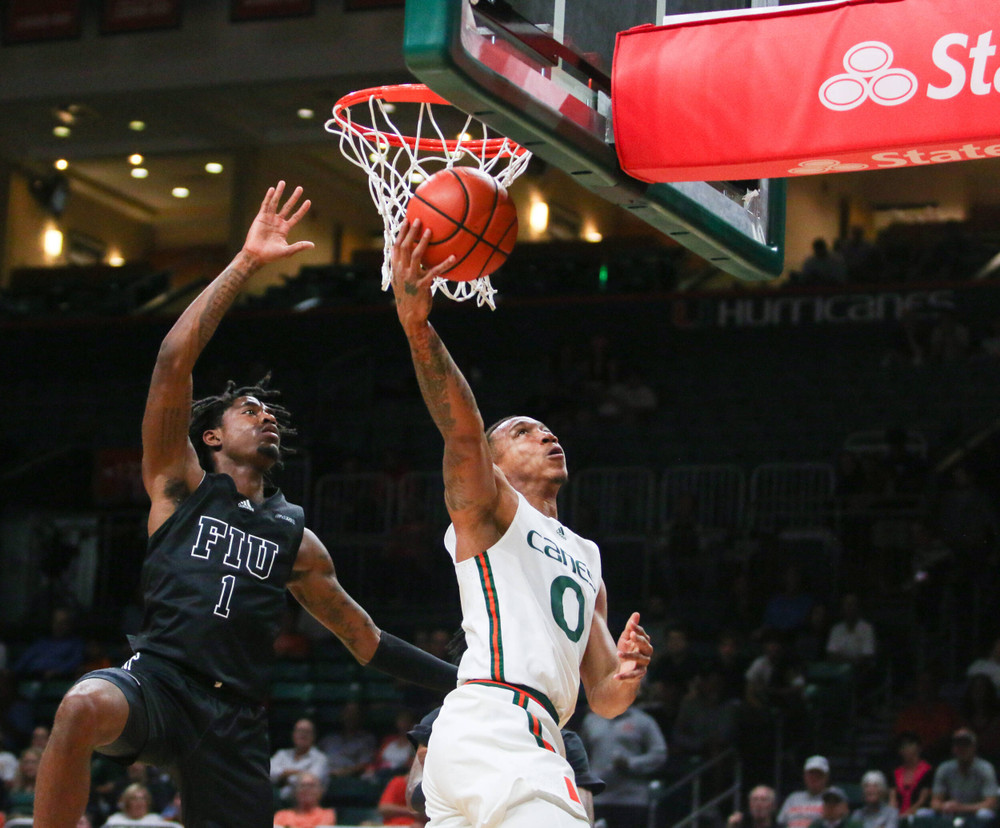 Cleveland tied his career high in scoring with 23 points on the night to go along with seven rebounds and four assists. Joseph poured in career-high 18 points, highlighted by a 4-of-5 effort from 3-point range.
Poplar also tallied 18 points in the contest and fourth-year junior Nijel Pack joined him in double-digits with 17 points for his second double-digit game of the season.
Fourth-year junior Norchad Omier led the Hurricanes in rebounding, hauling in 11 boards to keep his season average at 11.0 rebounds per game.
Miami was electric from 3-point range to start the game, connecting on 4-of-5 early shots from beyond the arc to go up 22-11 at the 11:55 mark in the first half. The Hurricanes ultimately shot 7-of-11 from 3-point range in the first 20 minutes, highlighted by a 3-of-4 effort from Joseph.
However, the Panthers clawed their way back into the game, stringing together a 14-3 run in the final four minutes to make it a two-point game, 41-39 in favor of Miami, heading into halftime.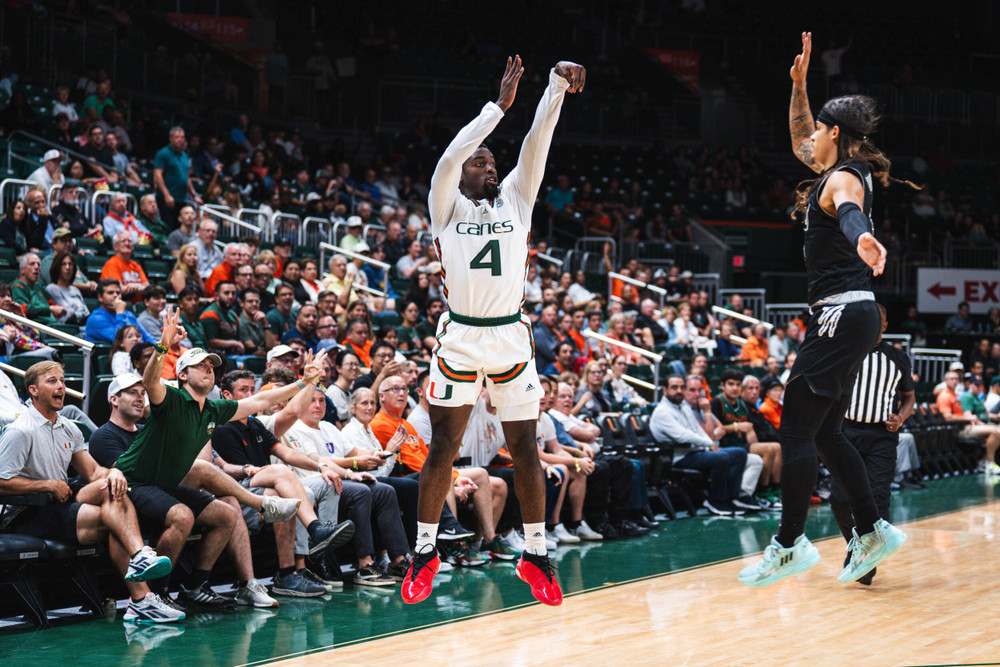 The Panther carried their momentum into the second half, opening the frame with a 14-0 run to retake the lead for the first time since 19:11 in the first half. Cleveland put a stop to the Panthers' run with a 3-pointer at the 15:46 mark, sparking a 19-0 Miami run to put the Hurricanes back in the lead.
The teams traded baskets in the final five minutes of action, with FIU narrowly outscoring the Hurricanes 12-10, but Miami withstood the Panthers' pressure and closed out the victory at home.
The Hurricanes hit the road for the first time this season on Friday, traveling to Nassau, Bahamas for the Baha Mar Bahamas Championship. Miami will open the tournament against Georgia at 3:30 p.m. on Friday, Nov. 17. The game will air on CBS Sports Network.