Noel Reaches ITA All-American Championship Match
CARY, N.C. – University of Miami redshirt junior Alexa Noel reached the championship match of the ITA All-American tournament on Sunday.
The third-ranked player in the nation stomped her way to the final match with multiple ranked wins under her belt. Noel started her ITA run with an automatic entry in the main draw, where she defeated Auburn's No. 20 Ariana Arseneault, 6-1, 6-2, in the round of 32. The New Jersey native then went on to face No. 21 Alexandra Yepifanova (STAN), in the round of 16 and took the match, 7-6 (4), 6-2, to advance.
Noel advanced to the quarterfinals and claimed another ranked win after taking down No. 37 Carolina Gomez Alonso of Arkansas, 4-6, 6-3, 6-4, to earn a spot in the quarterfinals. Competing for a spot to the finals, Noel grabbed her highest-ranked singles win with a 6-1, 4-6, 6-1 victory over South Carolina's No. 7 Ayana Akli.
Fighting for a chance to make history as Miami's first ITA All-American Singles Champion, Noel took the court to face No. 2 Mary Stoiana of Texas A&M. After a gritting back-and-forth battle, she fell to Stoiana, 6-3, 6-7 (5), 1-6.
Before Noel's journey to the finals, multiple Canes competed in the prestigious tournament in the prequalifying and qualifying draws. Most notably,  No. 53 senior Isabella Pfennig defeated No. 53 Page Freeman (Notre Dame), 7-5, 6-3, in the consolation round of 64.
The Canes will travel to Gainesville, Fla., for the ITA Southeast Regional Championships running from Oct. 19-23.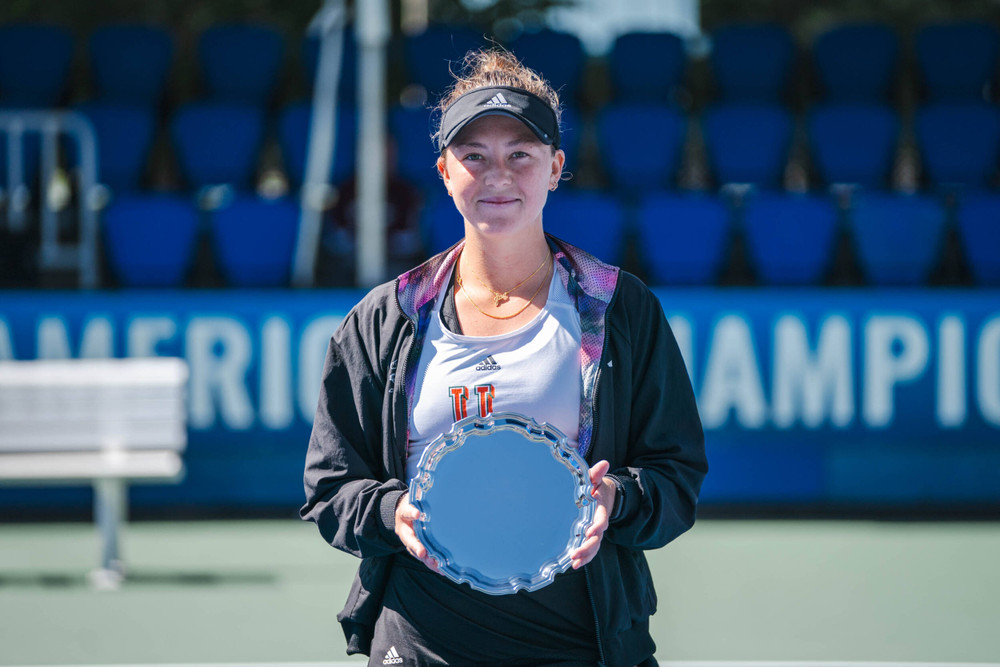 Results
Prequalifying Draw- Doubles
R32: Anna Roggenburk/Imani Graham (XAV) def. Audrey Boch-Collins/Antonia Balzert (UM), 8-4
C16: Abigail Rencheli/Gabriella Broadfoot (NCSU) def. Audrey Boch-Collins/Antonia Balzert (UM), 8-3
Prequalifying Draw – Singles
R128: Yekaterina Dmitrichenko (TTU) def. No. 96 Leonie Schuknecht (UM), 6-0, 6-3
R128: Imani Graham (XAV) def. Antonia Balzert (UM), 7-6 (4), 6-3
R128: Elise Wagle (UCLA) def. Audrey Boch-Collins (UM), 6-1, 7-5
C64: Daniela Rivera (ETSU) def. Leonie Schuknecht (UM), 6-4, 7-6 (4)
C64: Melodie Collard (UVA) def. Antonia Balzert (UM), 6-3, 6-2
C64: Audrey Boch-Collins (UM) def. Patrycja Niewiadomska (NAU) , 6-0, 6-0
Qualifying Draw – Singles
R128: No. 26 Connie Ma (STAN) def. No. 52 Isabella Pfennig (UM), 6-1, 7-5
C64: No. 52 Isabella Pfennig (UM) def. No. 53 Page Freeman (ND), 7-5, 6-3
C32: No. 36 Emma Jackson (DUKE) def. No. 52 Isabella Pfennig (UM), 2-6, 6-3, 6-2
Main Draw – Singles
R32: No. 3 Alexa Noel (UM) def. No. 20 Ariana Arseneault (AUB), 6-1, 6-2
R16: No. 3 Alexa Noel (UM) def. No. 21 Alexandra Yepifanova (STAN), 7-6 (4), 6-2
QF: No. 3 Alexa Noel (UM) def. No. 37 Carolina Gomez Alonso (ARK), 4-6, 6-3, 6-4
SF: No. 3 Alexa Noel (UM) def. No. 7 Ayana Akli (SC), 6-1, 4-6, 6-1
F: No. 2 Mary Stoiana (TAMU) def. No. 3 Alexa Noel (UM), 3-6, 7-6 (5), 6-1