The call that changed Jordan Miller's life came in at 12:15 a.m.
Sitting in a plush armchair on the 29th floor of The Elser Hotel in downtown Miami, the former University of Miami basketball star answered the phone.
"My stomach definitely dropped, for sure. … It's the only time I'm happy to see a random number pop up on my phone," Miller later said with a laugh.
On the other end was a front-office executive from the Los Angeles Clippers, his new employer.
The many supporters around Miller initially went quiet, with smiles beginning to appear around the room. And then, moments later, came an eruption of noise as the television showed what Miller was hearing in his left ear.
"When they picked my name, it got crazy in here," Miller said. "So, the conversation did get cut a little bit short, but he said they're excited to have me and hope I'm ready to work, which I am."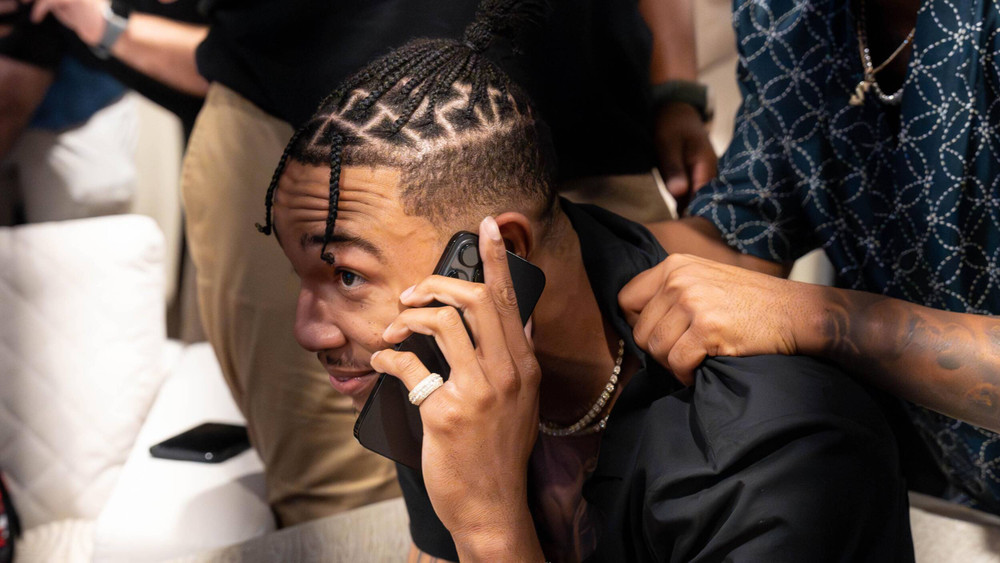 The Clippers were not Miller's expected landing spot, as he was unable to get out to Los Angeles during the pre-draft process due to his busy schedule. He did, though, meet with them at the NBA Draft Combine and have a productive interview, during which he clearly made an impression.
He also has familiarity with the organization in the form of assistant coach Jay Larrañaga, the son of Miami head coach Jim Larrañaga. The two have spoken before, all within the structure of NBA rules, and the connection, Miller thinks, will help him "feel a little bit more at home."
On draft night, Miller certainly had no problem feeling at home. In the city he has lived for nearly two years, he had family and friends around him from all walks of his life.
The group included one of his older brothers, his girlfriend, his representatives, six former Hurricane teammates, two of his Miami coaches and even Miami Heat forward Haywood Highsmith, among many others.
Also in attendance were three people who have been there since very early in his basketball journey back in Middleburg, Va.
"I had my two closest friends here, George [Richardson] and Zyan [Collins]. I played AAU with them," Miller said. "They've seen my lows. They've seen my highs. Those are the two people that have really been through it with me. My AAU coach, [Eric Williams] was here, another person that's seen the ups, seen the downs, seen the bumpy journey."
Although Miller felt confident entering the night that he would be selected, nerves began to set in as the draft reached the mid-30's. Overall, though, he remained calm, as he continued to have trust in the abilities he showed, both on and off the court, during the pre-draft circuit.
His faith paid off when the Clippers made him the 24th player in Miami history to become an NBA Draft choice, selecting him with the No. 48 pick.
It took about 20 seconds for the news to settle in for Miller, who soon thereafter began to think about his parents and all the support they provided him to making this point. Even a half-hour later, he was, understandably, continuing to fully process achieving his goal of reaching the NBA.
"To hear my name get called, it's a surreal feeling," Miller shared. "…It's a lifelong dream of mine since I was a kid. I had my goals kind of come true. I can't even put it into words. I really can't."
As much as the night was a celebration of Miller's accomplishments and a lookahead to his future, it also allowed for some reflection.
For any player to get to the NBA it takes, obviously, talent and athleticism. But it also takes much more, including early mornings and late nights in the gym, as well as consistent sacrifice.
"All the fun stuff my peers would do that I was like, 'No, I need to stay focused, be on the right track, get in the gym,' it makes it all worth it," Miller said. "And the fact that you pour yourself into something so much to get to something that you don't know is for sure a possibility, to get rewarded for … all the hard work I put in feels great."
The next step of Miller's career will take him approximately 30 miles north of where he was born, in Anaheim, Calif. He has wanted to get back to Southern California ever since moving away as a young child and now to do so at the start of his NBA tenure is, as he says, "a full-circle moment."
It is the same phrase he uses when it is noted he is now a teammate of eight-time NBA All-Star Paul George a player he has long looked up and tried to learn from. Miller will now share a locker room with George, two-time NBA Finals MVP Kawhi Leonard and many others he has often watched on television.
The 2022-23 Second Team All-ACC honoree hopes to quickly prove to his new franchise he can make an impact and knows exactly what he brings to the table to do so.
"How I would describe my game is a very versatile player. I play hard every night. I have a very high IQ for the game. I'm just someone who likes to be reliable and trustworthy," Miller shared. "I'm looking forward to getting down there and just proving myself and showing these guys I can play and I can contribute to this team. I'm an older guy so I would hope that people can see that there's not a lot that needs to be polished. Of course, there's going to be some adjustments, but as far being older, it will help be more of a plug-and-play kind of player."
Another benefit Miller feels he has is the coaching he received during his two seasons at Miami, during which he helped the Hurricanes to the greatest two-year stretch in program history. The team went 55-19 with two Elite Eight berths, a Final Four appearance and an ACC regular season co-championship.
More than that, though, Miller got the training he needed to be ready to not only reach the NBA, but thrive once there.
"Coach L, I can't even say it enough or stress it enough, [he is] a great guy, great coach, great teacher. He prepares us for these moments," Miller remarked. "Recently, I just saw that Zay [Isaiah Wong] got drafted, too. So, that's more kudos to Coach L and the whole staff … and the development that Miami does there."
Many at Miller's party also celebrated hearing Wong's name called, as he went No. 55 to the Indiana Pacers.
Shortly thereafter, as the clock ticked towards 1:30 a.m., well over five hours after the draft got underway, the party came to an end. Nearly every single person in attendance remained in the room to be there for the biggest moment of Miller's life and their joy for him left a mark.
"It was definitely a long night. It turned out to be worth it afterwards. But the fact that they stayed with me throughout the whole night [meant a lot]," Miller said. "They came, had nothing but love and smiles for me. I couldn't ask for a better group of people. I couldn't ask for a better draft party."