''This is the Top of the Top''
MIAMI – It was the career opportunity of a lifetime, the kind of job she'd dreamed of having.
Still, that didn't mean it was easy for Amy Audibert to pack up her life and move back to Miami.
The Niagara Falls, Ontario native had to ensure she had all the necessary paperwork in place to work in the United States. She'd have to leave her family and current job as a reporter covering her hometown Toronto Raptors. She'd have to find a place to live in South Florida and as if all of that weren't nerve-wracking enough, she had to do all of that quickly.
Very quickly.
The NBA season was about to begin, the Miami Heat were days away from taking the court for their opener against the Chicago Bulls and Audibert – a former center and forward for the Miami Hurricanes women's basketball team – knew if she wanted to be successful in her new role with the Heat, she had to immediately start studying the players whose games she'd now be breaking down on a day-to-day basis as the team's new on-air analyst for both radio and television.
It was a daunting challenge, but one Audibert was more than ready to embrace.
"There was a lot. I just kind of got into it and before I knew it, I drove down," Audibert recalled. "I left Friday morning, got here Saturday afternoon had my first game within a day or two."
Eight months after the whirlwind start to her time with the Heat, Audibert has no regrets about the decision she made to join the team – or how quickly she had to act on that decision.
In her first season with Miami, she got to be on the call when Heat star Jimmy Butler scored a career-high 56 points in a first-round playoff win over the top-seeded Milwaukee Bucks. She watched with delight when Heat forward Caleb Martin celebrated a clutch shot over two-time NBA MVP and seven-time All-Star Giannis Antetokounmpo. And she reveled in the Heat's Game 7 win over the Boston Celtics in the Eastern Conference finals.
All of those clutch performances brought Audibert to another improbable moment: the chance to call the NBA Finals during her first season as a full-time analyst.
"I feel like one of my biggest challenges has been to try and take that deep breath and continue to soak everything in," Audibert said last week between finals games. "It's incredible and it's kind of hard to describe it. This is the NBA Finals. This is the top of the top, the highest level. I just want to be the best I can be and make sure my work is the best. That requires a lot of time and work, and sometimes, you're just trying to look around and take it all in."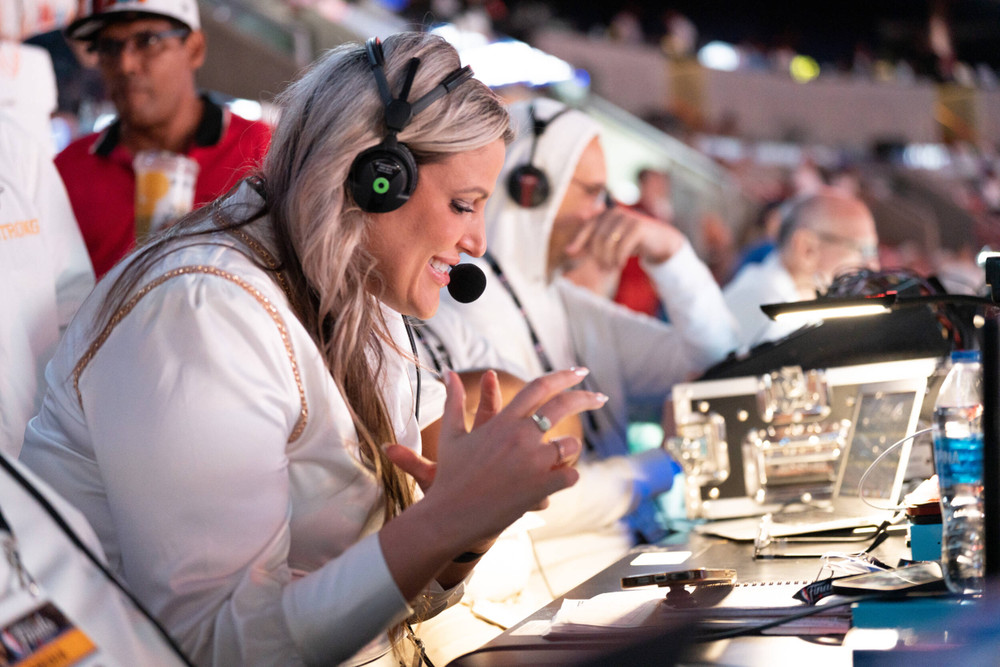 For Audibert, the journey to calling the finals came with its share of challenges, both during the season and in the years leading up to it.
After graduating from Miami with a degree in sports administration in the School of Education and Human Development, she'd hoped to play professionally, but a serious back injury she'd dealt with during college kept her from making that dream a reality.
She coached at the high school level for a bit before returning home to Canada to regroup and settle on her next chapter. She worked as a bartender and spent a lot of time with her family, including her grandmother, who encouraged her to keep pushing forward.
Eventually, Audibert decided to try her hand at a career in broadcasting. She entered the Radio, Television and Film Program at Niagara College and tried to get on camera as often as possible, a daunting task given the lack of sports teams to cover on the Canadian side of the border.
Soon enough, she began calling games for Canisius College in Buffalo, New York, which led to an opportunity to serve as a sideline reporter for Time Warner Cable in Buffalo. That led her to the University of Buffalo, where she became an analyst for the men's and women's basketball programs just as the school began expanding its online streaming services.
There was a return to Miami, where Audibert did an internship with the Hurricanes' athletic department doing on-camera work for the school's website. She covered Miami's Pro Day, chronicled the women's basketball team's season and interviewed the likes of Ed Reed, Bryant McKinnie and Calais Campbell, among others, at various Hurricanes events.
Through it all, she had the support of her former coach at Miami, who continually encouraged Audibert to keep going if she wanted to make her broadcasting dreams a reality.
"There were so many hurdles she had to overcome just to even work in America," said Hurricanes women's basketball head coach Katie Meier. "But she really had a vision that she wanted to be a broadcaster and I remember her saying 'One day, I want to call games in the NBA.'…When people were saying no, Amy just kept saying yes. 'Yes, I'll do this. Yes, I'll do that. Yes, I'll do that.' Nothing was below her. Nothing was too small for her, and every opportunity just built and built for her. She's very poised and now, she's doing a great job."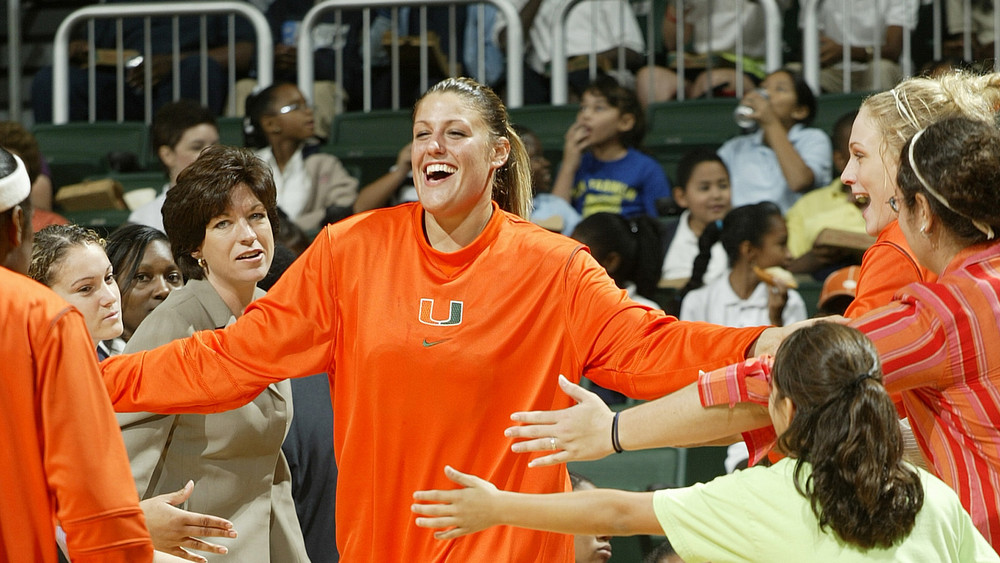 To help try and advance her career, not only did Audibert say yes to nearly every assignment sent her way, but she also tried to create meaningful connections with NBA teams.
Each July, she'd head to Las Vegas during NBA Summer League to try and meet with players, coaches, team executives and broadcasters. During one of those trips, Audibert's agent suggested she try and meet with Jason Jackson of the Miami Heat.
In 2017, the two connected via text, only for Audibert to learn Jackson would be arriving in Las Vegas a day after she was scheduled to leave. After working multiple jobs to self-finance her trips to summer league, Audibert wasn't sure whether it made sense for her to change her airline ticket and stay another night to meet with Jackson.
A fortuitous turn in a casino, she says, helped make the decision for her.
"I was playing a slot machine and I hit. I won like $400, $500 and I was like, 'Alright, I'll switch my flight and stay another night' and thank God I did," Audibert said. "I was able to connect with him and when I met him, he was with some other people from the Miami Heat broadcast family."
Though there wasn't an opportunity for Audibert to join the Heat after that initial meeting with Jackson and the Heat broadcast team, the two stayed connected, with Jackson mentoring Audibert as she continued working to try and land her dream job.
She eventually earned an analyst role with Toronto's G-League team, the Raptors 905, and an analyst role with the WNBA's Atlanta Dream. In March 2021, Audibert helped make history when she was part of the first all-woman crew to fill every on-air role during a TSN Canadian broadcast of a regular-season matchup between the Raptors and the Denver Nuggets.
Two years later, she found herself in the middle of another history-making moment when, after joining the Heat's broadcast team, she helped call Miami's improbable run as the first play-in team to advance to the NBA Finals.
It was an opportunity that came to be in part because of her connection with Jackson, who last summer alerted Audibert the team might have an opening.
Fresh off a vacation to Jamaica with her family, Audibert came to Miami, auditioned for the job and soon enough, found herself packing to move south.
"She hit the ground running," said Jackson, who just completed his 19th season as part of the Heat's broadcast team. "First, you have her status as a Canadian, trying to work in the United States. That's not easy. Then there's the fact she came in and blew her audition away. She was magnificent. She'd never done radio play-by-play before, which is a whole different animal. We have to talk a great deal to create an image for the mind's eye, but she blew everybody away…
"I think when you watch her on television, she's the perfect mix of insight and entertainment. She's so fired up. You know she loves hoops just by watching her. Then, on the radio side, she has learned the rhythm. She's learned how to teach and instruct and inform in really concise spaces because the temp of this game is out of control. It couldn't have been better for year one and then she got to call the finals, too?"
As memorable as her first season with the Heat has been, though, Audibert has had to navigate it while dealing with an incredibly personal loss.
Her father, John Audibert, passed away in December and through all the joy of Miami's playoff run, Audibert has often thought of what her father would think or say about her journey.
It has been, understandably, bittersweet.
"Here I am, at the highest level of basketball and my basketball hero is not here," Audibert said of her father, who coached her as a youngster. "This summer is going to be a lot of reflecting and healing. It's been a lot of emotion…We would talk after every single game. It's a little bit eerie that he's not on the other end of the phone right now. But I am definitely thinking of him…He was my biggest advocate and supporter."
With the Heat's playoff run now over, Audibert knows there will be time to reflect.
She hopes, too, that given how hectic everything was for her last summer, that there will be time for her to catch her breath.
But through it all, she's grateful for each of the opportunities she's had, from playing basketball at Miami to making history in Toronto to now being back in South Florida, pursuing her NBA dream.
"Sometimes I laugh and think 'How did I get here?' Three jobs, a lot more no's than yeses, trying to break through," Audibert said. "I'd just keep going and keep showing up and I think it was all those years at Miami. It was awesome [playing there]. It was super rewarding. But it wasn't easy at all. I think it built so much belief in myself…I simply showed up and impacted in ways that I could [after getting hurt]. I couldn't play. I couldn't lift. But I was a voice. I studied. I knew the plays. Sometimes, I would direct our guards on what to do.
"I learned how to communicate in college. Now, I communicate for a living."