Klee Tabbed MBB Assistant Director of Operations
CORAL GABLES, Fla. – University of Miami head men's basketball coach Jim Larrañaga announced Tuesday the hiring of Jacob Klee as the assistant director of operations.
A University of Miami alumnus, Klee served as a student manager for the Hurricanes during all three years of his undergraduate tenure. He has since added additional experience as a graduate assistant at the University of Missouri – Kansas City and an assistant coach at Western Connecticut State University.
"I'm happy to welcome Jacob back to Miami," Larrañaga said. "During his time as a student manager, he displayed a tireless work ethic and a deep care for our student-athletes. He has continued to hone his skills over the past few years and will assuredly be an asset to our program."
Klee joined the Miami basketball program as a student manager in September 2017 and was then promoted to assistant head manager in August 2018. Just five months later, in January 2019, Klee was elevated to head student manager during the 2019-20 campaign, becoming the youngest person in the position during Larrañaga's tenure.
The Roslyn Heights, N.Y., native worked in that capacity until his graduation in May 2020. He managed the equipment room, handled gear distribution, aided student-athletes in numerous capacities, coordinated logistics on the road and oversaw the full group of 10-plus managers.
In August 2020, Klee began a role as a graduate assistant at Kansas City, a Division I program in the Summit League. He was responsible for day-to-day operations of the equipment room, organizing postgame meals on road trips, assisting with video editing across multiple platforms and more. In 2021-22, his second year there, he was the acting director of basketball operations and added more responsibilities, such as booking flights and helping to plan a foreign tour.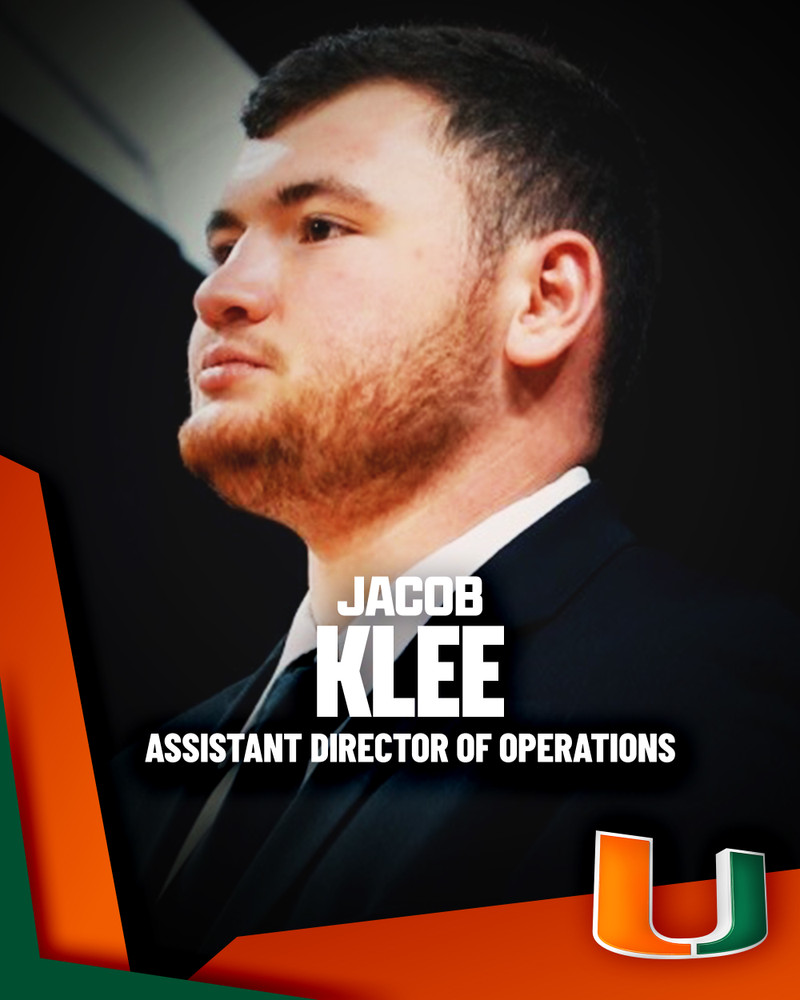 Following his graduation from Kansas City, Klee went to Western Connecticut State, as Division III school in the Little East Conference, as an assistant coach in July 2022. In that role, he handled daily program operations, assisted with game planning and scouting, oversaw student-athlete academic progress, aided with recruiting efforts, organized team travel and food orders, helped with video editing and more. The Wolves won 19 of their first 20 games, finished 22-5 (12-4 LEC) and reached the league title game.
"I am thrilled for this incredible opportunity to return to my alma mater," Klee said. "I want to thank Jim Larrañaga, whom I have already learned so much from in my young career, for his belief in me. I will strive to do all I can for our coaches and student-athletes on a daily basis."
Klee also has experience as a basketball operations consultant for Thomas Academy (N.Y.) in the summer of 2020, an intern for National Association of Intercollegiate Athletics (NAIA) in the fall of 2021, the director of operations for Guy Rancourt USA East Coast Basketball in the summer of 2021 and a counselor at Jim Larrañaga Basketball Camp in the summers of 2018 and 2019.
Klee graduated from Miami in just three years with a 3.6 GPA and a bachelor's degree in business management. In May 2022, he added a master's degree in higher education administration from Kansas City, posting a 3.9 GPA.
To keep up with the University of Miami men's basketball team on social media, follow @CanesHoops on Twitter, Instagram and Facebook.