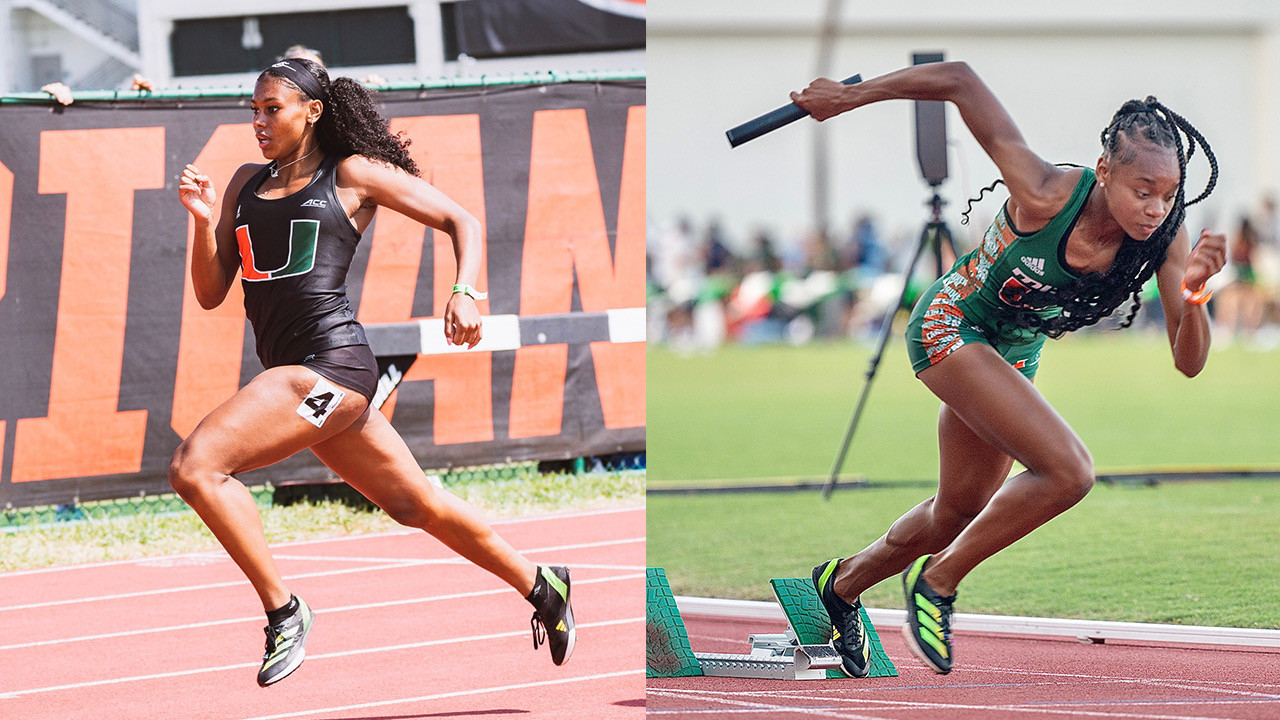 CORAL GABLES, Fla. – Sanaa Hebron grew up in an athletic family.
Her father, Vaughn, won two Super Bowls with the Denver Broncos. Her brother, Savion, is a sprinter at Penn State. And growing up with three other siblings meant plenty of good-natured competition, whether it came to running or playing basketball.
All of that helped shape Hebron into a top-notch sprinter who won more than her share of state titles – and an indoor national championship – during her time at Neshaminy High School in her hometown of Newtown, Pennsylvania.
When it came time to decide where she'd run collegiately, Hebron had her share of options.
But she felt comfortable that at Miami, she'd be able to blaze her own trail.
"Miami embodied what I was looking for," the freshman said. "Weather-wise, the team environment, and then the coaching. It was just like a perfect storm of everything I was looking for."
It turns out that at Miami, Hebron would also find something somewhat unexpected: a teammate who understood exactly what her upbringing had been like.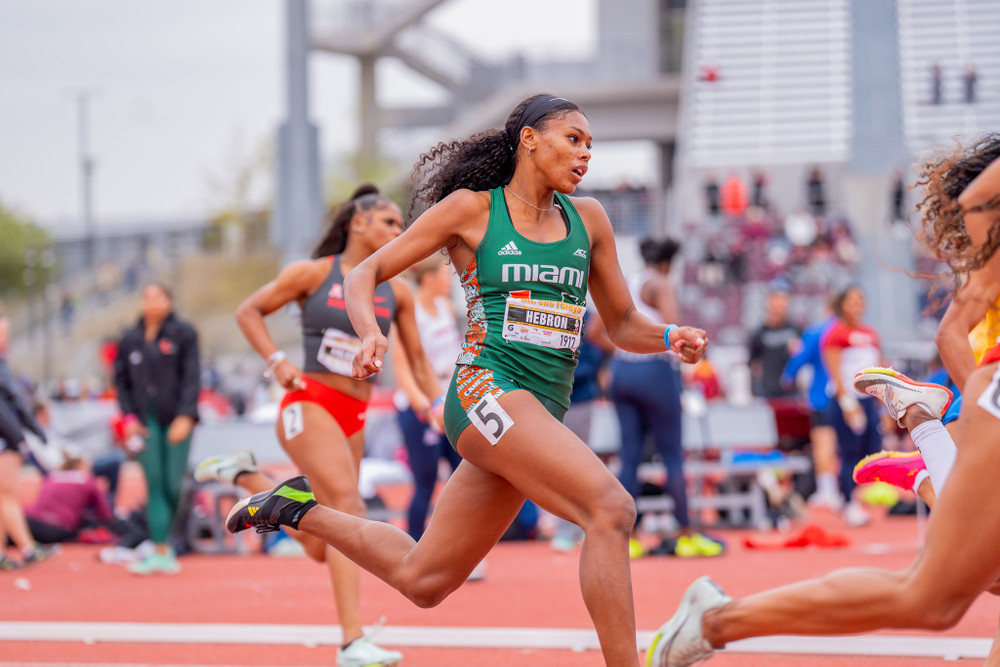 Gabriella Grissom's father, Marquis, was a professional athlete, too – a World Series winner, a two-time All-Star and four-time Gold Glove winner during a 16-year Major League Baseball career that included stops Montreal, Atlanta, Cleveland, Milwaukee, Los Angeles and San Francisco
Her brother, Marquis Jr., played baseball at Georgia Tech before being drafted by the Washington Nationals and like Hebron, Grissom grew up surrounded by athletic siblings who challenged her to more than a few intense games of driveway hoops.
Needless to say, Hebron and Grissom bonded almost instantly.
"It's honestly really funny because we were talking, and we were just like 'That's so weird. Our dads are so similar,'" Hebron said. "And then on top of that, we may not have the same kind of personality, but we work very well together. It's kind of funny how we have so many similarities outside of track."
Said Grissom, "Everyone was introducing each other, and she was like 'My dad plays football' and I was like 'My dad plays baseball.' She was like 'My mom does this,' and I was like 'My mom does that, too.' So, yeah, we definitely have a lot of similarities and I'm glad that she's my roommate. She's very competitive as well and she works hard…She can motivate me, I can motivate her…If one of us is having a rough day, we both understand because we both go out there, we both do hard workouts, we go through the same things. It's just having somebody to relate to."
Already, the two freshmen have made an impact for the Hurricanes.
Hebron has notched one of the top 10 times in the nation in the 400-meter hurdles with a mark of 56.08 and is one of the favorites to win the event at this weekend's ACC Outdoor Track & Field Championships, while Grissom has contributed points in both her individual events and on the Hurricanes' 4×400 relay team.
There have been challenges, adjusting to the competition at the collegiate level and being away from home for the first time among them, but as the two grow closer to the end of their freshman seasons, their coach said she is plenty proud of the progress both have made.
"They've been a great addition to our team. They're very focused, they're very driven and they're very team oriented," said Amy Deem, Miami's Director of Track & Field and Cross Country. "It's just been really fun to watch them become a part of the track and field family. The upperclassmen have done a great job in just making them feel welcome and making sure they have what they need. In some aspects, sometimes you almost forget they're freshmen. They're where they're supposed to be when they're supposed to be there. They're very academically minded. Their priorities are where they're supposed to be, so it's just been a pleasure to be around them every day this year…And just watching them mesh together, it's just been really fun."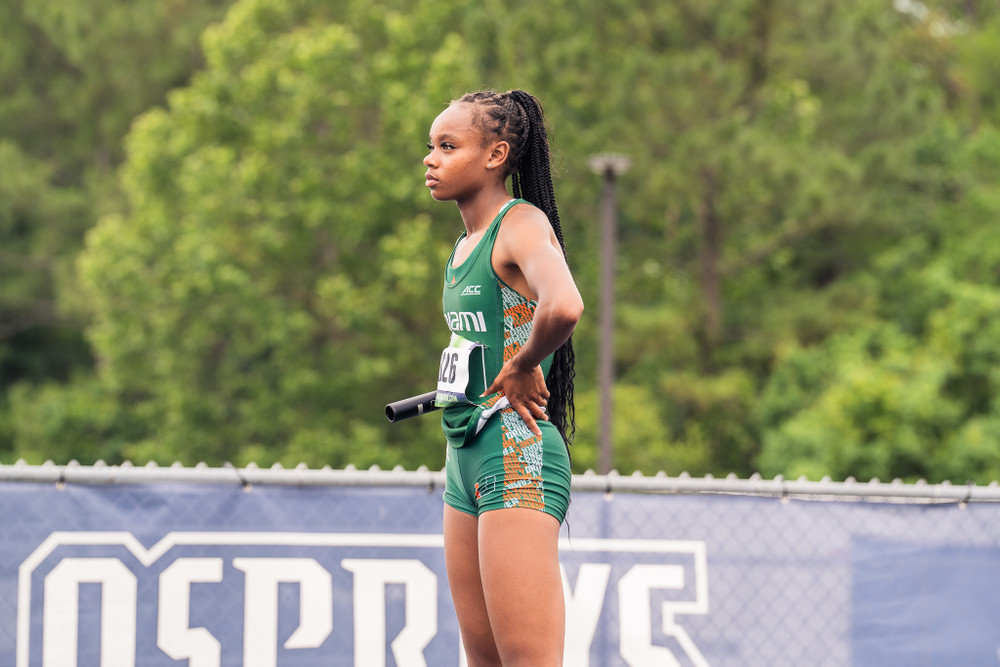 While this weekend, Hebron and Grissom will be working to help the Hurricanes defend the ACC title, both have high expectations for the rest of their Miami careers and even the summer, when Deem said both could be competing for spots on the U.S.A. Track & Field Under 20 team.
And the lessons they've learned from each other, from their teammates, from their famous dads and their competitive siblings, no doubt, have helped them prepare for the next steps on their journeys.
"I think freshman year has been more than I could dream," Hebron said. "I'm very happy with how I've gotten acclimated to collegiate track. The training, the competing. I'm very happy with my results so far and I'm excited to see where it goes because it's all been different experiences."
Said Grissom, "I've learned a lot of lessons this year and I'm grateful for them. This is the most I've ever grown in my life. So just every little thing that I've learned, I just want to make sure that I pay attention to those and keep learning so when I go into next season, the new me that I am, I think it can be that much better."