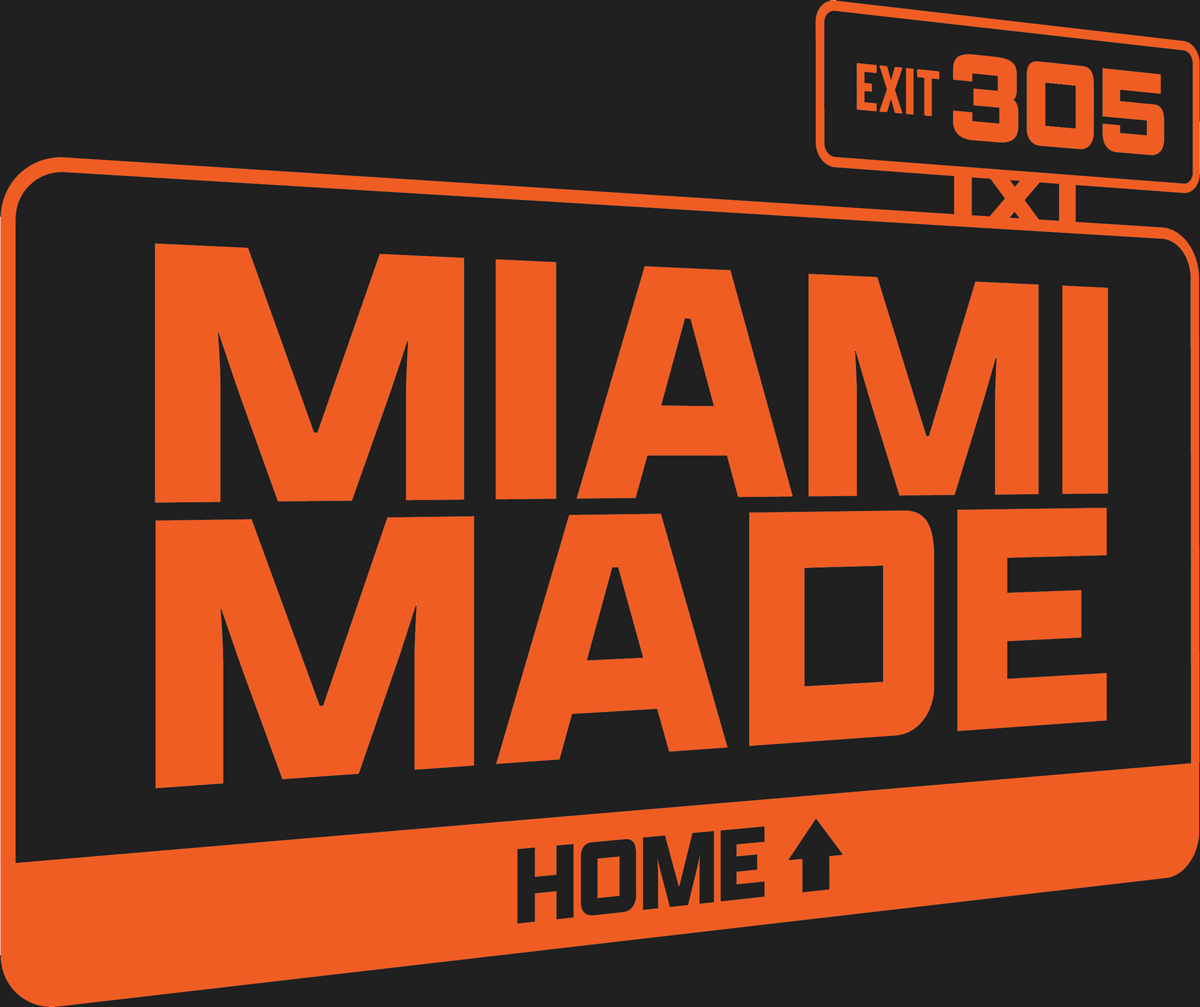 Moriah Oliveira
Amidst the heartache of losing two loved ones within weeks of each other, Moriah Oliveira found an unexpected wellspring of support from her sister, Miami teammates and coaches. Moriah found solace on the track and turned her journey from tragedy to triumph.
By Christy Cabrera Chirinos
CORAL GABLES, Fla. – Moriah Oliveira woke up on that sad September morning fully expecting it to be one of the most difficult days of her life.
Just weeks removed from having to say goodbye to her grandfather, she found herself having to say goodbye to her father, the man who'd always been one of her biggest cheerleaders, her first coach and the driving force behind her initially falling in love with the sport of track and field.
Every part of her dreaded the funeral that awaited, the funeral she and her twin sister, Sierra, hoped would be as special and memorable as it could be for their father, Herbert Kalani.
But on that dark day, Oliveira found a comfort she could never have imagined: her Miami teammates and coaches, who'd traveled across the state to Oliveira's hometown of Fort Myers to lend their support for the sprinter and her sister.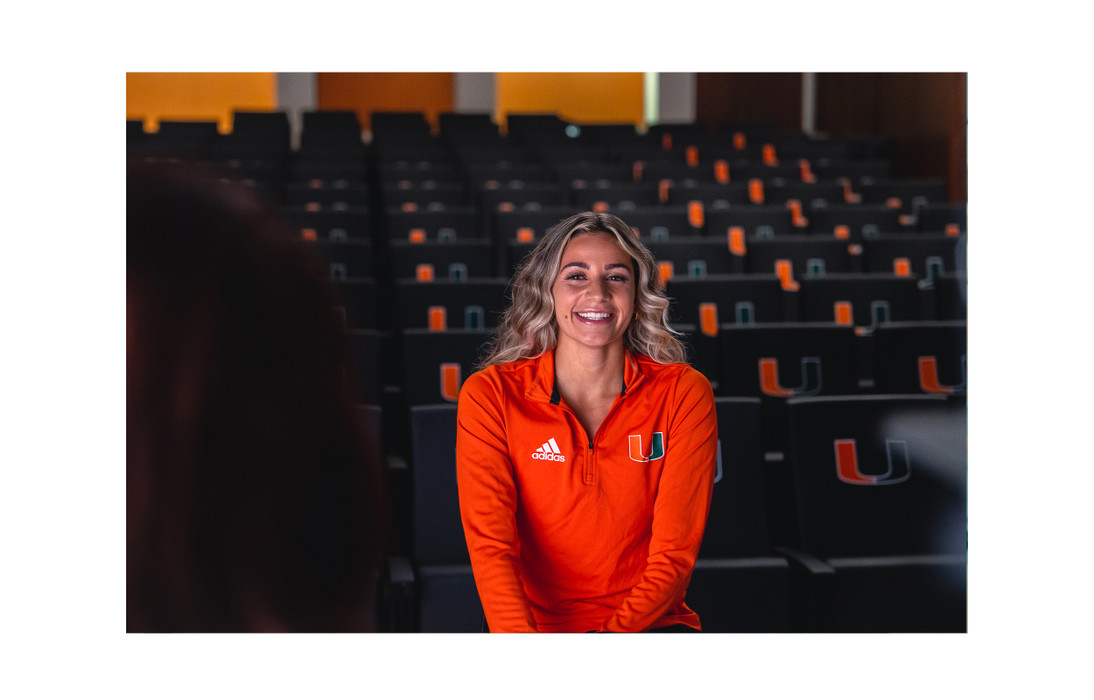 "I turned my head and saw a bus full of people and I was thinking, 'There's no way that my team is here right now' and then I saw everybody slowly get off the bus," Oliveira recalled. "I had this wave of relief just come off me because I felt like I really had people supporting me, not only from home, but from all the way in Miami and they'd driven all that way to support me."
"That meant a lot…They were there for me, and it just made everything a lot easier because I remember that day was really hard for me before I got there. Seeing all of them kept me positive and reassured me that everything was going to be okay, you know what I mean? Not even just that day, but that everything was going to be okay moving forward and that they were going to be there for me and that my coach was going to be there for me."
In every way possible, the Hurricanes have tried to be there for Oliveira and her sister, who is also a member of the Miami track and field program.
When it felt too overwhelming to be on the track, there were heartfelt conversations about life and grief and finding peace. When there were nights Moriah Oliveira couldn't sleep, there was encouragement from Amy Deem, the coach she'd connected with almost instantaneously as a high school prospect, the coach she'd felt even then would always be there for her.
Every bit of it proved to Oliveira that she'd made the right decision to become a Hurricane.
At Miami, she'd found a second family and when she needed it most, that family embraced her.
"Whenever you lose a parent, it's extremely traumatic," Deem said. "I can't even imagine what it's like to lose a parent at 18 or 19. For me, I was just doing the best that I could with knowing what they were going through…It was being able to listen and just really try to provide everything we could so they could get through it the best way that they could. Making adjustments, even if I got a text message at 7 in the morning [saying] that 'I didn't sleep all night.' You check on them that day, but practice doesn't seem that important when you're going through something like that. If it helps you get through it, great. If it's just a reminder or it makes it even harder, those are things you have to evaluate when you're looking at something like that."
Said Hurricanes distance runner Blanca Hervas Rodriguez, a teammate of Oliveira's and the twins' roommate, "As Coach Deem says, we're all a big family and at the end of the day, it's important for people in that situation to feel support and feel like they can hug someone. They need people to be there for them. We thought it was important to have the whole team, which is who you spend all your daily practices with, be with them…"
Motivated by Memories
All that support, it turns out, would make all the difference when Oliveira returned to the track.
After a fall season in 2021 that she conceded was probably her "hardest ever," Oliveira found a way to channel her emotions into her events, the 200 meters, the 4×400 relay and her specialty, the 400 meters.
In February, during the indoor track season, Oliveira captured the 400-meter ACC title with a time of 52.88 seconds, a new personal best.
She'd top that mark – in emotional fashion – three months later.
Despite all the grief she was still struggling to navigate, at the ACC Outdoor Track & Field Championships last May, Oliveira clinched another conference title in the 400, this time with a mark of 51.85.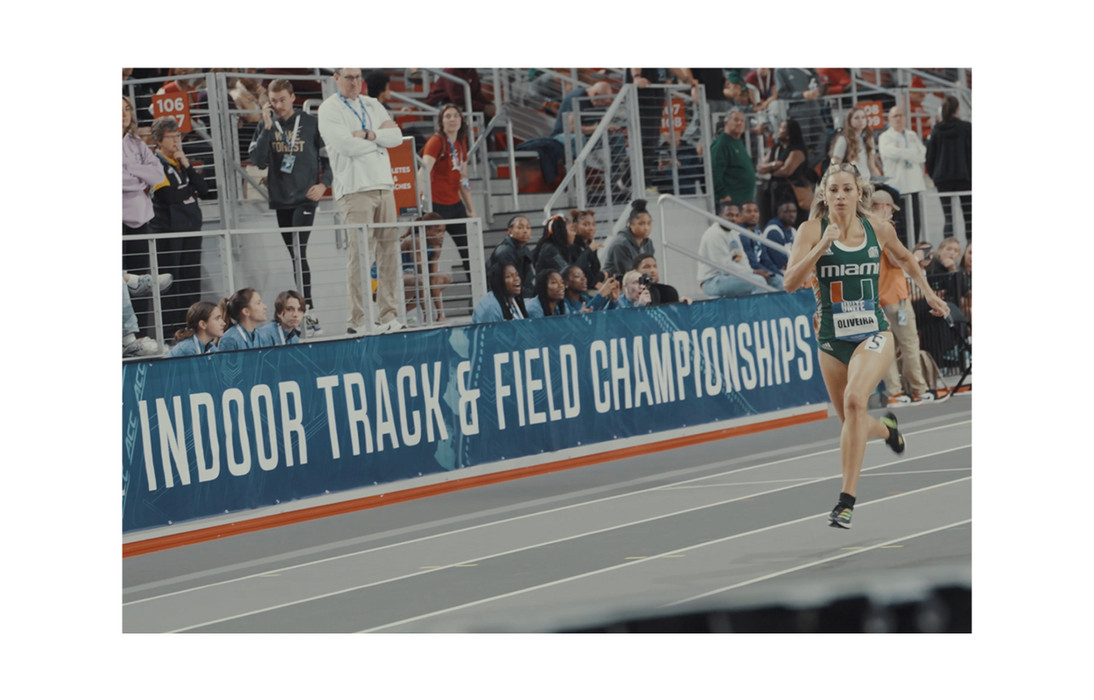 The 51-second mark was a goal she'd set with her father and when she crossed the finish line, looked up and saw her time, she – and her sister and teammates – were overcome.
"When I saw that time, I was jumping up and down in the stands and then I was sprinting to the end of the line. I was like, 'I'm going to be the first person she sees,'" Sierra Oliveira said. "She was crying, I was crying. I was just hugging her. I just kept telling her over and over again 'We're so proud of you. You're amazing. Dad would be so proud. He saw that. He's watching' That was one of the proudest moments I've ever been of her."
Said Moriah Oliveira, "I didn't quit. I didn't give up. And not only did I just show up, I also actually hit my goals. I wasn't just going to practice and getting through practice. I was going to championships and competing and competing really well and winning. I almost couldn't believe what I was going through because physically, what I was accomplishing wasn't what I was feeling mentally. That was kind of tough to navigate sometimes, not really understanding how I was at such a low point mentally but performing so well. I think I finally figured it out at ACCs."
What Oliveira realized was that on the track, even in her pain, competing was somewhat simple.
Her mind was focused not on her grief, the pain she and her sister shared, her family's struggle, her classes, or anything else.
When she got on the line to start a race, her focus was on running and nothing more, with her father's inspiration pushing her to go harder than she had the day before.
"I would definitely say that came from my dad. When I was in high school, meets weren't always that serious. But to him, they were basically like an ACC championship," Oliveira laughed. "Where I could have gotten a bad grade that day or there could have been a little injury or something, he'd always tell me 'Go out there and run your race.' I think that's really been like my motto ever since I was in high school, just go out there and run no matter what you're going through. In high school and now here in college, no matter what I'm going through off the track, that just kind of disappears for me when I'm about to race."
That ability to perform her best when the spotlight is the brightest, Deem said, will only continue to be an asset as Oliveira continues growing in the sport and attempts to defend her title at this week's ACC Outdoor Championships.
Managing expectations will be key, too.
"Track and field is a tough sport to go professional in, but I think she has the ability. She's so young in the sport. Her training age coming into the University of Miami was very young, so for her, these next few years will let her see what she's capable of in the sport of track and field," Deem said. "If this is something she really desires, she has the skillset to be one of the best. But when you get to this level, everyone's talented. When you get to the NCAA Finals or the USATF Finals, it becomes that extra [level]. That's where the growth is going to come in…How does she handle those situations? Physically, she's doing a great job. Now, it's how do I handle the expectations moving forward?"
Making an Impression
Her coaches, teammates and competitors weren't the only ones to take note of Oliveira's skillset and championship mettle.
Last summer, the junior was one of 15 female student-athletes nationwide to sign a name, image and likeness deal with adidas, the University of Miami's official athletic footwear, apparel and accessory brand.
As part of her partnership with adidas and the company's "More is Possible" campaign, Oliveira spent four days in Los Angeles with top-notch student-athletes from across the country. She was the lone track and field athlete selected for the campaign, which was launched in conjunction with the 50th anniversary of Title IX and debuted in New York City with help from tennis great Billie Jean King, women's basketball star Candace Parker and Peloton instructor Ally Love.
It was, Oliveira said, an unforgettable experience and one more reminder that despite all she and her family had endured that there were still reasons to smile.
"Being with all those girls in the same room and knowing that we dedicate ourselves every single day to our sport, to perfecting our craft…being able to take pictures with everyone and sharing these special moments and each other's stories, I thought that was a big thing for me," Oliveira said. "That also kind of felt like a family, knowing that we represented something really important. We weren't alone. We were doing it together and strength comes in numbers. So, I was really happy that I was there with 14 other girls. We had a really fun time."
Said Deem of Oliveira's impact on the NIL landscape, "I think Moriah set the stage very high for NIL with the University of Miami track and field program…Her balancing it [with her academics and competition] goes a long way into showing what opportunities can be available for track and field athletes. I think sometimes we look at NIL as [being for] basketball and football. But NIL can be a tremendous asset for not only Moriah, but for all of our track and field athletes. I think she is kind of paving the way for us as a track and field program of what opportunities are out there."
For Oliveira, the goal now is to continue building on the success she's found amidst her heartache.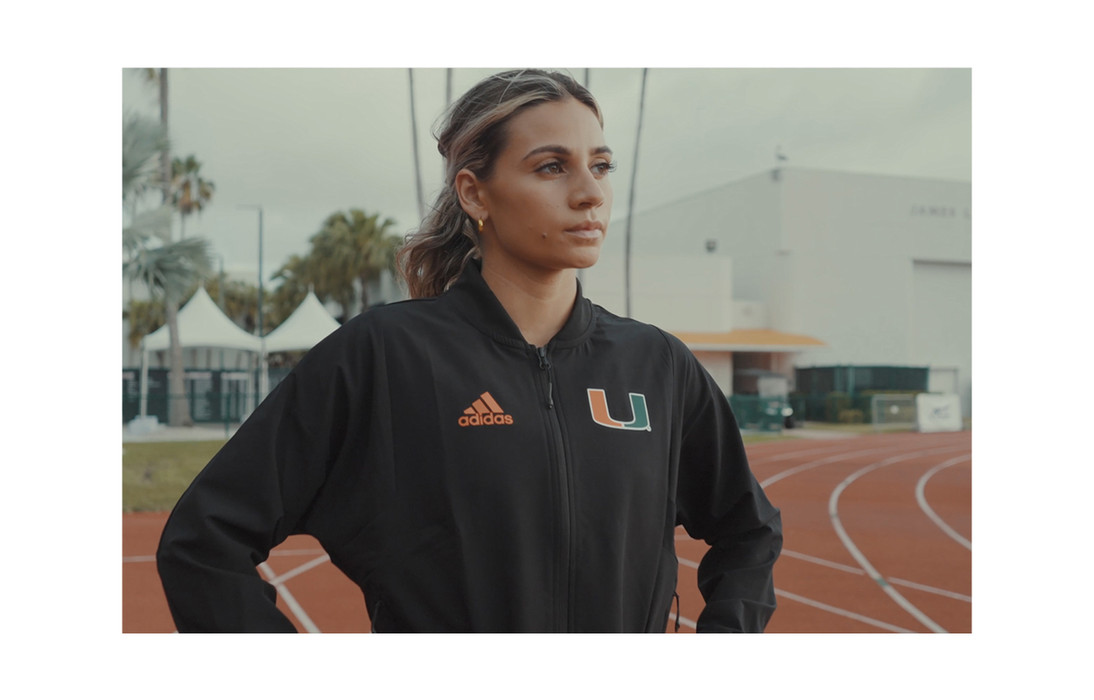 Her father's influence still fuels her when she's on the track. She and her sister – who is younger by two minutes, but whom Oliveira considers "the mother" in their relationship – continue relying on each other to navigate their toughest moments.
And Oliveira knows her Miami family remains at her side, providing support, on and off the track.
That's something she doesn't take for granted – and something she knows her father would appreciate as she continues taking the next steps in her career.
"It's been a long process getting to where I am today. There were a lot of hardships in there. There were a lot of things I had to go through and grow as a person to get where I am," Oliveira said. "But I think the biggest thing would be staying focused on my idea of being my best self and perfecting my craft. I've really just wanted to be the best runner I can be, and I don't think I could have done that without going through some of the things I had to go through to get to this point…
"I fell in love with the sport through my dad. He was my biggest supporter and I think just thinking about him really when I'm competing and when I'm practicing has been my biggest motivation. I think my biggest motivation has been thinking about how proud my dad would be if he saw where I am today. I know that he's watching [from] up above, and I just feel like he's right there with me and practicing. Looking at the spot where he used to sit when he came to our home meets is like a really big deal for me."