Martin Tabbed to All-ACC First Team
CORAL GABLES, Fla. – For the second year in a row, University of Miami men's tennis player Dan Martin has been named to the All-Atlantic Coast Conference First Team, as announced by the league Monday.
Not only is this the second straight first-team selection for Martin, but it is also the fourth all-conference honor of his career as he earned All-Ivy First Team and All-Ivy Second Team in 2019 and 2018, respectively.
With the selection, Martin becomes the first player in program history to earn All-ACC First Team honors twice. The league began delineating first, second and third teams in 2014.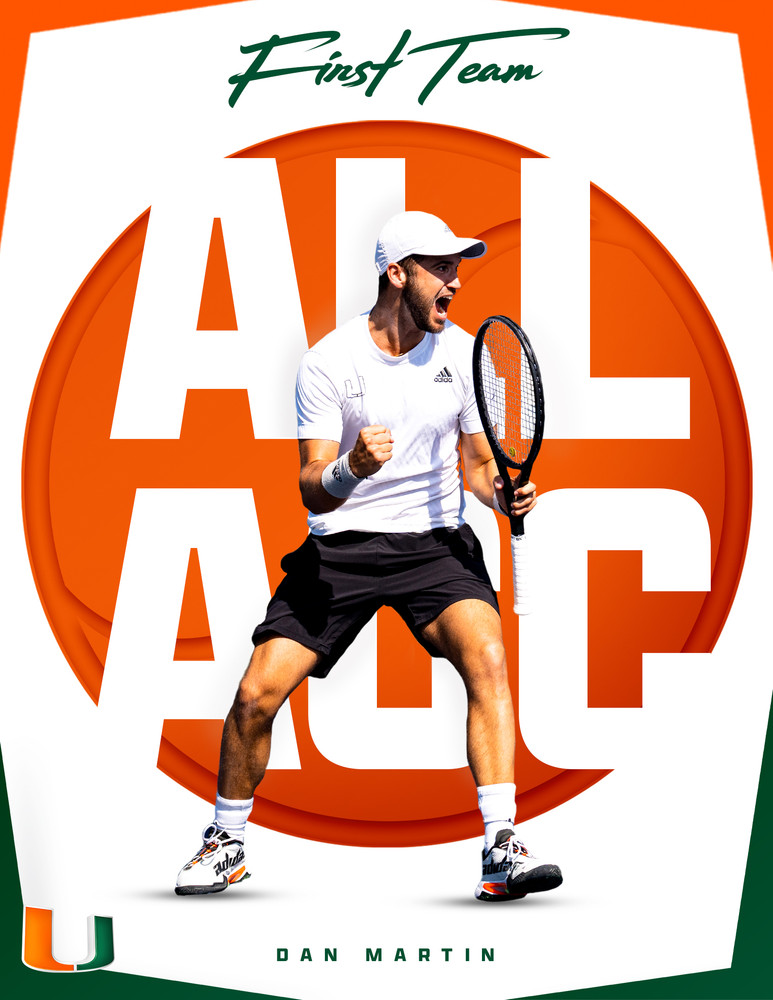 In his second season at Miami, Martin posted a 21-13 record in singles action, including a 12-9 mark at first singles this spring. The Laval, Quebec, native went 6-10 against ranked opponents this season, highlighted by a 6-4, 6-4 defeat of the nation's then-top-ranked player, Ethan Quinn.
Martin recorded five victories over top-40 opponents and checked in at No. 26 in the most recent ITA singles rankings.
In doubles action, Martin notched a 20-7 overall record and a 13-5 mark in ACC play. Upon teaming up with fifth-year senior Franco Aubone at second doubles, Martin won 10 of 12 doubles matches, including a win over the No. 68 doubles pair from Louisville.
With 21 singles victories and 20 doubles wins, Martin is one of just two Hurricanes in program history to tally 20-plus singles and doubles wins in back-to-back years, joining Luigi D'Agord who did so in 2006 and 2007.
This marks the 10th All-ACC selection for the Hurricanes since head coach Aljosa Piric took over the program in June 2016.