W. Tennis Moves up to No. 13 Nationally
CORAL GABLES, Fla. – The University of Miami women's tennis team jumped five spots in this week's ITA rankings, claiming the No. 13 position, as announced Tuesday morning.
Miami (9-2, 4-1 ACC) has now ascended 17 places, moving from No. 30 to No. 13, in just a two-week span.
This time, the rise comes after a pair of top-20 triumphs at the Neil Schiff Tennis Center. The Hurricanes took down then-fifth-ranked NC State, 4-3, Friday afternoon and followed that with a 7-0 win over then-No. 19 Wake Forest two days later.
The Hurricanes are now ranked in the top 15 for the fifth time in nine rankings releases in 2023, including the first since Feb. 15.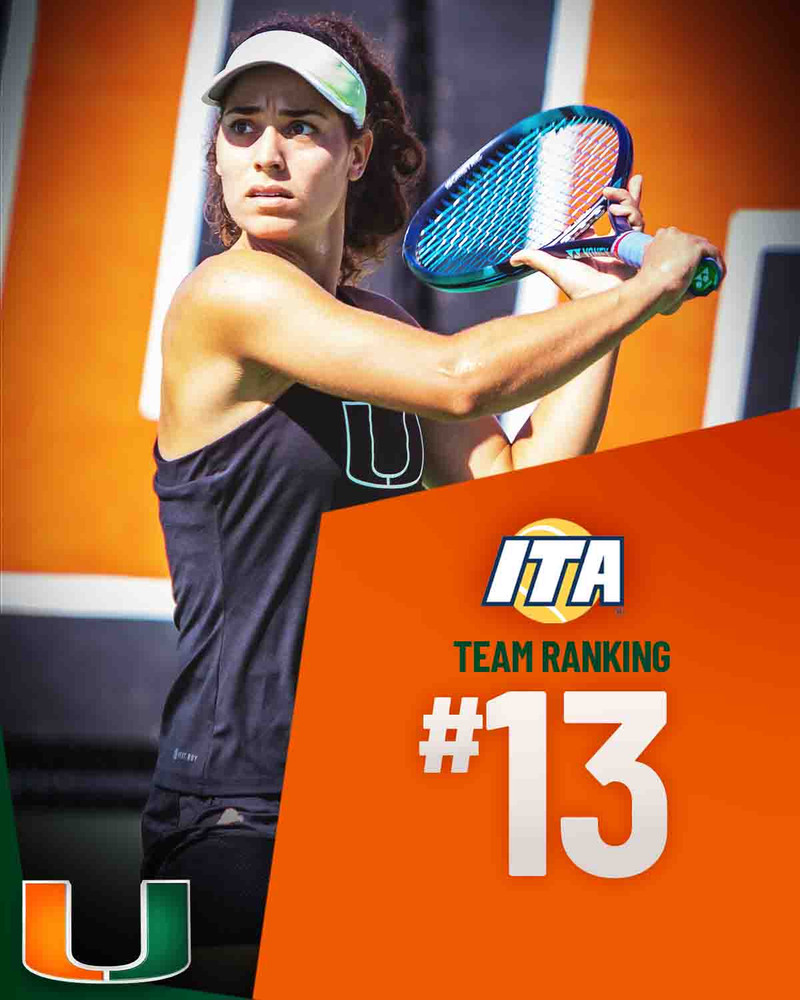 Thirteen of the ACC's 14 teams are ranked in the top 55, including nine in the top 30, seven in the top 25, five in the top 15 and three in the top 10. Miami is featured alongside top-ranked North Carolina, seventh-ranked NC State, No. 10 Duke, No. 11 Virginia, No. 24 Notre Dame, No. 25 Syracuse, No. 27 Georgia Tech, No. 28 Wake Forest, No. 32 Florida State, No. 46 Clemson, No. 51 Boston College and No. 55 Virginia Tech.
The complete ITA team rankings list can be found HERE.
Miami plays its final non-conference match of the regular season Sunday at 1 p.m. ET against second-ranked Texas A&M in Bryan-College Station, Texas.
To keep up with the University of Miami women's tennis team on social media, follow @CanesWTennis on Twitter, Instagram and Facebook.