MBB Receives No. 5 Seed in 2023 NCAA Tournament
CORAL GABLES, Fla. – For the 12th time in program history, including the sixth in the last 11 years, the University of Miami men's basketball team will play in the NCAA Tournament.
No. 14/13 Miami (25-7, 15-5 ACC) earned the fifth seed the Midwest region, as announced Sunday night on the NCAA Selection Show, live on CBS. The Hurricanes will open play Friday in Albany, N.Y., against No. 12-seeded Drake (27-7, 15-5 MVC) in the Round of 64.
The matchup between Miami and Drake will be the first all-time between the two programs.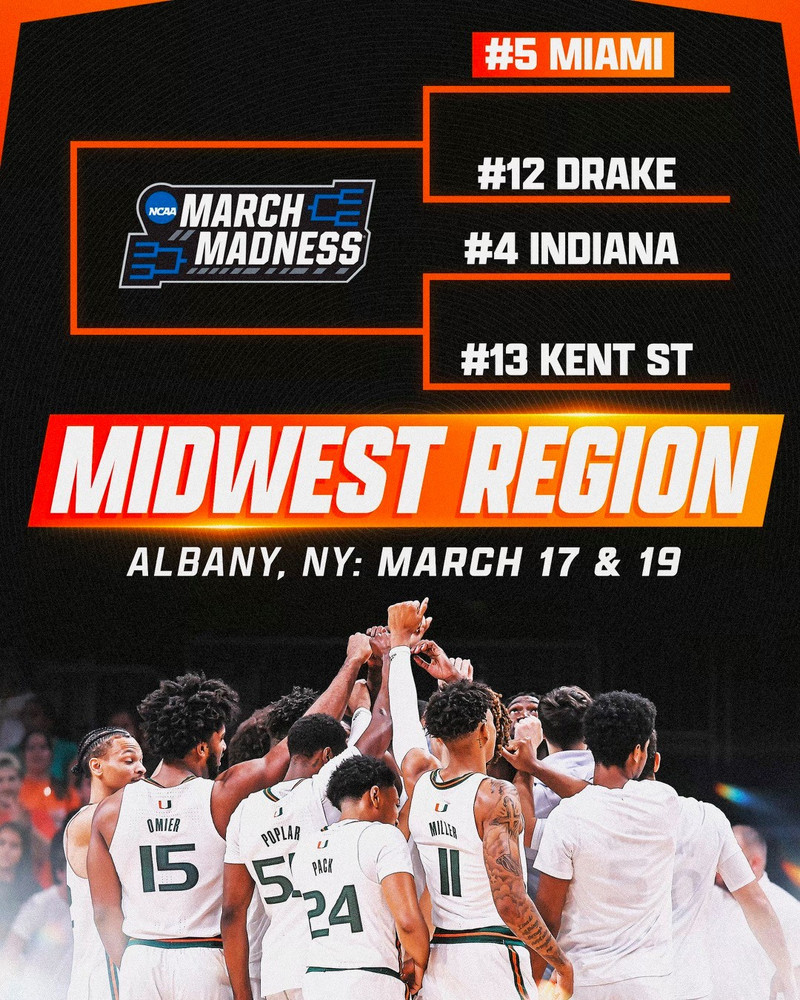 The other two teams in the Hurricanes' pod are fourth-seeded Indiana (22-11, 12-8 B1G) and No. 13-seeded Kent State (28-6, 15-3 MAC). The victor of the Miami/Drake game will face the winner of that matchup Sunday in the Round of 32.
Miami is 11-11 all-time in NCAA Tournament play, including 7-5 under head coach Jim Larrañaga's direction. This is the second time the Hurricanes are seeded fifth, alongside the 2002 event.
This is the sixth time in Larrañaga's 12-year tenure Miami is in the NCAA Tournament, matching the program's entire total before his arrival. The Hurricanes garnered a No. 10 seed last season on the way to the first Elite Eight bid in program history. Larrañaga has directed Miami to three of its four Sweet 16 appearances.