Larrañaga Selected as Jim Phelan National Coach of the Year Finalist
CORAL GABLES, Fla. – University of Miami head men's basketball coach Jim Larrañaga is finalist for the prestigious Jim Phelan National Coach of Year Award, as announced Tuesday afternoon.
The Jim Phelan Award, presented annually to the nation's top Division I coach, is named in honor of a legendary bow-tied coach who spent his entire career at Mount Saint Mary's. He led the Mountaineers to the 1962 NCAA Division II national title and retired in 2003, after 49 years, with an 830-524 record across all divisions.
The recipient of the 2023 award will be announced later this month in Houston the site of the Final Four.
Larrañaga, in his 12th year at the helm of the Hurricanes, is one of 20 selections to the finalist list. Just 11 of them come from the Power Six level, including three from the ACC.
The runner-up for ACC Coach of the Year, Larrañaga guided Miami to a 24-6 (15-5 ACC) mark in the regular season. The Hurricanes claimed a share of the ACC regular season title and earned the No. 1 seed in the ACC Tournament after being picked fourth in the ACC preseason poll.
Miami is currently ranked No. 14/13 nationally and has been among the top 20 teams in the national polls for the majority of the season.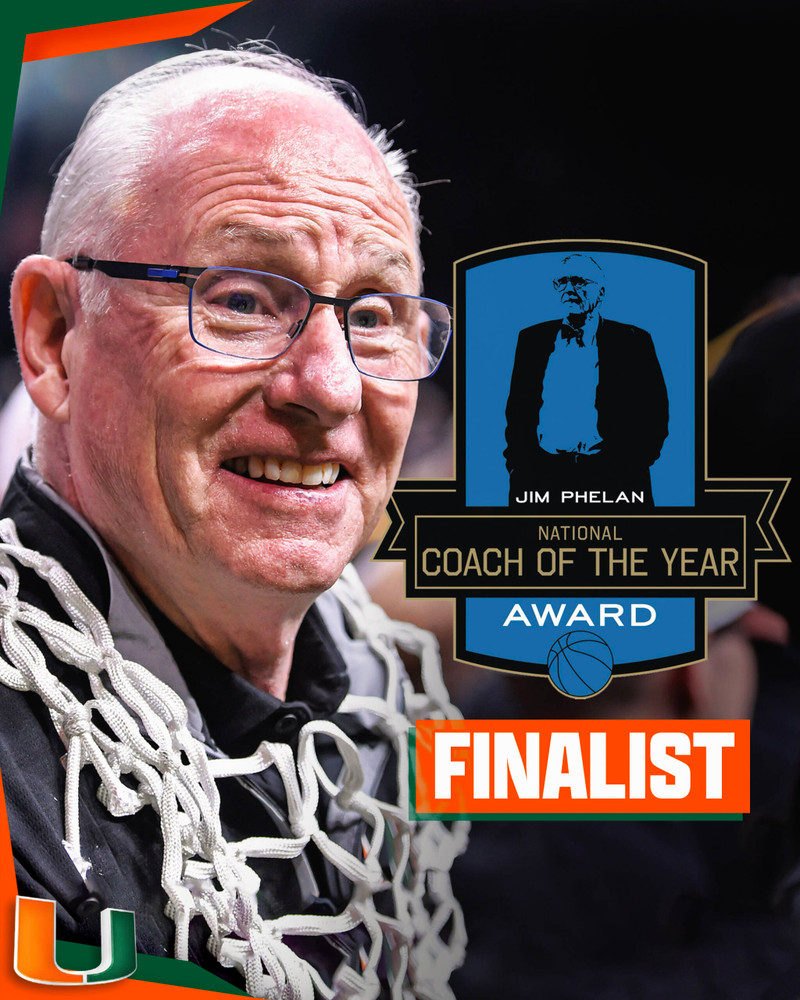 Larrañaga's top-seeded Hurricanes open ACC Tournament competition Thursday at noon against either eighth-seeded Syracuse or ninth-seeded Wake Forest, live on ESPN or ESPN2 from the Greensboro Coliseum in Greensboro, N.C.
To keep up with the University of Miami men's basketball team on social media, follow @CanesHoops on Twitter, Instagram and Facebook.
2022-23 JIM PHELAN AWARD FINALISTS
Amir Abdur-Rahim, Kennesaw State
Kenny Blakeney, Howard
Brad Brownell, Clemson
Jeff Capel, Pittsburgh
Chris Collins, Northwestern
Mick Cronin, UCLA
Darian DeVries, Drake
Pat Kelsey, Charleston
Jim Larrañaga, Miami
Dusty May, Florida Atlantic
Tim Miles, San Jose State
Paul Mills, Oral Roberts
Nate Oats, Alabama
Matt Painter, Purdue
Kelvin Sampson, Houston
Shaka Smart, Marquette
Jerry Stackhouse, Vanderbilt
Jerome Tang, Kansas State
Rodney Terry, Texas
Keith Urgo, Fordham