Miami Seeded Sixth in 2023 Ally ACC Women's Basketball Tournament
CORAL GABLES, Fla. – The University of Miami women's basketball team (18-11, 11-7) earned the No. 6 seed in the 2023 Ally ACC Women's Basketball Tournament after finishing the regular season with an 11-7 conference record.
Miami is tied with North Carolina in the final ACC standings, but the Hurricanes hold the tiebreak over the Tar Heels, having beat them, 62-58, earlier this season.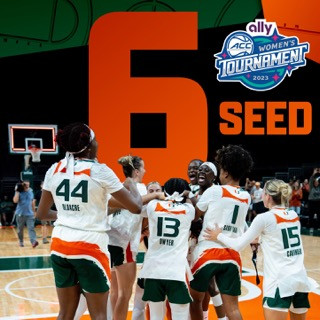 After a first-round bye, the Hurricanes will take on either the 11th-seeded Boston College Eagles (15-16, 5-13 ACC) or the 14th-seeded Georgia Tech Yellow Jackets (13-15, 4-13 ACC) on March 2.
Tipoff is set for 8 p.m. at the Greensboro Coliseum and the game will air on ACC Network.
The Hurricanes went 3-0 against Boston College and Georgia Tech this season, sweeping the Yellow Jackets in a home-and-home series and posting a resounding 86-65 win over Boston College in late January.
Miami is 4-3 all-time in second round ACC Tournament games and has faced Georgia Tech five times (2-3) and Boston College once (0-1).
All-session ticket books, which include tickets for all 14 games of the five-day tournament, are available for $99. Individual session ticket prices start at $10 for reserved seating and $7 for general admission seating (for select sessions). Tickets may be purchased at Ticketmaster.com.