Inspired to Make a Change
CORAL GABLES, Fla. – It was a high school class that initially piqued his interest.
Michael Redding III was a senior at IMG Academy in Bradenton when he dove into his first psychology textbook. As he began his first studies of the mind and how it works, he realized he'd found something fascinating.
These days, he realizes he may have found a calling.
A third-year redshirt freshman receiver for the Hurricanes, Redding is intent on playing football as long as he can. He aspires to not just star at Miami, but work his way onto an NFL roster, too.
But when his playing career is over, Redding intends to pursue a career in psychology as a licensed mental health professional.
He believes that by doing so, he can make a significant difference in the world at large and in the Black community, specifically.
"Within the Black community, we have this strong stigma about mental health and [people] see it as a weakness. I'm not going to say it's the wrong perspective, but it's not the best perspective about mental health," Redding said. "I think if we change the way we view mental health and we're able to kind of get away from that stigma, we all can feel more vulnerable and able to make ourselves better.
"One example I use with people a lot of times is mental health is just like physical health. If you hurt your shoulder, what are you going to do? You're going to go to the doctor and go get it fixed. But when we hear about mental health or we say 'I'm not feeling so good,' we don't know what to do or what we're supposed to do. And instead of getting it fixed, you re-injure it, re-injure it, and it gets worse and worse…There's people that are professionals that can help you, just as they would if you needed physical help. We've got to be able to change that perspective and that stigma around mental health."
Redding – who is the community co-chair of Miami's Black Student-Athlete Alliance, a member of UM's Student-Athlete Advisory Committee and sits on the ACC's Student-Athlete Advisory Committee – said it was participating in the Black Student-Athlete Summit in Houston last year, that made it clear there was a glaring need for more Black mental health professionals.
As he spoke with fellow student-athlete leaders, some shared with him how seeking professional help had helped them in a number of ways, while others told him they were hesitant to seek that same help for multiple reasons, including the lack of Black representation in the mental health field.
According to the Black Mental Health Alliance, only 6.2 percent of psychologists, 5.6 percent of advanced-practice psychiatric nurses, 12.6 percent of social workers and 21.3 percent of psychiatrists are members of minority groups. Mental Health America, meanwhile, notes that less than 2 percent of American Psychological Association members are Black or African American.
Redding left the summit determined to try and address that issue as best he could, acknowledging that those numbers make it harder for some in the Black community to seek help, if they need it.
"You want to be able to feel comfortable because you know that person across from you went through the same things as you," Redding said of the need for increased Black representation in the mental health field. "Another thing is biases. There are always going to be biases. Maybe the psychologist may have a certain way of thinking about you before you even step in the room. But when there's somebody that looks like you and has shared experiences, they understand. They know how it is out there in the world because they look like you and they may have been through those same problems."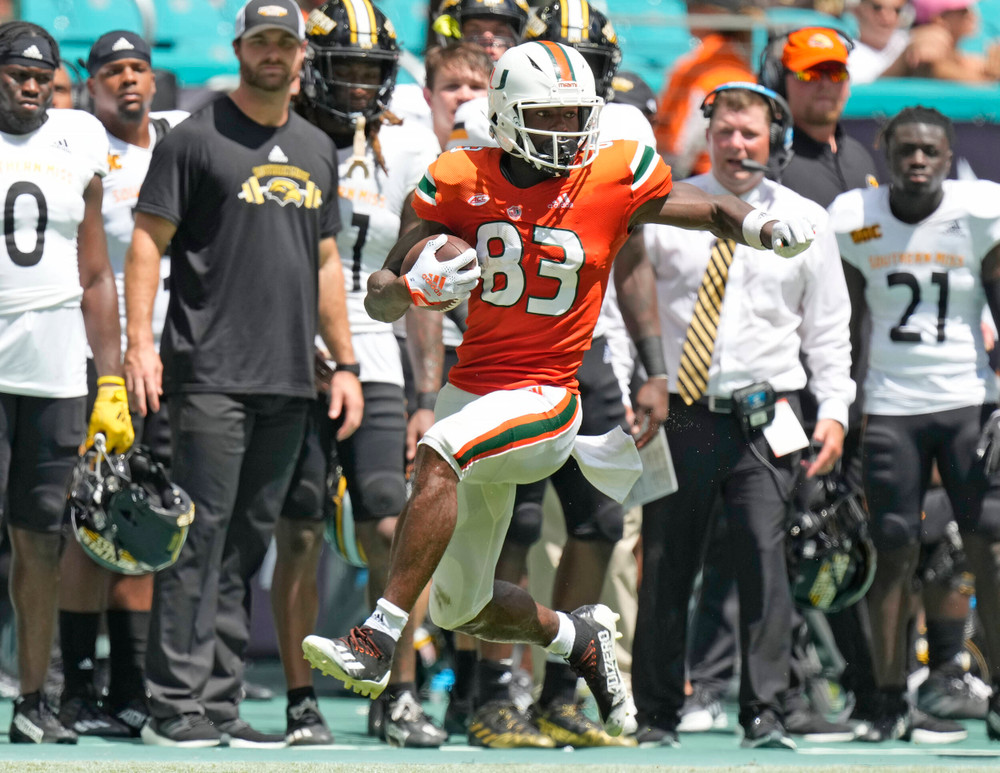 To that end, Redding – who will graduate with a psychology degree this spring and will also participate in this year's NCAA Student-Athlete Leadership Forum – intends to pursue not only a master's degree in mental health counseling but a doctorate in psychology, too.
It was an aspiration he even shared recently with his football teammates during a meeting about their individual goals.
"Dr. Redding sounds good," he said with a smile. "It has a nice ring to it. I'm thinking like, 'Hey, I might be able to accomplish that. I might be able to go do that if I put my mind to it.'…You need an idea, you manifest it a little bit, talk about it, see how it sounds and that's when it comes down to coming up with a plan. Right now, I don't have a solid plan. It's going to take some years, maybe some time. But that plan is on the way."
Those who know him have no doubt Redding will continue finding ways to make a difference.
They also know the approach he's taken in growing as a leader at Miami will only serve him well, both on the football field and in his eventual professional career.
"He's a quiet leader, but he takes people under his wing," Assistant Athletic Director for Student-Athlete Development LaToya Farris said of Redding. "There are a couple guys on the team who want to get more involved, and Mike is like, 'Just hang with me. Do what I do. This is how you'll get involved.' And I've seen it. Those guys are starting to come around more and get more involved in the stuff that we do. He's so genuine and very thoughtful. He comes in and offers great insight on so many different things."