Achong, Harden & Hedley Earn ACC Postgraduate Scholarships
CORAL GABLES, Fla. – A trio of University of Miami standout student-athletes received 2023 Weaver-James-Corrigan-Swofford Postgraduate Scholarship Awards, as announced Friday morning by the league office.
Daevenia Achong (women's tennis), Destiny Harden (women's basketball) and Lou Hedley (football) all made the elite cut and are among just 53 selections from the conference's 15 member institutions.
"The student-athletes in the ACC are amazing, and we are especially proud to honor this year's class of ACC Postgraduate Scholarship recipients that represent our 15 world-class institutions," said ACC Commissioner Jim Phillips, Ph.D. "The academic and athletic resumes of these 53 student-athletes are incredible, and we applaud their dedication and commitment to excellence. We look forward to continuing to support these tremendous individuals as they approach the future, which is incredibly bright for each of them."
A two-time All-ACC choice, including a first-team pick last spring, Achong reached the 2022 NCAA Doubles Championship title match on the way to finishing six nationally and claiming both ITA All-America and ITA Collegiate National Team plaudits. The three-time ACC Player of the Week from Geleen, Netherlands, is 77-53 in singles play with 20 ranked wins in her superb career. She is also 74-43 in doubles with 21 ranked triumphs and is currently ranked ninth nationally alongside Alexa Noel.
Achong, two-time All-Academic Team honoree, is a member of ODK National Honor Society and Mortar Board Honor Society. She graduated with a degree in finance in May 2022, posting a 3.748 GPA, and now sports a dazzling 3.948 GPA in a finance master's program. The eight-time AD's Honor Roll (3.2+ GPA) designee owns five Dean's List (3.5+ GPA) recognitions, is a four-time ITA Scholar-Athlete and a two-time Arthur Ashe Sports Scholar.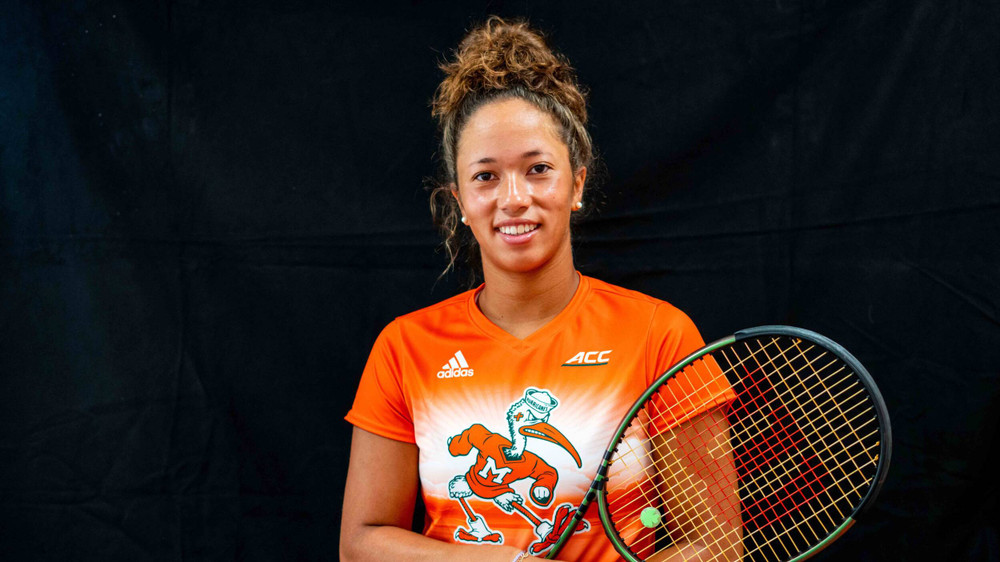 Harden, who is just 58 points away from 1,000 as a collegian, owns 82 starts and 132 appearances in four seasons as a Hurricane. The forward from Chicago is averaging career bests in both points (12.0) and rebounds (5.7) per game in 2022-23, the former second-best on the team and the latter tops among Hurricanes. A 2022 ACC All-Tournament Team selection, Harden owns eight 20-point performances, including two 27-point outings in the postseason.
In the spring of 2021, Harden earned an undergraduate degree from Miami in criminology, recording a 3.013 GPA. She is now enrolled in the school's public administration master's program and owns a 3.208 GPA. Harden made the Book Buster's Club (3.0+ GPA) five times during her undergraduate tenure, twice earned AD's Honor Roll distinction and made the 2021-22 All-ACC Academic Team.
A three-time All-ACC honoree, including a first-team selection in 2022, Hedley is among the most accomplished specialists in league history. The Mandurah, Australia, native was a 2020 Ray Guy Award finalist and Associated Press Second Team All-American. Hedley punted 206 times in 47 games across four seasons, averaging 45.2 yards per attempt, dropping 77 punts inside the 20 and amassing at least one 60-yard boot each year.
Hedley is a two-time Miami graduate, earning a bachelor's degree in sport administration in the summer of 2021 with a 3.248 GPA and adding a master's degree in liberal studies in December 2022 with a spectacular 3.9 GPA. A five-time member of the AD's Honor Roll as an undergraduate, he twice claimed a graduate award of academic merit (3.8+ GPA). The two-time All-ACC Academic Team pick is a member of ODK National Honor Society.
The Weaver-James-Corrigan-Swofford postgraduate scholarships are awarded to selected student-athletes who intend to pursue a graduate degree following completion of their undergraduate requirements. The designees have performed with distinction in both the classroom and their respective sport, while demonstrating exemplary conduct in the community.
Harden will receive $6,000 toward her graduate education, while Achong and Hedley are two of the 11 honorary recipients.
The ACC has selected postgraduate scholarship recipients annually since 1971.  Over that time, the league has provided nearly $4.7 million to more than 1,000 ACC student-athletes. This year's class of postgraduate scholarship recipients will be highlighted in a one-hour show on ACC Network that will air in May.
The complete list of 2023 ACC postgraduate scholarship recipient can be found HERE.
To keep up with University of Miami Athletics on social media, follow @MiamiHurricanes on Twitter, Instagram and Facebook.