Andrade Crowned ACC Weight Throw King, Hurricanes Start ACC Indoor Championships
LOUISVILLE, K.y – The University of Miami track and field team completed day one of the ACC Indoor Track and Field Championships Thursday in Louisville. 
With only eight events on display for day one, the hurricanes found themselves in a battle in every one of them. 
Sophomore distance runner Elle Mezzio put her name in the women's indoor top five record book, moving into the number five spot with a time of 17:44.79 in the women's 5000m
Moriah Oliveira moves on to the women's 200m finals after posting a time of 23.78 in the prelims., the final will take place on Saturday at 2 p.m.
Daphnee Lavassas creates magic once again on the track, securing a new program record, which she previously held in the women's 5000m, with a time of 16:18.29. Not only was this a program record, but Lavassas's performance gave the hurricanes the first team points for the conference championship.
For the first time this indoor season, the hurricanes made the decision to assemble a group of women's runners for the distance melody relay. The squad contained Emma Maurel, Sierra Oliveira, Gabriella Grissom, and Natalie Varela as they posted a time of 11:30.42. This performance secures a second-place spot in the women's indoor DMR top-five performance list.
As day one was wrapping up, Décio Andrade did was Décio Andrade does best, and that's standing out from his competition. On his fourth attempt in the men's weight throw, the Portugal native captured what will be his final ACC Championship in the orange and green, throwing a distance of 22.21m and breaking the facility record in Louisville.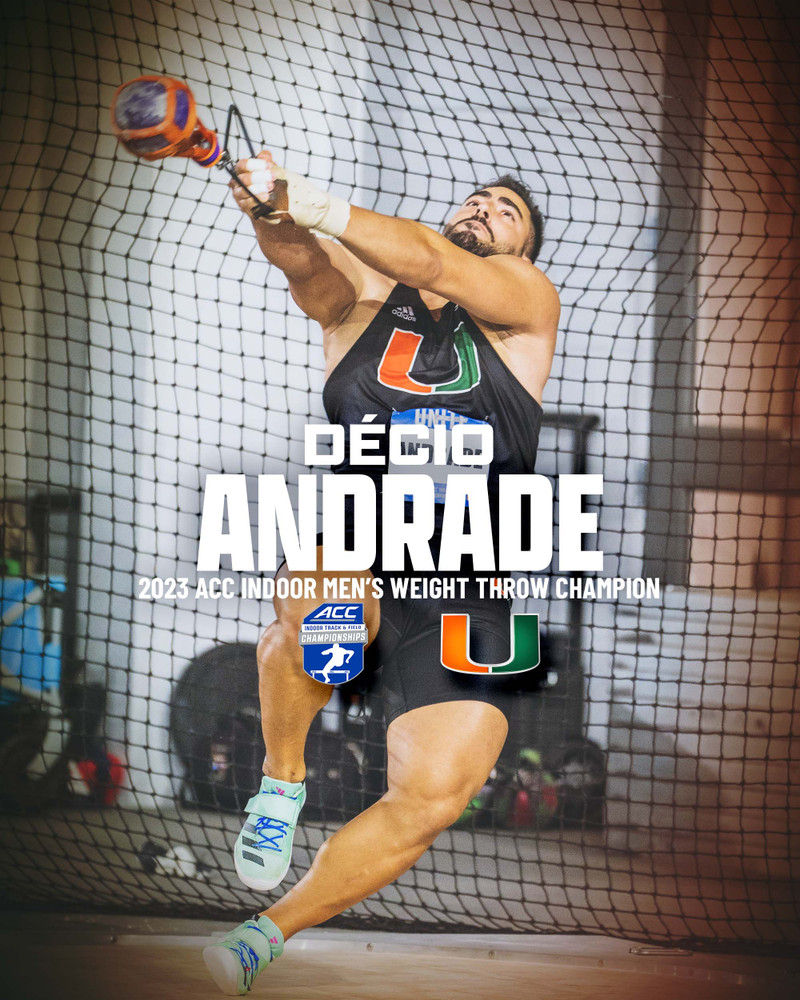 But it doesn't end there…
On his final attempt, Andrade's distance of 22.52m breaks his own program record, which he achieved two weeks ago in Clemson, South Carolina.
"Decio had a good competition. He came out a little shaky but continued to work through the competition. As he got more comfortable, you could see his confidence growing. There is still a lot in the tank, and it's a great start for him and the men's team," Coach Cory Young commented after the performance.
To stay up to date with the University of Miami track and field team, follow @canestrack on Instagram, Facebook, and Twitter.