Noel Enters Top 10 in Singles and Doubles
CORAL GABLES, Fla. – Alexa Noel of the University of Miami women's tennis team continued her ascent up the ITA national individual rankings, moving into the top 10 in both singles and doubles, as announced Tuesday morning.
The redshirt sophomore jumped six spots in singles and now places eighth in the country. She, alongside fifth-year senior Daevenia Achong, climbed eight places in doubles to come in at ninth nationally.
A native of Summit, N.J., Noel is 17-5 in singles play in her first season as a Hurricane, including 9-4 versus ranked foes. This spring alone, she owns a 7-1 overall ledger and a trio of ranked victories.
Together, Achong and Noel are 3-1 in 2022-23, with all four matches coming against ranked opponents. They have two top-25 triumphs as a pair, including most recently downing then-No. 12 Jessica Alsola and Katja Wiersholm of then-No. 20 Cal, 6-4, on Feb. 11 in Miami's 5-2 win.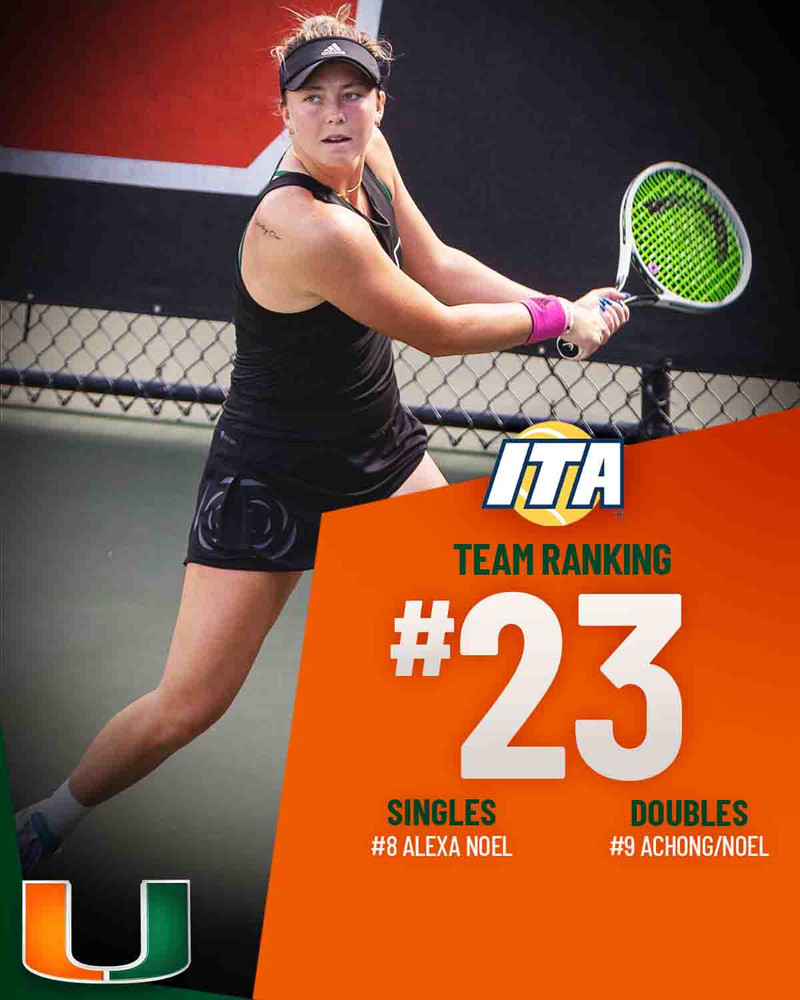 As a team, Miami (4-1) checks in at No. 23 in the first computerized rankings of the spring. For the Hurricanes, who were No. 15 in the final ITA Coaches Poll released last Wednesday, their lone loss is to fourth-ranked Iowa State.
Twelve of the ACC's 14 schools are in the top 55, including nine in the top 35, eight in the top 30, six in the top 25 and three in the top 10. In addition to Miami at No. 23, North Carolina is the top-ranked team in the nation, NC State is ninth, Duke is No. 10, Notre Dame is No. 17, Virginia is No. 20, Clemson is No. 29, Georgia Tech is No. 30, Florida State is No. 35, Wake Forest is No. 38, Boston College is No. 46 and Syracuse is No. 53.
The complete list of ITA team, singles and doubles rankings can be found HERE.
Miami continues competition Friday at 4 p.m. against No. 46 Boston College in Weymouth, Mass., in its ACC opener.
To keep up with the University of Miami women's tennis team on social media, follow @CanesWTennis on Twitter, Instagram and Facebook.