Miami Falls Short at Syracuse
SYRACUSE, N.Y. – The University of Miami women's basketball came up short against the Syracuse Orange, falling 77-68 Sunday afternoon at the JMA Wireless Dome.
For the second straight game, graduate student Destiny Harden led the Hurricanes (17-10, 10-6 ACC) in scoring, totaling 19 points on 8-of-15 shooting. Seniors Lola Pendande and Haley Cavinder joined Harden in double-figures, scoring 15 and 11 points, respectively.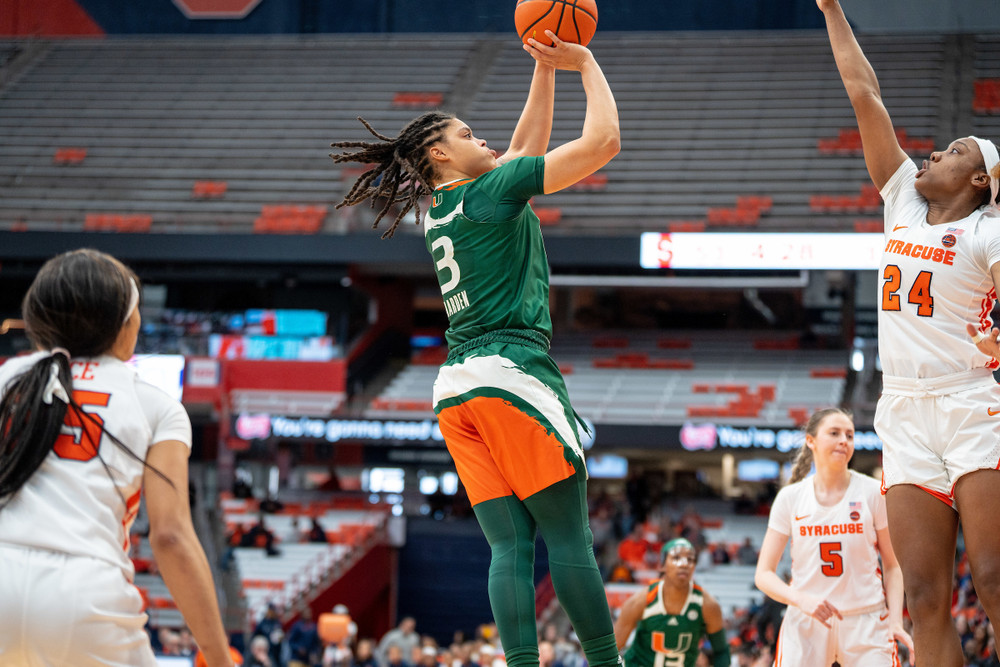 The Syracuse offense got off to a hot start, connecting on 4-of-8 shots from 3-point range to take an early 19-11 lead at the end of the first quarter.
Dwyer took over for Miami in the second quarter, scoring five straight points to spark an 11-2 run for the Hurricanes. The Toronto, Ontario native scored seven of Miami's 17 second-quarter points. Miami scored six of the final eight points in the frame to trail by nine, 37-28, heading into the locker room.
It was all Harden for the Hurricanes in the third quarter as she totaled 13 points on 6-of-9 shooting in the frame. Miami shot 58 percent as a team in the third to keep the deficit at nine with 10 minutes to play.
Syracuse went 4-for-4 to open the fourth quarter, extending its lead to 11 with 4:42 remaining in the game. The teams traded baskets for the rest of the game, but the Orange used a 55 percent shooting effort in the fourth to seal the victory for the home team.
Miami remains on the road to take on the Louisville Cardinals in the Hurricanes' final road game of the regular season on Feb. 23. Tipoff at the KFC Yum! Center is set for 6 p.m. and the game will air on ACC Network.
Single-game tickets are available for purchase online or by calling the Miami Hurricanes ticket office at 1-800-GO-CANES. For more details, dial that number or email canestix@miami.edu.