Miami Falls at No. 9/11 Duke
CORAL GABLES, Fla. – The University of Miami women's basketball team fell, 50-40, to the No. 9/11 Duke Blue Devils, Sunday afternoon at Cameron Indoor Stadium.
"Credit to Duke, it was very hard to do our 'how-to-beats' the way Duke defends and there was a lot if immaturity and rushed shots," head coach Katie Meier said. "I think the fact that we can gather ourselves and come out of halftime really changed, really a different team, is a positive."
Sophomore Jasmyne Roberts paced the Hurricanes on offense with 12 points, while freshman Lazaria Spearman tallied the third double-digit rebounding effort of her career with 10 boards. Senior Haley Cavinder joined Roberts in double-figures, totaling 10 points, including a 2-of-3 shooting effort from 3-point range.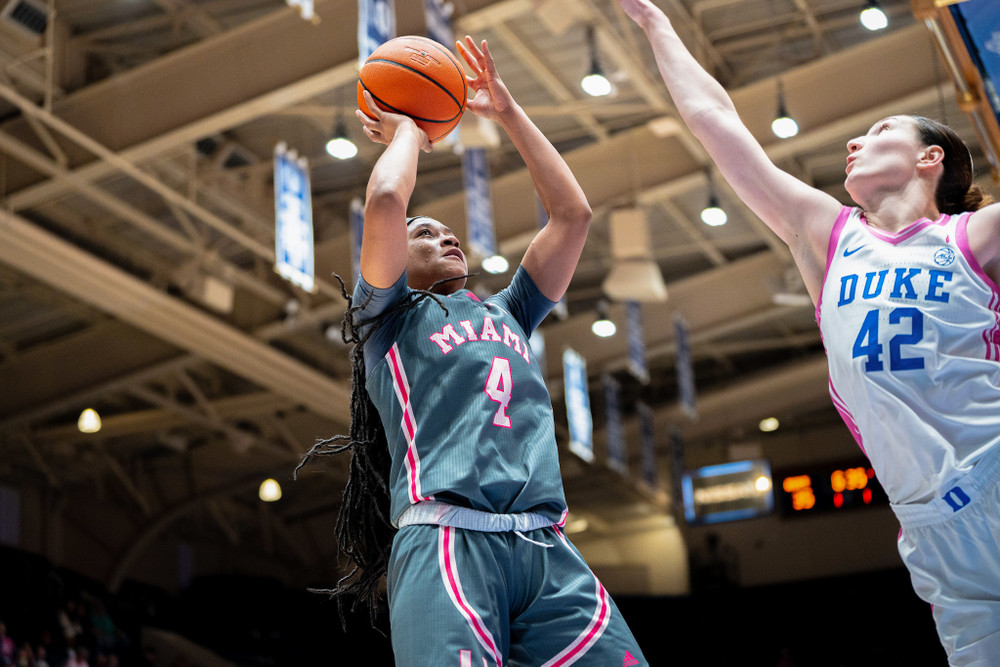 "I'm really proud of Jas Roberts and Lazaria Spearman. Those are two young kids for us who really battled and stayed faithful," Meier said. "Of course, Haley is always going to give it her best shot."
The Blue Devils locked down on defense from the jump, holding the Hurricanes to 13 points on 5-of-21 shooting in the first half. Duke outrebounded Miami 20-14 in the first 20 minutes to hold a 32-13 advantage heading into the locker room.
Haley Cavinder kept the Hurricanes in the game in the third quarter, tallying eight points on 3-of-3 shooting, including a pair of 3-pointers, to pull Miami to within 15, 44-29. The Hurricanes outscored the Blue Devils, 16-12, in the third quarter and shot 50 percent from the field.
Roberts scored the first five points for the Hurricanes in the fourth quarter, pulling the Hurricanes to within 12 on her second 3-pointer of the game. The Miami defense held Duke to just six fourth-quarter points, but the time ran out on the Hurricanes' comeback and they ultimately fell to the Blue Devils, 50-40.
Miami returns to the Watsco Center on Thursday to take on the Clemson Tigers. Tipoff is set for 6 p.m. and the game will air on ACC Network Extra.
Single-game tickets are available for purchase online or by calling the Miami Hurricanes ticket office at 1-800-GO-CANES. For more details, dial that number or email canestix@miami.edu.