Miami Takes Down No. 19/24 Florida State
CORAL GABLES, Fla. – The University of Miami women's basketball team tallied its third top-25 victory of the season on Thursday, taking down No. 19/24 Florida State, 86-82, at the Watsco Center.
The Hurricanes (16-8, 9-4 ACC) faced an 11-point deficit at halftime, but a 24-point second half from senior Haley Cavinder propelled Miami to the comeback victory.
"Does that [game] not tell you how good the ACC is? Florida State, in the first half, I thought, 'they're going to the Final Four,'" head coach Katie Meier said. "They're really good, but it turns out that Miami is really good, too. For us to have to outscore them in the second half and drop 53 was just necessary. I'm really happy, this was a huge win for us."
Cavinder poured in a career-high 33 points against Florida State (20-6, 9-4 ACC), the most points by a Hurricane since Riquna Williams totaled 34 against No. 5/5 Maryland on Jan. 12, 2012. The guard tied her career high in 3-pointers made with seven, going 7-for-10 from beyond the arc.
"It was an incredible performance by Haley and she stayed faithful," Meier said. "When Hanna [Cavinder] played with Haley, she got Haley's timing on time and on target and that started Haley catching fire."
As a team, Miami shot 50 percent from 3-point range, connecting on 10-plus threes (11-of-22) for the third time this season. On the boards, the Hurricanes outrebounded their opponent for the third straight game, hauling in 47 rebounds to Florida State's 28.
Four other Hurricanes joined Cavinder in double figures – sophomores Jasmyne Roberts (19) and Ja'Leah Williams (14) and graduate student Destiny Harden (10). Senior Lola Pendande paced the Hurricanes on the boards with nine rebounds.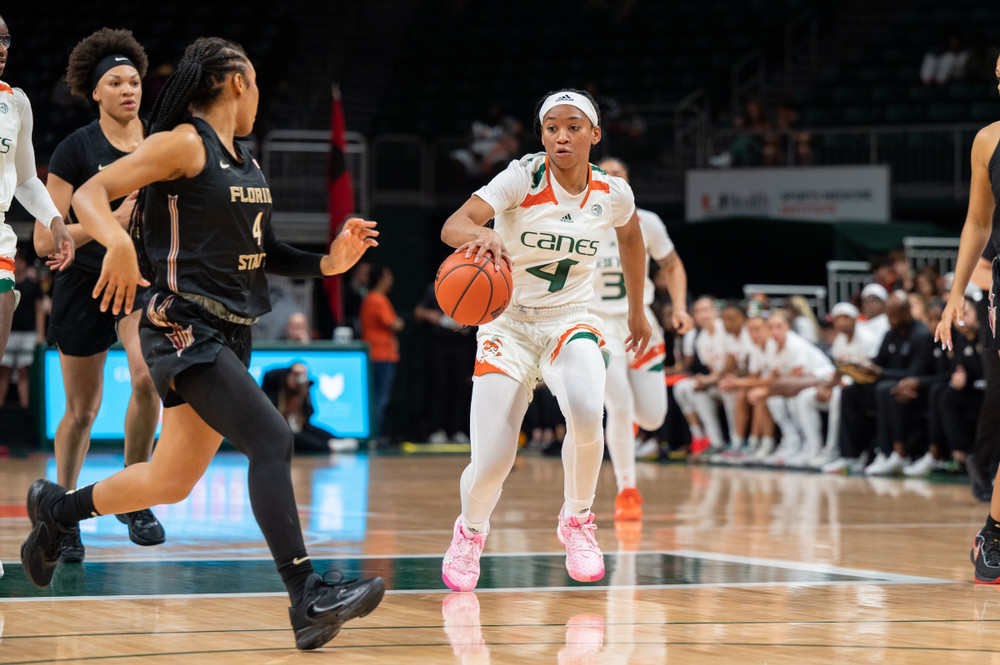 The sophomore duo of Roberts and Williams came to play in the first quarter, accounting for 11 of Miami's 18 first-quarter points. Williams grabbed six rebounds and tallied three assists in the quarter, in addition to her four points.
However, the Seminoles caught fire early from beyond the arc, knocking down six 3-pointers to hold a 21-18 lead after one. Florida State extended its edge to 10, 32-22, at the 6:41 mark in the second thanks to a 7-0 run, capped by the Seminoles' seventh three of the game.
Haley Cavinder stopped the bleeding for the Hurricanes, connecting on a pair of 3-pointers to cut the Florida State advantage to nine. While the Hurricanes dominated the Seminoles on the boards, 26-14, in the first half, Florida State used an 8-of-14 shooting effort from 3-point range to take a 44-33 margin into halftime.
Williams connected on back-to-back buckets to start the second half, kicking off an 9-0 run for the Hurricanes to pull them to within two, 44-42. Roberts and Haley Cavinder also got in on the scoring in the quarter, totaling nine and eight points, respectively.
Miami ultimately outscored Florida State, 26-21, in the third quarter to trim the deficit to six, 65-59, with 10 minutes remaining in the game.
The teams traded baskets throughout the fourth until Haley Cavinder banked a 3-pointer to give Miami its first lead since the 1:21 mark in the first quarter.
Freshman Lazaria Spearman stayed tough under the basket, placing in a putback and drawing a foul to complete the old-fashioned 3-point play. Haley Cavinder closed out the game at the charity stripe, where she went a perfect 10-of-10 on the night to cap her 16-point fourth quarter effort.
Miami takes on its second consecutive ranked opponent on Sunday, traveling to Durham, N.C., to play the No. 9/11 Duke Blue Devils. Tipoff at Cameron Indoor is set for 2 p.m. and the game will air on Bally Sports.
"It's February and it's a home game against a ranked team and those look really good on your resume," Meier said. "But we're going to have a couple on the road, at least Duke for sure, and that's the next statement we have to make to separate ourselves."
Single-game tickets are available for purchase online or by calling the Miami Hurricanes ticket office at 1-800-GO-CANES. For more details, dial that number or email canestix@miami.edu.