Noel Retains Top-20 Spots in Singles and Doubles
CORAL GABLES, Fla. – The first ITA individual rankings of the spring are out and two members of the University of Miami women's tennis team are featured on the national lists.
Redshirt sophomore Alexa Noel leads the way for the Hurricanes in singles, checking in at No. 14 overall. It is the same mark she finished the fall with.
A native of Summit, N.J., Noel is 16-5 in her first season at The U, including 9-4 versus ranked foes and 6-1 in spring action for No. 16 Miami (3-1). She is one of nine ACC players in the top 20.
In addition, Noel is again ranked top-20 in doubles alongside fifth-year senior Daevenia Achong. The pair checks in at No. 17 overall, just a three-spot drop from their post-fall position despite not yet playing tougher in 2023. The tandem went 2-1 together during the fall campaign, with both triumphs over top-40 opponents.
Achong also again claimed a spot in the ITA singles rankings, earning the No. 121 spot nationally. The Geleen, Netherlands, native owns two top-90 victories during her 2022-23 campaign thus far.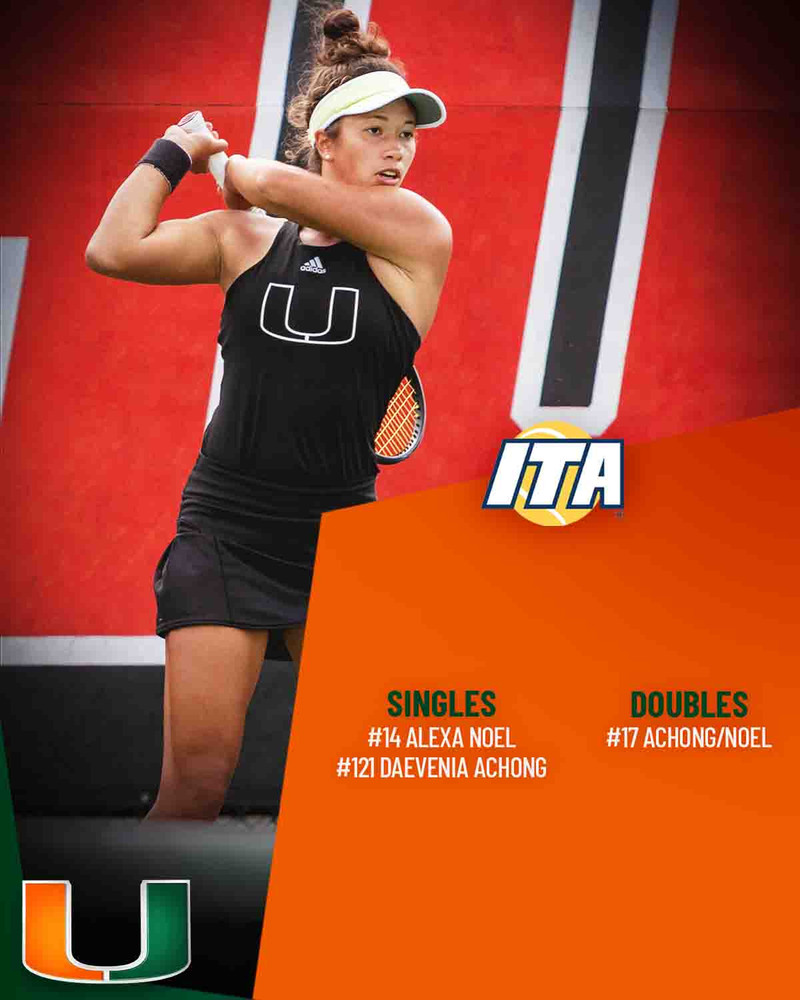 The complete ITA singles and doubles rankings can be found HERE. Team ranking updates will resume next week.
Noel, Achong and the Hurricanes are back in action Saturday at noon when they take on No. 20 Cal in a ranked matchup at the Neil Schiff Tennis Center.
To keep up with the University of Miami women's tennis team on social media, follow @CanesWTennis on Twitter, Instagram and Facebook.