Miami Completes Season Sweep of Georgia Tech
CORAL GABLES, Fla. – The University of Miami women's basketball team recorded its eighth conference victory of the season Sunday afternoon, defeating the Georgia Tech Yellow Jackets, 64-58, at the Watsco Center.
The Hurricanes (15-8, 8-4 ACC) used a dominant performance on the boards to down the Yellow Jackets (12-11, 3-9 ACC), outrebounding Georgia Tech, 51-25. Miami turned its 21 offensive rebounds into 17 second-chance points in the game and was led on the boards by sophomore Jasmyne Roberts who pulled down nine.
"We are thrilled with that win. Georgia Tech was on fire; they had won three of their last four and just beat a top-25 opponent," head coach Katie Meier said. "They are very physical and very hard to score against, so we had to be ready for frustration and I think that's what we did so well. It was a matter of executing, staying faithful and not giving up."
Roberts also led the Hurricanes in scoring, tallying 13 points in the game and falling just one rebound shy of her first career double-double. Senior Hanna Cavinder joined Roberts in double-figures with 12 points on 3-of-4 shooting.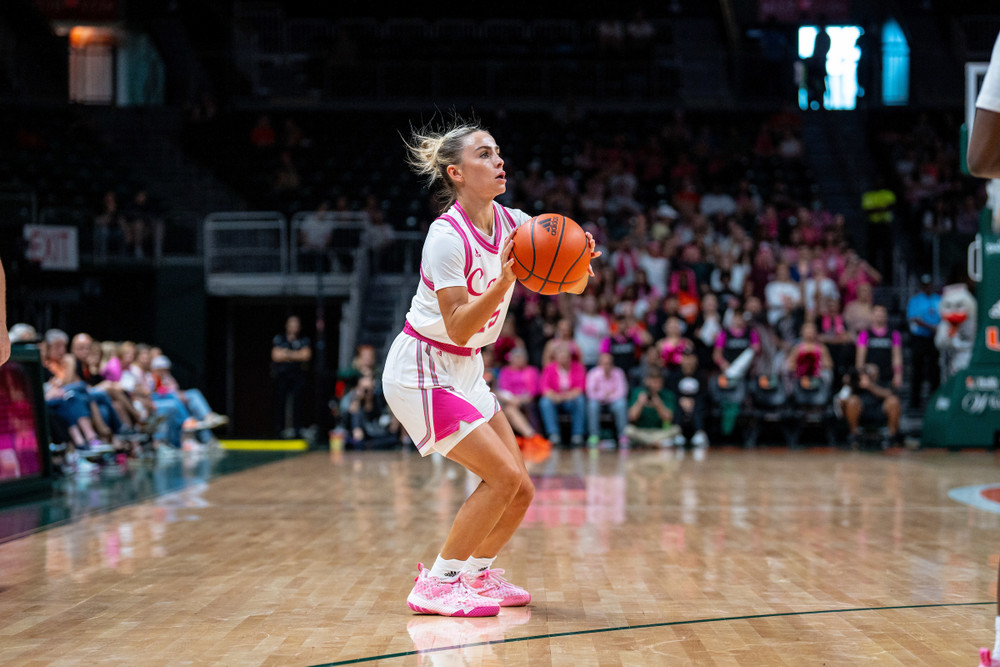 Six different Hurricanes scored in the first 10 minutes of the game, paced by Roberts who tallied six of her 13 points in the first quarter. Miami put together an 8-0 run midway through the frame and Hanna Cavinder closed the quarter with a 3-pointer to give the Hurricanes a 19-13 lead after one.
Georgia Tech pulled to within one in the second quarter, outscoring the Hurricanes, 16-11. Freshman Tonie Morgan knocked down a buzzer-beating 3-pointer to end the half with Miami holding a narrow 30-20 lead.
Miami increased its offensive output following the halftime break, shooting 52.9 percent from the field to extend its lead to four heading into the final quarter. The Yellow Jackets stayed persistent in the fourth, narrowing the Miami lead to two with just under a minute to play.
However, Roberts responded with a huge second-chance layup with 28 seconds remaining in the game to put Miami up, 60-56. Hanna Cavinder closed out the game with four straight free throws to seal the victory for the Hurricanes.
Miami returns to action on Thursday when it hosts No. 23 Florida State at the Watsco Center. Tipoff in Coral Gables is set for 6 p.m. and the game will air on Bally Sports.
Single-game tickets are available for purchase online or by calling the Miami Hurricanes ticket office at 1-800-GO-CANES. For more details, dial that number or email canestix@miami.edu.