W. Tennis Enters ITA Top 10
CORAL GABLES, Fla. – The University of Miami women's tennis team moved up one spot in this week's ITA Top 25 Coaches Poll and now checks in at No. 10 nationally, as announced Wednesday morning.
The Hurricanes passed the reigning NCAA runner-up, Oklahoma, in the rankings to enter the top 10 for the first time this season. The move comes after defeating Florida Atlantic, 6-1, Tuesday afternoon at the Neil Schiff Tennis Center to open the dual match season.
This is the seventh time in the last 12 poll releases—a span that dates back to March 16, 2022—with Miami ranked in the top 10. The team has been in the top 15 for 15 straight releases, going back to Feb. 23, 2022.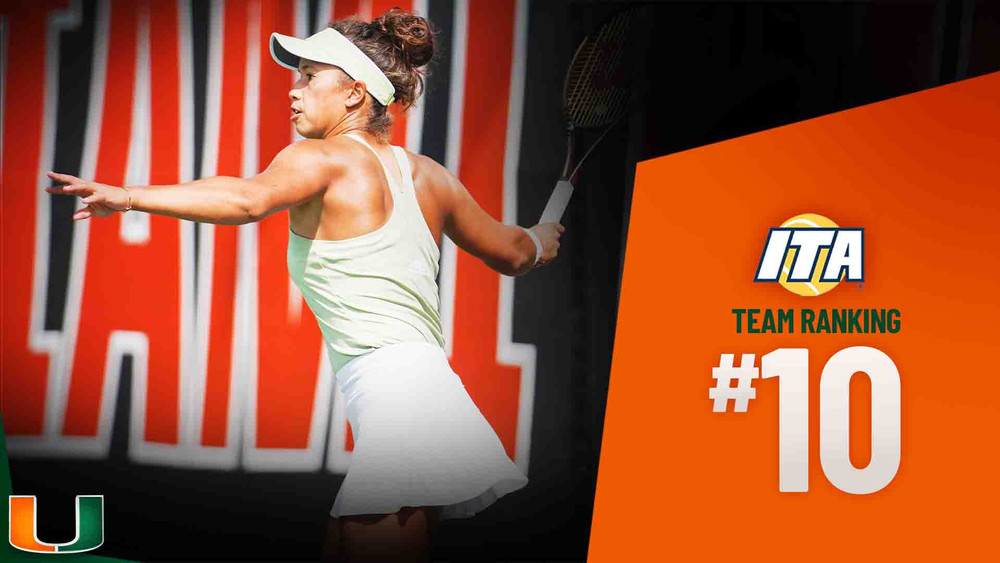 Miami is one of six ACC teams in the top 25, five of which are in the top 10. It is joined by second-ranked North Carolina, third-ranked NC State, fifth-ranked Duke, eighth-ranked Virginia and No. 25 Georgia Tech on the list.
The complete Top 25 Coaches Poll can be found HERE.
The Hurricanes are back in action at the Neil Schiff Tennis Center for ITA Kick-Off Weekend this Saturday and Sunday, first squaring off with FIU on the opening day at 11 a.m.
To keep up with the University of Miami women's tennis team on social media, follow @CanesWTennis on Twitter, Instagram and Facebook.