MBB Drops 68-66 Decision at Duke
DURHAM, N.C. – The University of Miami's basketball team fell by two at Duke, 68-66, Saturday afternoon at Cameron Indoor Stadium.
Fifth-year senior guard Jordan Miller registered a game-high 19 points, including 13 in the second half, for No. 17/16 Miami (15-4, 6-3 ACC) in its first defeat against the Blue Devils in league play in exactly three years.
The Hurricanes used a late 12-3 run, including a fourth 3-pointer in five attempts by third-year sophomore guard Nijel Pack to retake the lead, to grab a 36-32 edge with 3:13 on the first-half clock. Duke (14-5, 5-3 ACC) hit two 3-pointers in the closing two minutes, sandwiched around a Miami basket, and the teams went into the locker room even at 38 apiece.
Miami shot 5-of-9 from 3-point range, including hitting five of its first seven attempts, and 9-of-10 at the line in the opening 20 minutes, while the Blue Devils went 5-of-11 and 3-of-7, respectively.
Coming out of the break, an early 8-2 personal surge by Miller put the Hurricanes ahead by two. However, Duke used a 10-0 run in 4:28, started with two shot-clock-beating 3-pointers, to go up by eight, 55-47, with 11:48 to play.
Miami, buoyed by a trio of 3-pointers and a three-point play, closed within one, 64-63, with 2:54 remaining. Despite holding Duke to 2-of-16 down the stretch, including zero field goals in the final five-plus minutes, the Hurricanes could not level the score or regain the lead, as the Blue Devils held on for the home win.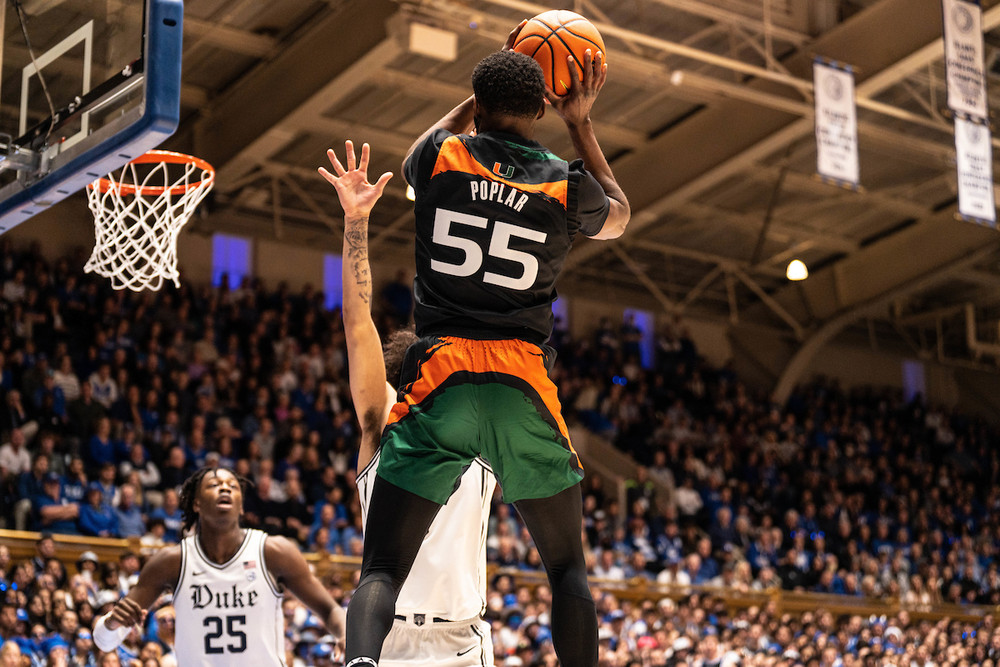 The Hurricanes finished the day shooting just 34.9 percent (22-of-63) from the floor, but their 47.6 percent (10-of-21) ledger from 3-point range and 80.0 percent (12-of-15) total from the line kept them in it throughout. Miami, which had just six giveaways, also posted an 8-2 edge in points off turnovers and an 11-0 tally in fast-break points, but Duke logged a 26-11 margin in bench points.
Miller's game-best point total came on a 7-of-13 clip, including a 3-of-4 ledger from deep with all three makes in the second half. He added eight rebounds before fouling out with 19 seconds to go.
Pack finished with 18 points in the setback, while third-year sophomore forward Norchad Omier logged nine points and a co-game-high 14 rebounds, the most by a visiting player at Cameron Indoor Stadium since Jan. 26, 2021.
Despite Miami limiting him to 5-of-12 shooting, freshman center Kyle Filipowski paced the Blue Devils with 17 points and matched Omier with 14 boards. Junior guard Jeremy Roach, in his first game back from injury, had 14 points on 6-of-10 shooting, hit his first five shots and added a game-leading four assists. Freshman guards Tyrese Proctor and Dariq Whitehead added 11 and 10 points, respectively, for Duke.
Miami continues play Tuesday at 7 p.m., when it squares off with Florida State at the Donald L. Tucker Civic Center in Tallahassee, Fla., live on ESPNU.
To keep up with the University of Miami men's basketball team on social media, follow @CanesHoops on Twitter, Instagram and Facebook.
MIAMI HURRICANES POSTGAME NOTES
– Saturday marked the first time in 33 all-time series meetings between the two schools Miami was ranked and Duke was not.
– Each of the Hurricanes' last two defeats have come by two points on the road, with the past one—1/14/23 at NC State—in overtime.
– Since the start of the 2021-22 season, three of the four times Miami has been tied at halftime have come against Duke, with each matchup between the two sides over the last two years equal at the break.
– Miami has limited Duke to just two points off turnovers in each of its last two contests at Cameron Indoor Stadium.
– Filipowski (14) and freshman center Dereck Lively II (10) are the first opposing teammates with double-digit rebounds versus Miami since Duke's Paolo Banchero (11) and Mark Williams (10) each hit that mark on 3/11/22 in the ACC Tournament semifinals in Brooklyn, N.Y.
– Lively was also the first player with five-plus blocks in a game against the Hurricanes since Williams (six) did so on 1/8/22 in Miami's win at Cameron Indoor Stadium.
– Prior to Saturday, at least three Hurricanes scored double-digit points in each of the team's first 18 games of the season.
– Miami was previously 14-1 when holding opponents under 80 points this season, including 10-0 when below 70 points.
– The Hurricanes have now allowed two or fewer fast-break points in five of their last eight games, including zero in four of them.
– Saturday marked the fourth consecutive game Omier pulled down double-digit rebounds, logging 13-plus each time.
– Omier is the first player with 14-plus rebounds against Duke since North Carolina's Armando Bacot (21) on 4/2/22 in the Final Four in New Orleans and the first do to so on the road since Georgia Tech's Moses Wright on 1/26/21.
– Two of the last six opposing players to grab 14-plus boards at Cameron Indoor Stadium are Hurricanes, as Kamari Murphy logged 15 on 1/21/15.
– Miller's disqualification was just the sixth of his five-year career, including his third as a Hurricane and first in 2022-23.