Miami Falls on the Road at No. 20/18 NC State
RALEIGH, N.C. – The University of Miami women's basketball team's five-game winning streak came to an end on Thursday as the Hurricanes (12-7, 5-3 ACC) fell to the No. 20/18 NC State Wolfpack (14-5, 4-4 ACC), 71-61, at Reynolds Coliseum.
"We jumped out early but got a little immature, offensively. Our bench has been awesome for us all year, but it was a tough environment and there was not a whole lot of communication when we needed it," head coach Katie Meier said. "All the big-time games are like that and, usually, the NCAA Tournament is like that. We survived it and gave ourselves a chance by doing some incredibly special things in the third and fourth quarter, but NC State had a really nice shooting night."
Senior Lola Pendande paced the Hurricanes in both scoring and rebounding, recording 21 points and eight boards, respectively. Her 21 points in the game tied her career high in scoring, set on Dec. 16, 2019, when she played at Utah.
"What a warrior Lola was, we couldn't go to her enough," Meier said. "I also thought Haley's bounce back in the second half was also really big because she was struggling in the first half."
Senior Haley Cavinder joined Pendande in double-figures, totaling 15 points on 7-of-16 shooting.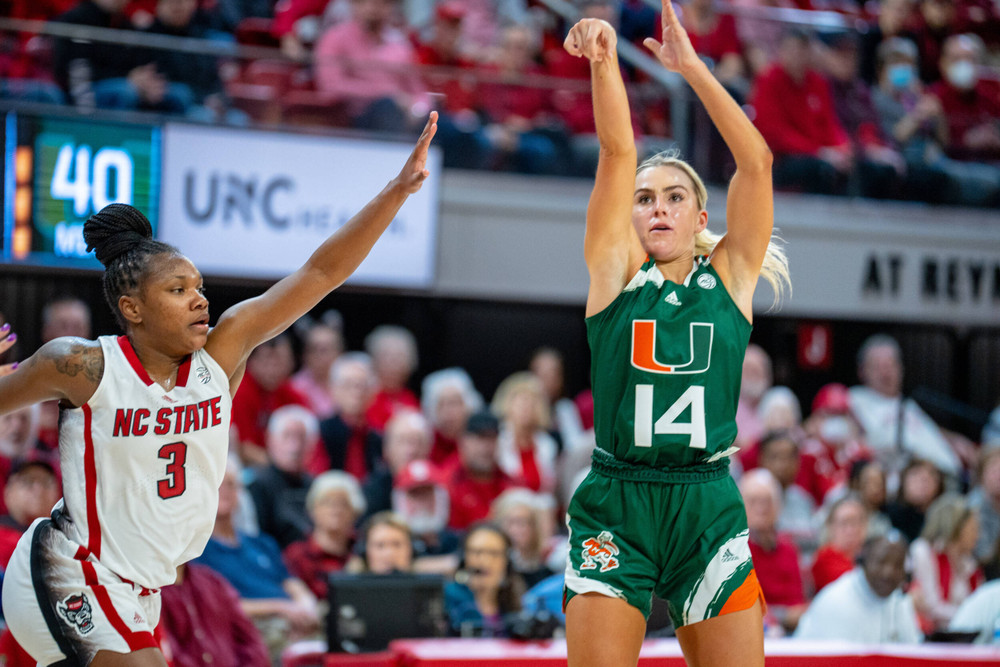 NC State recorded the first bucket of the game, but the Hurricanes responded with a 10-0 run after stringing together seven stops of the defensive end. However, the Wolfpack closed the quarter on an 18-4 run to take a 20-14 lead after one.
Pendande scored all five of the Hurricanes' points in the second quarter, going 2-for-3 from the field while tallying three rebounds. NC State outscored Miami, 15-5 in the second frame to hold a 35-19 advantage heading into halftime.
The Hurricanes' offense performed significantly better in the third, connecting on 58.8 percent of their shots from the field. Pendande and Haley Cavinder each totaled six points in the quarter, while the Hurricanes got contributions from four other players on offense.
Miami carried its momentum into the fourth quarter, beginning the frame on a 7-0 run, highlighted by a 3-pointer from Haley Cavinder, which pulled the Hurricanes to within eight, 57-49.
Haley Cavinder tallied 13 of her 15 points in the second half alone, knocking down 6-of-10 shots from the field. Miami continued to battle down the stretch, but the clock ran out on the Hurricanes' comeback and NC State came away with the 71-61 victory.
"I have to give credit to NC State because they have not been shooting this percentage and they hit some big-time jumpers and pull ups," Meier said. "Their backs were against the wall and they hit some big shots."
Miami is on the bye this weekend and will return to action on Thursday, Jan. 26 against Boston College. Tipoff at the Watsco Center is set for 6 p.m. and the game will air on Bally Sports.
Single-game tickets are available for purchase online or by calling the Miami Hurricanes ticket office at 1-800-GO-CANES. For more details, dial that number or email canestix@miami.edu.