MTEN Opens Spring with Doubleheader Sweep
CORAL GABLES, Fla. – The University of Miami men's tennis team opened its spring schedule with a doubleheader sweep Saturday afternoon at the Neil Schiff Tennis Center. The Hurricanes (2-0) defeated the Troy Trojans, 4-0, in the morning session and finished the day with a 4-0 victory over the Binghamton Bearcats.
Freshman Antonio Prat led the way for the Hurricanes, posting a 2-0 record in both singles and doubles action. Fifth-year senior Franco Aubone and freshman Martin Vergara del Puerto also tallied a pair of doubles victories at first singles, in addition to Prat's doubles partner sophomore Martin Katz.
Five different Hurricanes recorded a singles victory – Prat, Vergara del Puerto, graduate students Leo Bierbaum and Dan Martin, and freshman Nacho Serra Sanchez.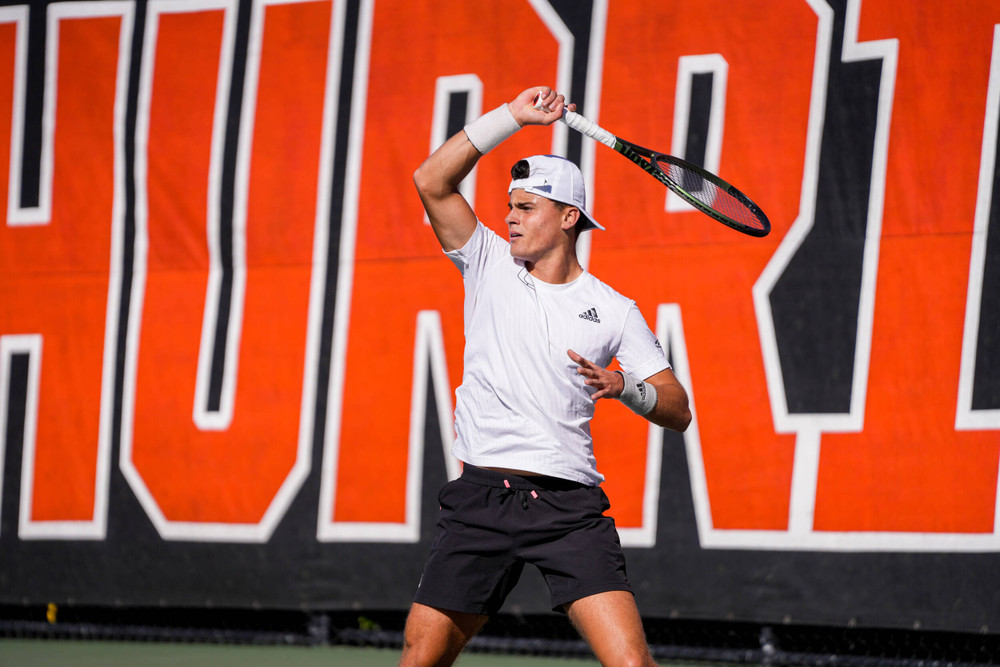 Miami started the morning strong, posting 6-2 victories at both first and second doubles to secure the doubles point.
Prat followed up his doubles win with the first singles win of the spring season, defeating Yeray Andres Pastor, 6-0, 6-4, on court three.
No. 73 Dan Martin recorded a 7-5, 6-3 victory over Mario Martinez at first singles, while freshman Nacho Serra Sanchez bested Francisco Erramuspe, 6-4, 6-3, on court five to clinch the victory for Miami.
The Hurricanes carried their momentum into the evening match against Binghamton, once again earning the doubles point with a trio of victories.
Prat recorded his second singles win of the day with a 6-2, 6-1 victory at second singles. In his first match of the day, Bierbaum cruised to a 6-3, 6-3 win over Binghamton's Dan Pergel on court five.
Vergara del Puerto closed out the match for Miami, defeating his opponent, 6-3, 6-2, at fourth singles.
Miami returns to action on Sunday, Jan. 29 in Athens, Ga., for ITA Kickoff Weekend. The Hurricanes' will take on ACC foe Louisville in the opening round and will face either LSU or Georgia on day two.