S&D Tops Eagles in Dominant Victory
CORAL GABLES, Fla. – The Miami Hurricanes swimming & diving team topped Boston College in a dual meet Wednesday afternoon, emerging with an 201-92 win over the visiting Eagles.
2022 NCAA national champion Mia Vallée cruised to a win in both the 1-meter and 3-meter diving events, while several veteran swimmers led the way in between the lanes to help the Hurricanes capture the win.
Vallée, the reigning ACC Women's Diver of the Year, won the 1-meter (374.25) and 3-meter (342.75) in dominant fashion. The Hurricanes men's diving contingent also competed against the Eagles at the Whitten Center Pool.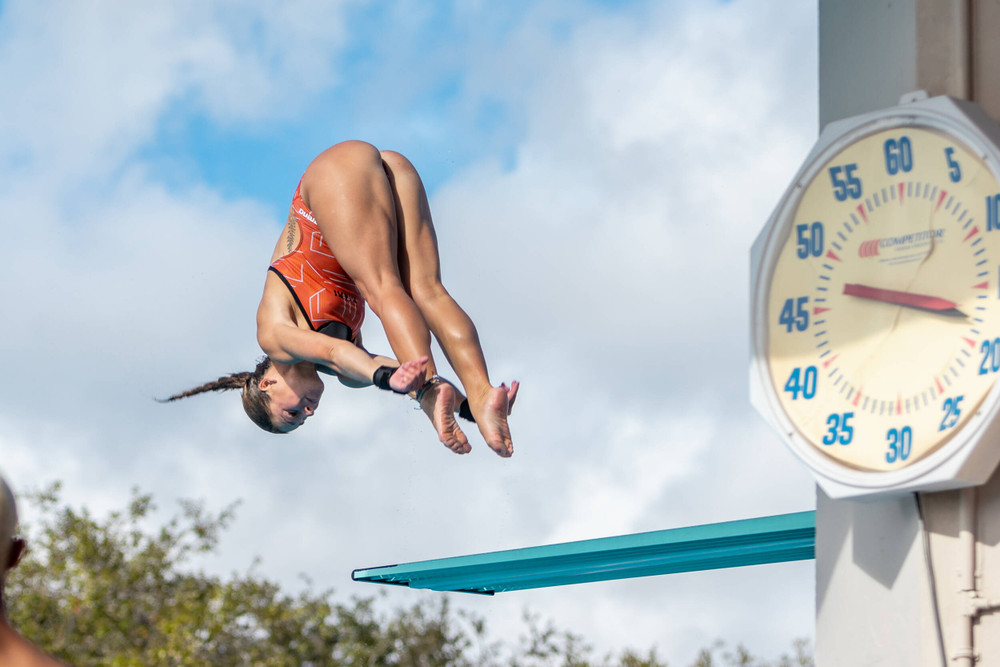 The Hurricanes' top entry in the 200-yard medley relay – comprised of Celina Kuehne, Tara Vovk, Zorry Mason and Giulia Carvalho – earned a win in 1:42.11 in the meet's first event to set the tone for the day.
Miami captured the top three times in the 1,000-yard freestyle, with Adrianna Cera (10:17.21), Kate Sommerstad (10:28.01) and Sarah Sensenbrenner (10:29.27) highlighting the event.
Cera went on to win the 200-yard freestyle (1:49.24) ahead of Savannah Barr (1:49.67) and Jane Fitzgerald (1:51.69), while Kuehne picked up her first win of the afternoon in the 100-yard backstroke (56.53) ahead of Vivian Vanrenterghem (56.82) and Lucy Ho (58.99), who took second and third.
Captain Aino Otava won the 200-yard butterfly (2:00.77) while Jacey Hinton took the top finish in the 50-yard freestyle (23.09). The Hurricanes kept their foot on the gas pedal in the middle parts of the meet, with Hinton (50.35) and Barr (50.99) finishing 1-2 in the 100-yard freestyle and Sensenbrenner (2:00.87) picking up a win in the 200-yard backstroke.
Cera (4:55.36) finished just ahead of Otava (4:56.51) in the 500-yard freestyle for her third win of the afternoon.
Miami wraps up its regular season slate on Friday, Jan. 13 in a tri-meet against visiting Houston and FGCU. Action from the Whitten Center Pool will begin at 3 p.m.