Miami Falls to No. 17/20 Michigan in ACC/Big 10 Challenge
CORAL GABLES, Fla. – The University of Miami women's basketball team was tagged with its third loss of the season Thursday night at the Watsco Center, falling to the No. 17/20 Michigan Wolverines, 76-64, in the final game of the ACC/Big 10 Challenge.
"That was intense, physical and dramatic. We killed it on the glass, the effort was unbelievable," head coach Katie Meier said. "I think it was the first time this year that we literally played our guts out, but, in big moments, [Michigan] hit the shot or got to the free throw line. They're very hard to score against and they are a great team."
Senior Haley Cavinder led the Hurricanes in scoring for the second time this season, totaling 17 points to go along with six rebounds and three assists. Graduate student Destiny Harden and sophomore Lashae Dwyer joined Cavinder in double-digits with 13 and 12 points, respectively.
Dwyer finished the game just two rebounds shy of a double-double, setting a new career high in boards with eight.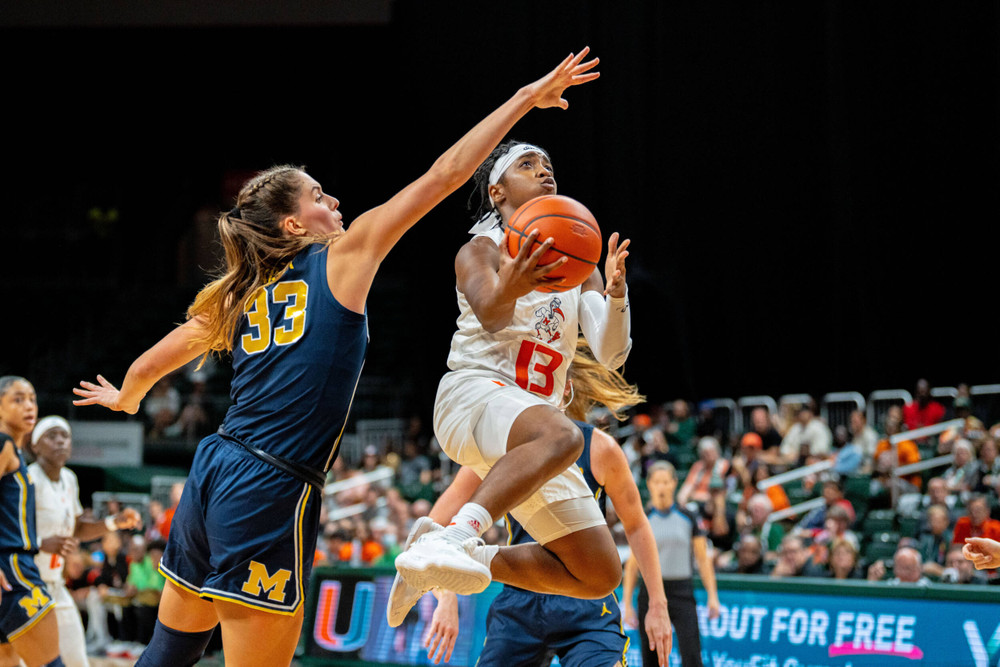 Both teams poured in six buckets in the first quarter, but Michigan used a perfect 8-of-8 effort at the free throw line to take an eight-point, 21-13, lead through the first 10 minutes.
The Hurricanes rallied in the second quarter when Haley Cavinder knocked down back-to-back jumpers to spark a 13-2 run for Miami and give the Hurricanes a 28-26 edge. However, Michigan put together an 8-3 run of its own to hold the 34-31 advantage at the half.
An 11-point third quarter effort from Michigan's Emily Kiser extended the Wolverines' lead to nine, 53-44, with 10 minutes to go in the game. Harden put the team on her back in the fourth quarter, totaling eight points and two rebounds in the frame, but Michigan knocked down 10-of-10 shots at the charity stripe to seal the 76-64 win.
The Hurricanes are back at the Watsco Center on Sunday to host the North Florida Ospreys. Tipoff is set for 2 p.m. and the game will air on ACC Network Extra.
Season tickets for the 2022-23 women's basketball home schedule start at $75 and can be purchased online or by calling the Miami Hurricanes ticket office at 1-800-GO-CANES. Single-game tickets are available for purchase online or by phone, as well. For more details, dial that number or email canestix@miami.edu.