Harden Ready for One Last Run
CORAL GABLES, Fla. – Destiny Harden had never had a serious injury in her basketball career, never had to endure the physical and mental challenges of surgery and the rehab process.
So when a doctor told her before the start of last season that she'd torn part of her meniscus, damaged some of the cartilage in her knee, and suffered a bone bruise during a preseason scrimmage, the forward was devastated – even if she didn't show it at the time.
"It was just me, my trainer, and the doctor and he told me in a room 'You're going to need surgery,'" Harden recalled. "As a person, I don't like expressing a lot of my feelings around people, especially someone new. So I held all my tears back and actually didn't cry at the time."
But those who knew Harden best knew she'd need support.
It was support that came from all sides.
Family, friends, teammates, and coaches rallied to keep her spirits up and helped her try to stay positive during that brutal first week when Harden was unable to walk.
"I told her when she got the surgery, 'I'll be here for you no matter what,'" said fellow forward Moulayna Johnson Sidi Baba. "I felt like that was the type of friendship we had…I have her back and she has my back. I wouldn't have thought all that would happen, but I told her I wanted to be there for her, one step at a time."
Once Harden began working her way back from her surgery, fellow student-athletes at Miami – including some football players and track athletes who were rehabbing injuries themselves – provided encouragement during intense physical therapy sessions.
Bit by bit, Harden began to look forward.
During the first two months of Miami's season, when she couldn't play, she accepted the role of student-coach, using her experience and knowledge of the Hurricanes' system to try and guide her teammates. Harden also studied Miami's opponents, analyzing how she'd handle some of the situations she saw on the court when she returned.
She looked inward, too, and continued attacking the physical work of rehab, knowing every exercise, every bit of therapy would only make her stronger once she got back on the court.
"It made me sit back and realize the type of person I am. 'Who is Destiny Harden without basketball?' And I think I needed that. I think that was pretty good," Harden said. "I'm a loving person. I'm a caring person. And without basketball, I became more of a teacher because I couldn't play. Being on the bench, watching the team, anybody coming to the bench or getting subbed out, I was telling them what they could have done better or what I liked for them to continue to do on the court.
"It was like my voice was being heard even more so than being on the court because they knew I was watching everything that was going on…And I could also start to see where I could fit in. We were a new team. When I got back on the court, I wanted to know where can I help? Where can I be beneficial? It was all watching and teaching."
What Harden and her teammates couldn't have imagined was what awaited upon her return.
While it may have taken the forward a few weeks to get settled and start to feel like herself again, in March, when her team needed her most, Harden became an absolute force.
With Miami on the bubble hoping to make the NCAA Tournament, the Hurricanes found themselves in trouble against No. 4 Louisville. They trailed by 15 points with a little more than four minutes left when Harden, improbably, caught fire.
With 4:02 left, she hit a 3-pointer that started one of the most dominant stretches by a Hurricane in program history. She hit another 3-pointer. Converted on a 3-point play. And eventually, it was her buzzer-beater that lifted Miami to a 61-59 win over the Cardinals.
In the game's final minutes, Harden scored 15 straight points, her heroics giving Miami a berth in the tournament semifinals, where Miami would notch another upset win, this one over No. 20 Notre Dame.
It more than likely, too, helped secure the Hurricanes' NCAA Tournament berth.
The Hurricanes would go on to play in the ACC title game for the first time in school history and advance to the second round of the NCAA Tournament where their season ultimately ended after a loss to eventual national champion South Carolina.
But through all those moments, Harden was a consistent presence and those four minutes against Louisville in particular reminded her again of the player she was and the impact she could have.
"It was something I didn't even think was going to happen. I came back very slow. I wasn't playing the best basketball, but I was giving it all that I could give," said Harden, who averaged 7.7 points and 4.2 rebounds last year. "To have that special run in March, I was like 'Man, I wasn't even able to walk a couple months ago.' Just being able to run up and down the court, defend somebody, get a shot off and be able to jump and get a rebound, all those little things [were] big for me. Just being able to play basketball again and having great games? I mean, sharing those moments with my teammates meant the world to me…Even though we won games, it was more so, being able to have those moments with the coaches and players at the same time."
Said Miami head coach Katie Meier, "What we love about Destiny is that she'll do anything the team needs to win. We needed her to be huge in those moments and hit all those shots and be a big-time finisher. Those shots came from everywhere and that was the thing. There were threes, there were layups, there was a turnaround jumper, there was a post-up…Her shot chart was boom, boom, boom. It wasn't as if all those shots were from the same spot. That's what makes her so special."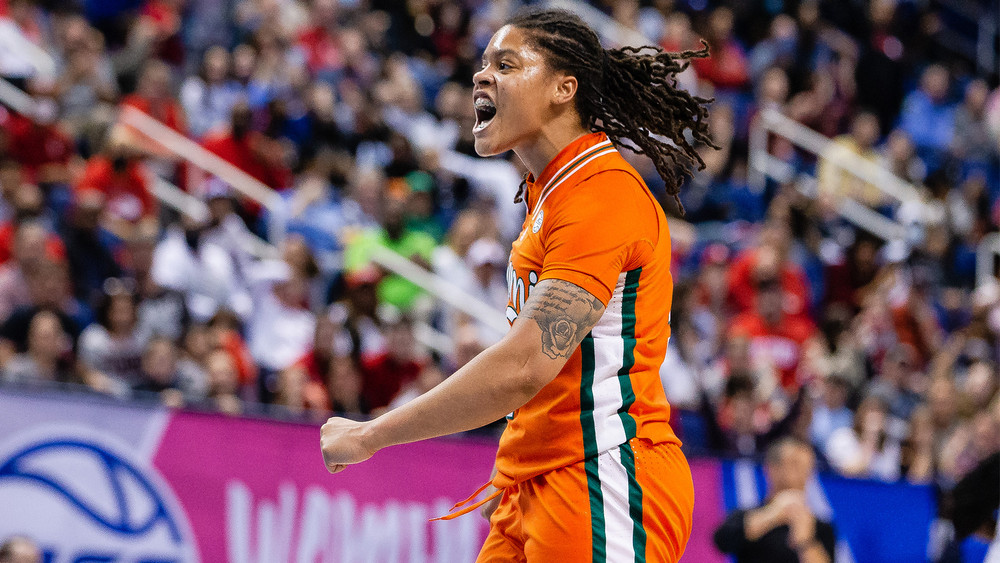 Now, a year removed from her injury, Harden is in the midst of her final season in orange and green. Harden isn't letting herself think too much about the fact this will be her final season. Instead of dwelling on all of the last "firsts" she'll experience, she's trying to soak up every moment as best she can.
And she wants to make sure she leaves Miami's program better than she found it.
"I want people to know that Destiny Harden was the best worker ever at Miami. I probably wasn't like the best player Miami ever had, but she's going to give you her all at every given moment," Harden said. "She'll never lay up on a team, no matter how much we're down or no matter how much we're up. She's someone that you could come talk to. She's somebody that can give you a bucket when needed or get the stop when needed. I just want everybody coming in to know that when you don't get it from the start, continue to work because it will always come. Never give up on yourself because you're not getting it from the start because it will come along if you're doing all the right things. I just want somebody to look at me and say 'You've been through it, but you got through it.' That's how I want people to see me."