Pack, Wong Tabbed to Naismith Trophy POY Watch List
CORAL GABLES, Fla. – Two members of the University of Miami men's basketball team made the Jersey Mike's Naismith Trophy Men's Player of the Year Watch List, as announced Monday by the Atlanta Tipoff Club.
Nijel Pack and Isaiah Wong are both among the 50 players who made the cut amongst players from all Division I schools across the nation.
Miami is one of just 10 schools with multiple players selected, alongside Baylor, Duke, Gonzaga, Kansas, Kentucky, North Carolina, Tennessee, Texas, UCLA and Wyoming.
"These 50 players represent the best that college basketball has to offer. We anticipate another fantastic season from these players as well as many more incredible athletes who may find themselves on our list as the season progresses," said Eric Oberman, executive director of the Atlanta Tipoff Club. "Each of these players are great ambassadors for their team, universities, and college basketball."
— The Naismith Trophy (@NaismithTrophy) November 7, 2022
Pack posted 17.4 points per game last year at Kansas State, shooting 45.5 percent from the floor, 43.6 percent beyond the arc and 84.5 percent at the line. He claimed First Team All-Big 12 and Big 12 Most Improved Player status for his excellent showing.
A 6-foot, 184-pounder from Indianapolis, Pack scored 30-plus points three times in 2021-22, including 35 against the eventual NCAA champion, Kansas. He was one of six Division I players (min. 15 GP and 1 3PM per game) to record 17.0 points per game while shooting at least 43.0 percent on 3-pointers.
A Preseason First Team All-ACC selection and one of 20 players on the NABC Player of the Year Watch List, Wong is coming off a stellar 2021-22 campaign in which he averaged 15.3 points per game. The 6-foot-4, 184-pounder claimed Third Team All-ACC status for the second straight season.
Wong, a native of Piscataway, N.J., owns 1,268 points in his Hurricane career, already No. 23 in program history through just three seasons. He is one of two Division I players to average 15.0 points, 4.0 rebounds and 2.0 assists with fewer than 2.0 turnovers per game in each of the past two years, alongside Baylor Scheierman.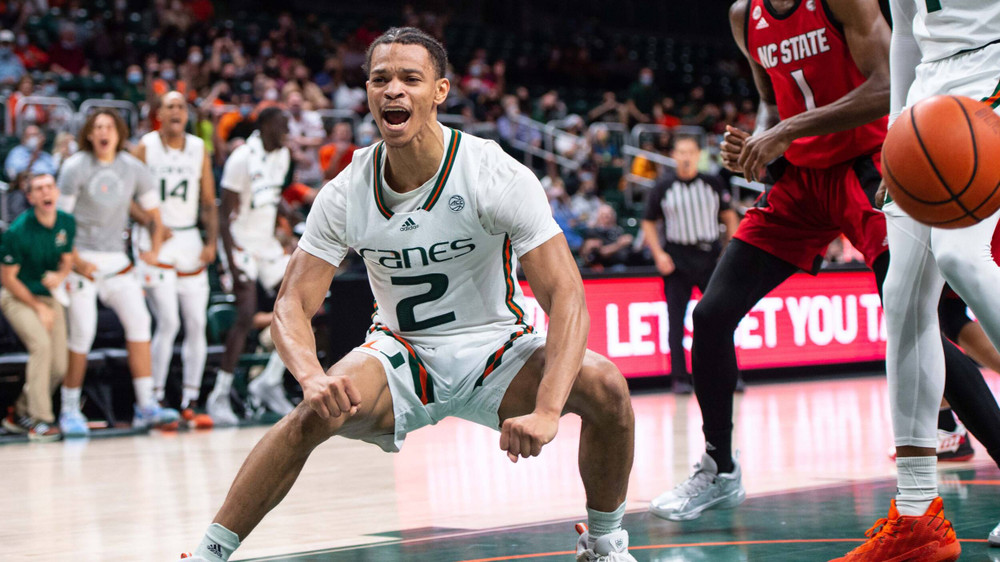 The midseason 30 team will be announced in February, and then the competition will be narrowed down to 10 national semifinalists in early March. Following those results, four finalists will be named on March 21, 2023, and the winner of the 2023 Jersey Mike's Naismith Trophy for Men's Player of the Year will be announced on April 2, 2023.
Pack, Wong and the Hurricanes begin the 2022-23 regular season Monday at 7:30 p.m. against Lafayette at the Watsco Center, live on ACC Network Extra.
To keep up with the University of Miami men's basketball team on social media, follow @CanesHoops on Twitter, Instagram and Facebook.