ACC Announces 2022-23 WBB Schedule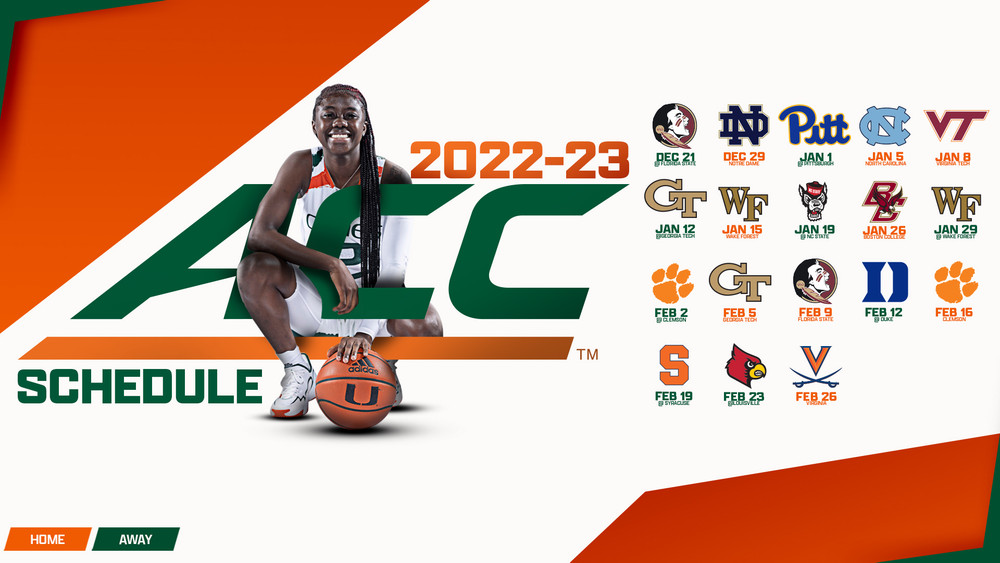 CORAL GABLES, Fla. – The University of Miami women's basketball, in conjunction with the Atlantic Coast Conference, announced the league schedule for the 2021-22 season Wednesday.
The Hurricanes will face seven NCAA Tournament teams from a season ago during the conference slate, including playing a pair of road games against Louisville and NC State, which made the Final Four and Elite Eight, respectively, in 2022.
"We are extremely excited about this year's ACC schedule, which features eight postseason teams, numerous top-25 opponents and several marquee home games," head coach Katie Meier said. "Our student-athletes come to Miami to play big-time games and the conference schedule provides them with that opportunity. The ACC consistently leads all conferences for most teams selected to the NCAA Tournament, cementing itself as an elite women's basketball conference and we are fortunate to be part of it."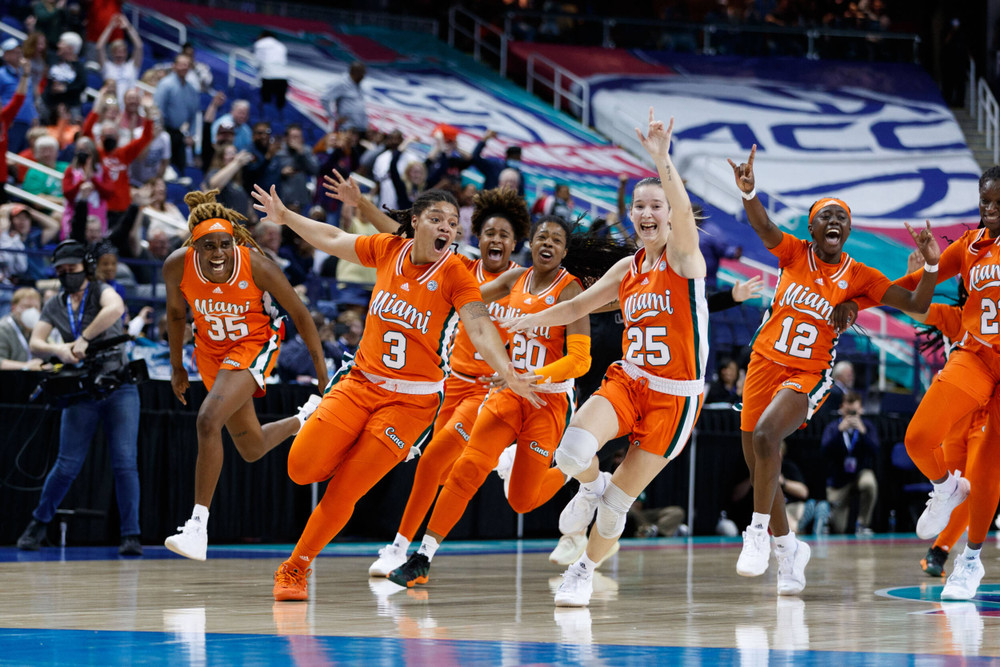 Miami will play nine ACC games at home and nine on the road in 2022-23, beginning with a road contest at in-state foe Florida State on Dec. 21. The Hurricanes have opened the conference slate against Florida State three times before in program history, holding a 1-2 record in those games.
Conference play picks up again after the holiday break with the Hurricanes hosting Notre Dame on Dec. 29 in their first home ACC contest. Miami then hits the road to kick off the new year with a matchup in Pittsburgh on Jan. 1.
The Hurricanes play three of their next four games at home, hosting North Carolina and Virginia Tech on Jan. 5 and Jan. 8, respectively. Miami takes a quick trip north to Atlanta to take on Georgia Tech on Jan. 12, before returning to the Watsco Center for a showdown with Wake Forest on Jan. 15.
Wake Forest is one of four teams the Hurricanes will play twice this season, with the others being Clemson, Florida State and Georgia Tech.
The Hurricanes have a date in Raleigh, N.C., on Jan. 19, taking on third-ranked NC State in a rematch of the 2022 ACC Championship game.
Miami hosts Boston College on Jan. 26, before heading out for a two-game road stint, visiting Wake Forest and Clemson on Jan. 29 and Feb. 2, respectively.
The Hurricanes play the back end of their home-and-homes with Georgia Tech and Florida State in the month of February, hosting the Yellow Jackets on Feb. 5 and the Seminoles on Feb. 9.
Miami is on the road for three of its next four games, heading up to Duke on Feb. 12 and then returning home for a single game against Clemson on Feb. 16. The Hurricanes then travel to Syracuse on Feb. 19 and Louisville on Feb. 23 for back-to-back road contests.
The Hurricanes will close out the ACC schedule at home when they host Virginia on Feb. 26.
Game times and TV designations for Miami's 2022-23 schedule will be announced at a later date.