ACC Releases 2022-23 MBB League Slate
CORAL GABLES, Fla. – The Atlantic Coast Conference announced Tuesday afternoon the league schedule for the upcoming 2022-23 men's basketball season.
Coming off a 26-11 season that included the first Elite Eight appearance in program history, the Hurricanes will play three Big Monday games as part of the 20-game conference slate
"Each and every year, the Atlantic Coast Conference features some of the best teams and finest players in the nation. This season will be no different," Miami head coach Jim Larrañaga said. "Everyone in our program enjoys the challenges this conference presents on a nightly basis and we will be ready for that once league play begins. In addition, we're thrilled to have so many quality opponents coming to Coral Gables and cannot wait to see the Watsco Center rocking with excitement."
The Hurricanes open conference action in Louisville, Ky., with a Dec. 4 matchup against Louisville, which they beat on the road for the first time ever last year.
Miami begins its ACC home slate Dec. 10 versus NC State in the second of five straight games at the Watsco Center, including three in non-conference action. Included in that stretch is a Dec. 20 outing against Virginia, the 2019 national champion.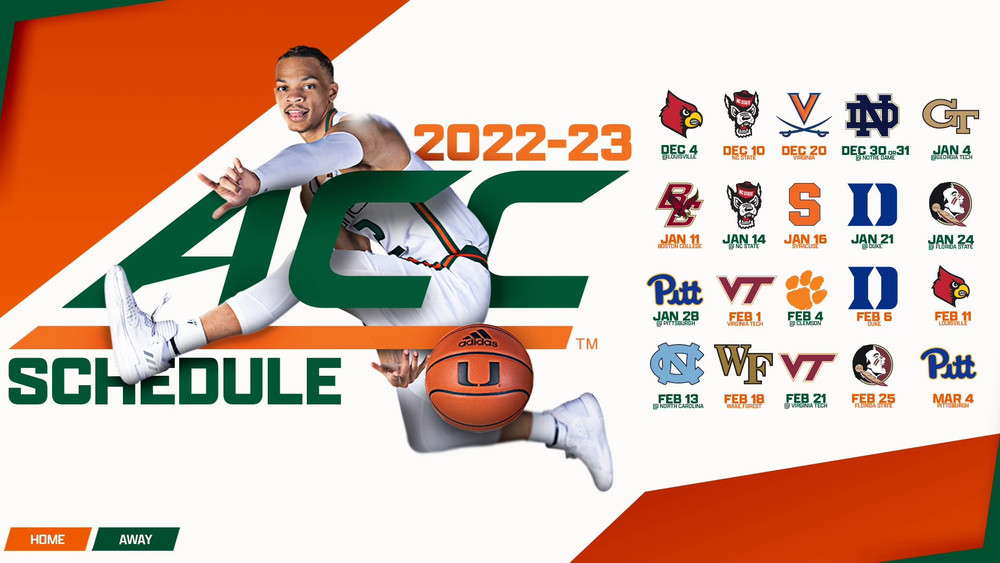 The Hurricanes conclude the calendar year in Notre Dame, Ind., with their lone game date that is still to be determined. The matchup with Notre Dame will either be Dec. 30 or Dec. 31.
Larrañaga's team opens 2023 on the road in Atlanta, Jan. 4 at Georgia Tech. It then has a weekend bye followed by a Jan. 11 home game against Boston College.
Miami makes the return trip to NC State when it plays Jan. 14 in Raleigh, N.C. Two days later, Jan. 16, is its first Big Monday game, at home against Syracuse.
The Hurricanes continue play Jan. 21 in Durham, N.C., against Duke, which made the 2022 NCAA Final Four, and then play a second straight road game Jan. 24 in Tallahassee, Fla., versus Florida State.
To wrap up the team's lone three-game road swing of the year, Miami visits the Steel City, where it plays Jan. 28 versus Pittsburgh.
Miami starts the second-to-last month of the season with a Feb. 1 contest against Virginia Tech, the 2022 ACC Tournament champion, at the Watsco Center. It then heads to Clemson, S.C., where it plays Feb. 4 versus Clemson.
Two days later, Feb. 6, the Hurricanes play Duke for the second time, with this meeting coming on Big Monday. They then have their second meeting with Louisville, slated for Feb. 11 in Coral Gables.
Miami's final Big Monday matchup comes two days later, Feb. 13, versus North Carolina in Chapel Hill, N.C.
The Hurricanes resume play Feb. 18 versus Wake Forest and then travel to Blacksburg, Va., for the second end of their home-and-home with Virginia Tech, slated for Feb. 21.
Larrañaga's team will play its final two regular season games on its home court, the first Feb. 25 in the second leg of the in-state rivalry against Florida State.
Following a weekend bye, Miami concludes the regular season March 4 with its second outing of the season versus Pittsburgh.
Game times and television designations for the Hurricanes' full season slate will be announced at a later time.
Season tickets for the 2022-23 men's basketball home schedule start at $225 and are on sale now through the Miami Hurricanes ticket office. Tickets can be purchased online HERE or by calling the ticket office at 1-800-GO-CANES. For more details, dial that number or email canestix@miami.edu.
FULL 2022-23 ACC SCHEDULE
Dec. 4: at Louisville
Dec. 10: NC State
Dec. 20: Virginia
Dec. 30 or 31: at Notre Dame
Jan. 4: at Georgia Tech
Jan. 11: Boston College
Jan. 14: at NC State
Jan. 16: Syracuse
Jan. 21: at Duke
Jan. 24: at Florida State
Jan. 28: at Pittsburgh
Feb. 1: Virginia Tech
Feb. 4: at Clemson
Feb. 6: Duke
Feb. 11: Louisville
Feb. 13: at North Carolina
Feb. 18: Wake Forest
Feb. 21: at Virginia Tech
Feb. 25: Florida State
March 4: Pittsburgh
To keep up with the University of Miami men's basketball team on social media, follow @CanesHoops on Twitter, Instagram and Facebook.