MBB Announces 2022-23 Non-Conference Slate
CORAL GABLES, Fla. – University of Miami head men's basketball coach Jim Larrañaga released Thursday the Hurricanes' non-conference slate for the upcoming 2022-23 season.
Following an exhibition affair, the Hurricanes will play 11 non-conference games between Nov. 7 and Dec. 28. Nine of those contests will be in the state of Florida, with eight of them at the Watsco Center.
"Coming off one of the best years in Miami basketball history, everyone within our program is incredibly excited for the upcoming season," Larrañaga said. "We've put together a strong non-conference slate that includes games against quality opponents at home, on the road and at neutral sites. These matchups will help our players be ready for the stiff competition they will face throughout ACC play. We're also thrilled that our many great fans in both the Orlando area and the Northeast will have the chance to see us play nearby in November."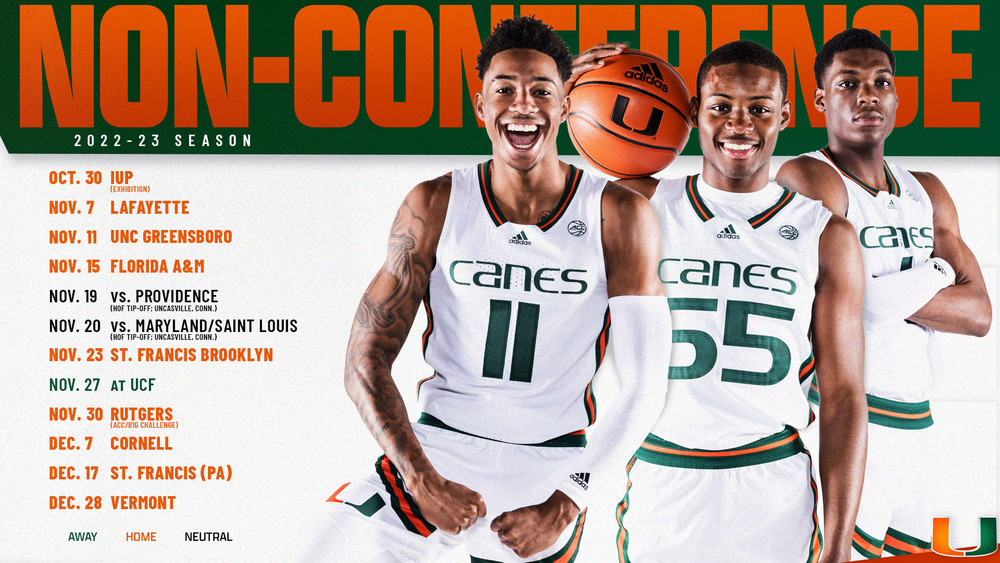 After ending the 2021-22 season with the first Elite Eight appearance in program history, Miami begins this season with an Oct. 30 exhibition matchup against IUP. It starts the regular season eight days later, Nov. 7, versus Lafayette, with the Elite Eight banner set to be raised to the rafters beforehand.
Up next for Miami are two more home outings, first Nov. 11 against UNC Greensboro and then Nov. 15 versus Florida A&M. It will be the second straight year the Hurricanes and Rattlers meet at the Watsco Center.
Miami then makes the trip to Uncasville, Conn., for the Naismith Memorial Basketball Hall of Fame Tip-Off Tournament at Mohegan Sun Arena. Its first game is slated for Nov. 19 at 4 p.m. against Providence, Larrañaga's alma mater. It then plays either Maryland or Saint Louis the following day, at either 1 p.m. or 3:30 p.m.
The Hurricanes return home to host St. Francis Brooklyn three days later, Nov. 23, before playing their first true road game of the season. That matchup is a Nov. 27 affair at UCF in Orlando, Fla., marking the third meeting in four years between the two schools.
Miami caps the first month of the season by hosting Rutgers, which is coming off back-to-back NCAA Tournament berths, Nov. 30 in the ACC/Big Ten Challenge.
Larrañaga's team resumes non-conference play Dec. 7 against Cornell at the Watsco Center. That is followed by a Dec. 17 contest versus St. Francis (PA) in Coral Gables.
Miami concludes its non-conference slate Dec. 28 when it hosts Vermont, which is coming off its fifth campaign with 26-plus wins in the last six years.
The Hurricanes' full non-conference schedule can be found HERE. A complete list of game times and television assignments for Miami's 2022-23 slate will be announced at a later date, as will its ACC schedule.
FULL 2022-23 NON-CONFERENCE SCHEDULE
Oct. 30: IUP (exhibition)
Nov. 7: Lafayette
Nov. 11: UNC Greensboro
Nov. 15: Florida A&M
Nov. 19: vs. Providence (Naismith Memorial Basketball HOF Tip-Off Tournament – Uncasville, Conn.)
Nov. 20: vs. Maryland/Saint Louis (Naismith Memorial Basketball HOF Tip-Off Tournament – Uncasville, Conn.)
Nov. 23: St. Francis Brooklyn
Nov. 27: at UCF
Nov. 30: Rutgers (ACC/Big Ten Challenge)
Dec. 7: Cornell
Dec. 17: St. Francis (PA)
Dec. 28: Vermont
To keep up with the University of Miami men's basketball team on social media, follow @CanesHoops on Twitter, Instagram and Facebook.