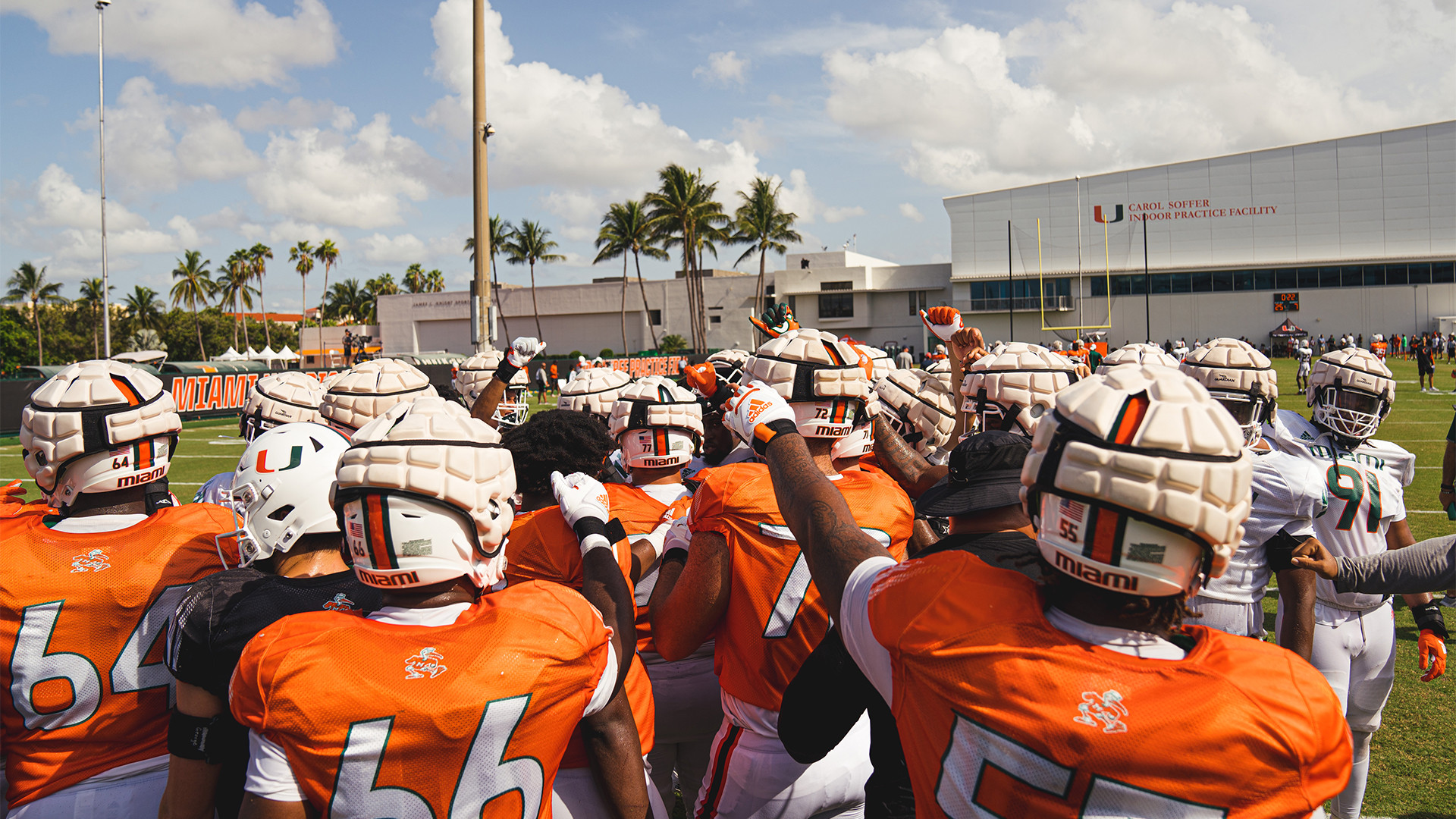 CORAL GABLES, Fla. – It is a moment that has played out here so many times over the years.
The Hurricanes had just wrapped up a practice – their first of the new season in full pads – when the past and present collided on Greentree in the most meaningful of ways.
Former Miami cornerback Tolbert Bain made his way to current Miami running back Donald Chaney Jr., patted him on the back and offered a few words of encouragement and advice.
And Chaney walked away from their brief interaction with a smile – and plenty of gratitude.
For him and so many of his teammates, the opportunity to catch up with some of the players who built Miami into a college football powerhouse isn't one they take for granted.
"There's an unbreakable bond within the UM community. This bloodline can never be broken, no matter who you are or where you are. We're one big, happy family," Chaney said. "I was so happy. He came up to me just now, telling me all these good things, all these good things about the running backs and the team. And all he just said, we need to do even better tomorrow…Those players already filled the glass to where it needs to be. Now we've got to refill it again, to even higher standards."
Added defensive lineman Elijah Roberts, "They were talking to us, giving us little pointers, telling us what's good, what's bad and what we need to pick up, how they used to do things. And of course, you're going to listen. They won big games. They won championships. It's really a good thing to have them here."
While more than a few former Hurricanes players have made their way to Greentree in recent months, Thursday was particularly special, with Miami hosting its first Alumni Practice under new head coach Mario Cristobal, a Hurricanes football alum himself.
And as is often the case when Miami's former greats are on Greentree, there were plenty of handshakes, hugs and laughter – all while those greats kept an eye on the work happening around them.
Among the former Hurricanes players at Thursday's practice were Heisman Trophy winner Gino Torretta, four-time Pro Bowler Jeremy Shockey, former national champion and eight-year NFL veteran Vernon Carey, and two-time national champion Brian Blades, among others.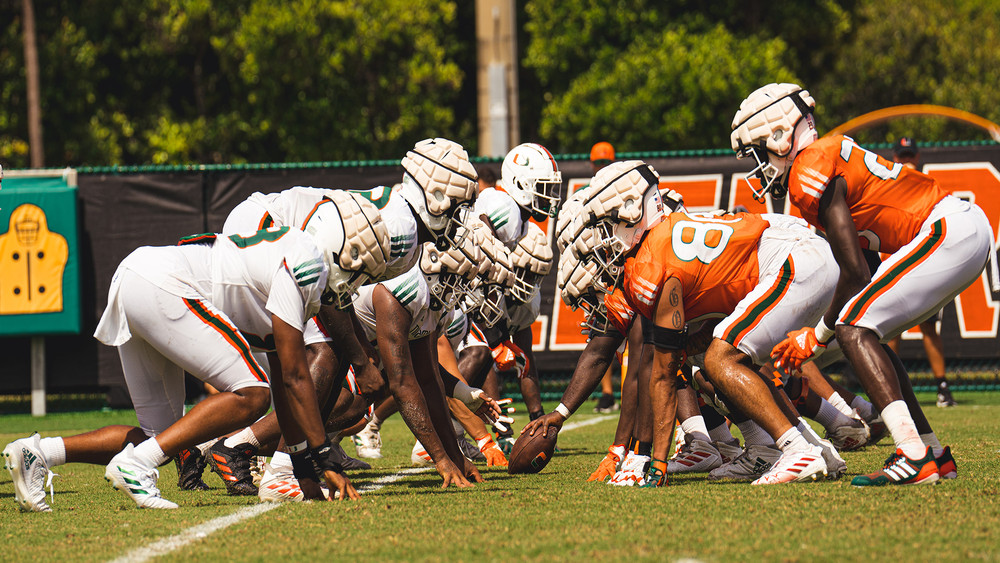 They watched as quarterback Tyler Van Dyke, last season's ACC Rookie of the Year, connected with his receivers. They cheered a few of the big plays made by the Miami defense. And they paid close attention to the drills being run on both sides of the ball.
All of that – along with Cristobal's focus on discipline and detail – will help make a difference when the Hurricanes take the field this season, the former players said.
"I'm just so happy to see them competing the way Mario has them competing, the whole coaching staff. They're doing a great job," Bain said. "We're on the right track."
But it's not just Cristobal's knowledge of the game and attention to detail that will make a difference, Bain added.
That Cristobal understands the kind of work it takes the achieve the ultimate success in college football and that he knows the richness of Miami's tradition are key, too.
"It's special when it's a former player. And he was a high-intensity player. He coaches the same way he plays," Bain said. "You love to see that. He holds every kid accountable. He holds every coach accountable. And that was exactly like it was when I came in under Howard [Schnellenberger] and played under Jimmy [Johnson]. Both of those guys were intense and they wanted you to be intense, 100 miles per hour and it's just a beautiful, beautiful thing to see. Everybody's happy. Everybody's excited."
Added Torretta, who played alongside Cristobal, "He's lived it, breathed it…I remember seeing him at Deli Lane when he became a [graduate assistant] and he was kind of putting together his plan and his plan was to rise up the ranks in coaching. I think anybody that plays, they love their alma mater and you think 'In the right situation, I'd love to go back there and coach there' and he had a plan a long time ago to be a great coach and it's coming to fruition."
For Torretta and the rest of the former Hurricanes, Thursday's practice was an opportunity to see one of their own leading the charge on Greentree. And a chance to remind the next generation of Hurricanes what they're capable of doing during their time at Miami.
The Miami brotherhood was on full display and players both past and present embraced it.
"It means a lot that they're here. It means a lot. That's how it should be, especially when you have a program that's as rich as ours," said Hurricanes cornerback Al Blades Jr. "We're able to come off the field and get tips and tricks not only from guys who did it, but guys who dominated at it. It really does mean a lot, for sure."