Susan and Stephen Symons Pledge $1 Million Gift to Miami Basketball
CORAL GABLES, Fla. — The University of Miami announced Tuesday that Miami alumnus Stephen Symons and his wife, Susan, have pledged a $1 million gift towards renovating the current Watsco Center Multi-Purpose Room into a new, state-of-the-art training facility for Hurricanes men's and women's basketball.
In recognition of his gift the facility will be named the Susan and Stephen Symons Basketball Training Facility.
"We are incredibly grateful to Susan and Stephen for this generous gift," Vice President/Director of Athletics Dan Radakovich said. "The Susan and Stephen Symons Basketball Training Facility will be a game-changer for our rising basketball programs and our student-athletes will benefit from this state-of-the-art facility for years to come."
The new facility will cover more than 7,500 square feet and include a strength and conditioning room, recovery area, nutrition bar and office space for support and medical staff.
"On behalf of the entire Miami men's basketball program, I want to express our immense gratitude and appreciation to Susan and Stephen for this transformative gift," men's basketball head coach Jim Larrañaga said. "This new facility will help elevate our program to an even higher level and we cannot wait to use it to its fullest potential. It will provide tremendous value to our hard-working student-athletes, helping them excel on the court and pursue their goals."
"I cannot express how grateful the University of Miami women's basketball program is for the generosity and dedication shown by Susan and Stephen," women's basketball head coach Katie Meier said. "Elite performance on the basketball court is driven not only by strength and conditioning, but also through recovery, nutrition and medical care. This new, state-of-the-art facility will encompass all those areas, transforming the way our student-athletes train to compete at the highest level."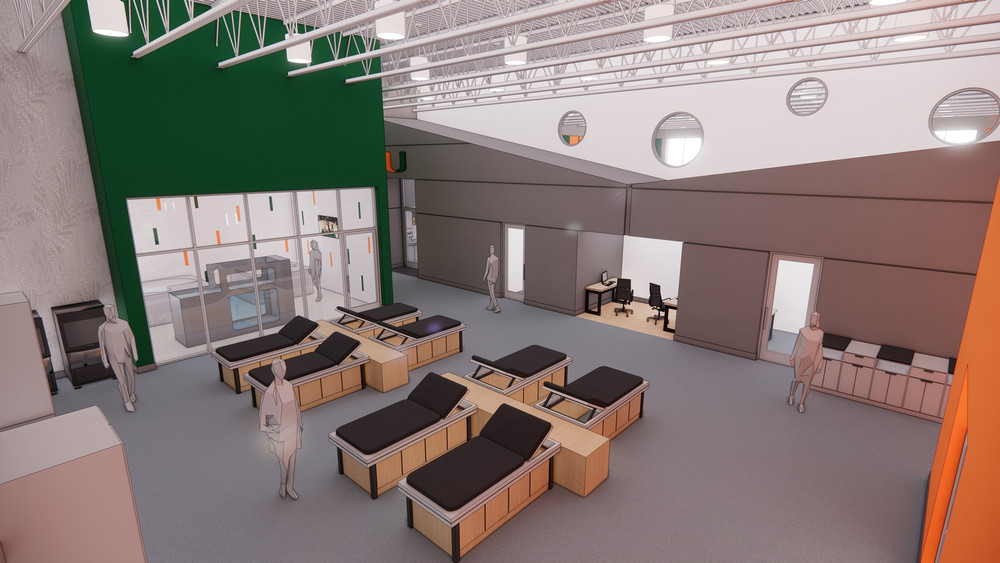 The Symons live in Harrisburg, Pa., and Ft. Lauderdale, Fla. Stephen graduated from Miami's College of Arts & Sciences in 1966, and their granddaughter Elinor graduated from UM this past spring. Stephen is a member of the Golden Canes and a longtime football and basketball season ticket holder.
"The University of Miami is a big part of some of the happiest experiences and memories of my life so far," Symons said. "And now as my granddaughter is a proud alum of The U and heads to Los Angeles to pursue her master's degree in fine arts at the American Film Institute, I can assure everyone that the University of Miami will be a big part of some of the happiest experiences in my future. I met Susan in 1964 at The U and we are very proud and very grateful to be able to support sports programs that add so much value to the college and alumni experience. Go Canes!"
For more information on how to make a gift in support of Miami Athletics, call the Hurricane Club at (305) 284-6699 or visit miamihurricanes.com/hurricane-club.