Miami Adds Transfer Latasha Lattimore to 2022-23 Roster
CORAL GABLES, Fla. – The University of Miami women's basketball team gained a new addition Wednesday, as head coach Katie Meier announced the signing of transfer Latasha Lattimore .
A 6-foot-4 forward, Lattimore joins the Hurricanes after spending her freshman season at the University of Texas. Lattimore played in 32 games with the Longhorns and earned her first collegiate start at Princeton on Dec. 22, 2021.
"When Tasha Lattimore agreed to join our Miami family, we felt like it was another huge boost for our upcoming season," Meier said. "She is long, athletic and super excited about learning and advancing her game."
The forward averaged 3.2 points and 2.8 rebounds in 10.3 minutes of action per game in 2021-22. In statistics per 40 minutes played, Lattimore averages a double-double with 12.5 points and 10.8 rebounds.
Lattimore totaled three double-digit games while at Texas, highlighted by a double-double performance (12 points, 10 rebounds) against Idaho. She helped the Longhorns to the 2022 Big 12 Championship title and the NCAA Tournament Elite Eight.
"Tasha is really going to help us in our multiple defenses and in our ability to play with pace and space," Meier said. "She is an amazing young woman and has been so much fun to get to know."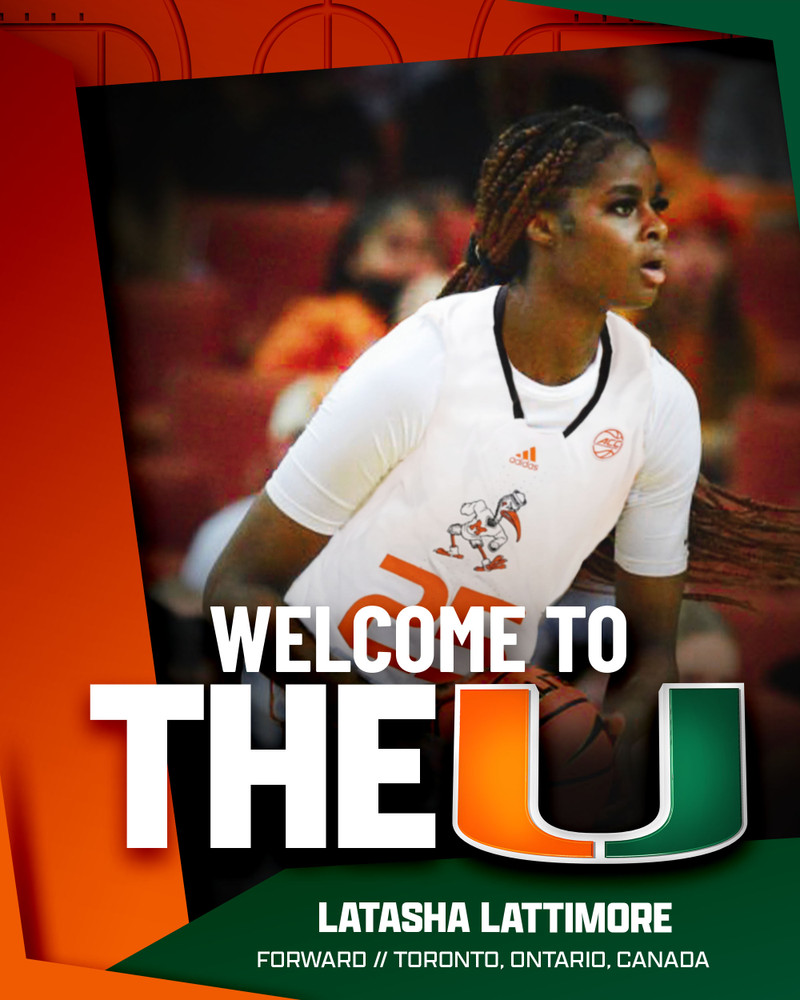 A four-star prospect coming out of high school according to ESPN, Lattimore was ranked the No. 38 player in the class of 2021 and the sixth-best forward by espnW HoopGurlz. She was also the top-ranked Canadian player in the class per ESPN.
The Toronto native helped guide Crestwood Prep to back-to-back OSBA Championships and averaged 16.9 points, 9.3 rebounds and 1.9 blocks per game during her junior season. Lattimore's senior season at Royal Crown Academic School was not played due to the COVID-19 pandemic.
A highly-regarded Canadian player, Lattimore was invited to the Team Canada U19 team trials, but was unable to participate due to an ACL injury sustained earlier that year.
Lattimore rounds out the No. 12 class in the nation, according to ESPN, which includes McDonald's All-American Kyla Oldacre, the No. 30 recruit Lazaria Spearman, 2021 Mountain West Player of the Year Haley Cavinder and two-time All-Mountain West honoree Hanna Cavinder.