Looking for a Historic Finish
Debbie Ajagbe found one of her life's passions practically by accident.
The fifth-year Hurricanes thrower concedes she wasn't exactly the most athletically-inclined kid. But she tried her hand at a few team sports during middle school and followed her older sister onto the volleyball court.
Ajagbe also tried out for her school's basketball team, but didn't make the squad. With guidance from her brother – a runner – she decided to join the school's track team to improve her conditioning and prepare for the next round of try-outs.
After one memorable track practice, she jokingly picked up a shot put and asked her coach what it was before nonchalantly throwing it back to the ground.
"The assistant coach was like 'You're going to throw that' and I said 'Why? I want to be a sprinter. I don't want to throw anything,'" Ajagbe recalled with a laugh. "She was like 'No, trust me. You're going to throw and you're going to be great.'"
That coach, it turns out, wasn't wrong.
This week, Ajagbe – one of the most decorated throwers in Miami history – will join eight of her Hurricanes teammates at the NCAA Track & Field Championships in Eugene, Oregon where she will compete for not one, not two, but three national titles.
She is one of just two throwers nationally to qualify for the national championship in all three events – the shot put, discus and hammer throw. And if Ajagbe is able to put together the kind of performance she believes she is capable of, she could cap her Miami career in historic fashion.
Not bad for someone who jokingly referred to herself as "a really unathletic kid."
"I'd say the emotional aspect is not going to hit me until I'm in Eugene, but mentally, I feel good about making it in three events," Ajagbe said. "It shows that since Covid happened, this is what I've been building toward. I didn't know I was going to make it in all three events, but my marks were consistent…That made me feel accomplished as a thrower. I just want to continue that into nationals, but of course, everything about track and field is what happens on the day.
"I'm just hoping for great days on my competition days. But I feel very accomplished and proud of myself. It wasn't easy to get to this point."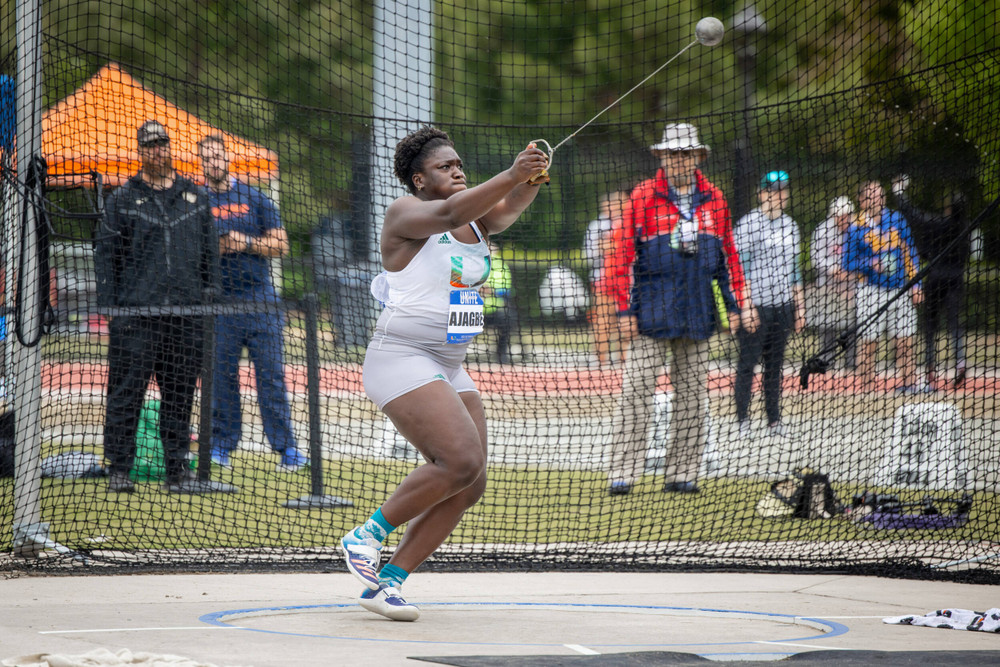 Ajagbe's time at Miami has come with its share of highs and lows.
As a freshman, she was a member of the Hurricanes' 2018 team that won the women's ACC Outdoor Track & Field Championship and qualified for nationals in her first year as a collegian.
She improved her marks consistently and in 2020, had a lifetime best throw of 16.80m to win the shot put title at the ACC Indoor Championships.
Ajagbe garnered the ACC Field Performer of the Year that year and was poised to again compete for a national title when her season – and the world – were turned upside down.
That March, she and several of her Miami teammates were in Albuquerque, New Mexico for the NCAA Indoor Track & Field Championships when college sports were shut down around the country because of the COVID-19 pandemic.
Ajagbe and the Hurricanes lost their ensuing outdoor season and for months, the thrower wasn't able to compete. Practice opportunities were limited and even school changed form for the mechanical engineering major, with Miami pivoting to online classes for the remainder of that semester.
It was a brutal stretch during which Ajagbe – like many people across the country and the globe – struggled. But it was a time that taught her to appreciate her sport and all the opportunities that came with it.
"I think in a lot of ways, throwing had become a lifestyle that, in a way, I took for granted. Not everyone gets to compete. Not everyone gets to be a D-1 athlete. To have that taken away from me really gave me perspective," Ajagbe said. "I know I'm more than just an athlete, but I didn't realize how much being an athlete meant to me."
Once she was able to get back to competition, Ajagbe threw herself into the work needed to continue improving on her marks.
Last month, she threw a personal best 66.25m in the hammer to break her own school record. Her 16.50m throw in the shot put qualified her for nationals, as did her throw of 52.74m in the discus. And she was a part of the Hurricanes team that won the women's ACC Outdoor Championship.
Her success at Miami hasn't been limited to competition either.
Earlier this year, Ajagbe earned her master's degree and she was honored during Miami's Celebration of Women's Athletics for her work in both the classroom and the community.
When she returns from competing in Eugene, she'll step into a new career with an engineering firm in Miami, though she hasn't ruled out continuing to throw, if she can balance it with her work.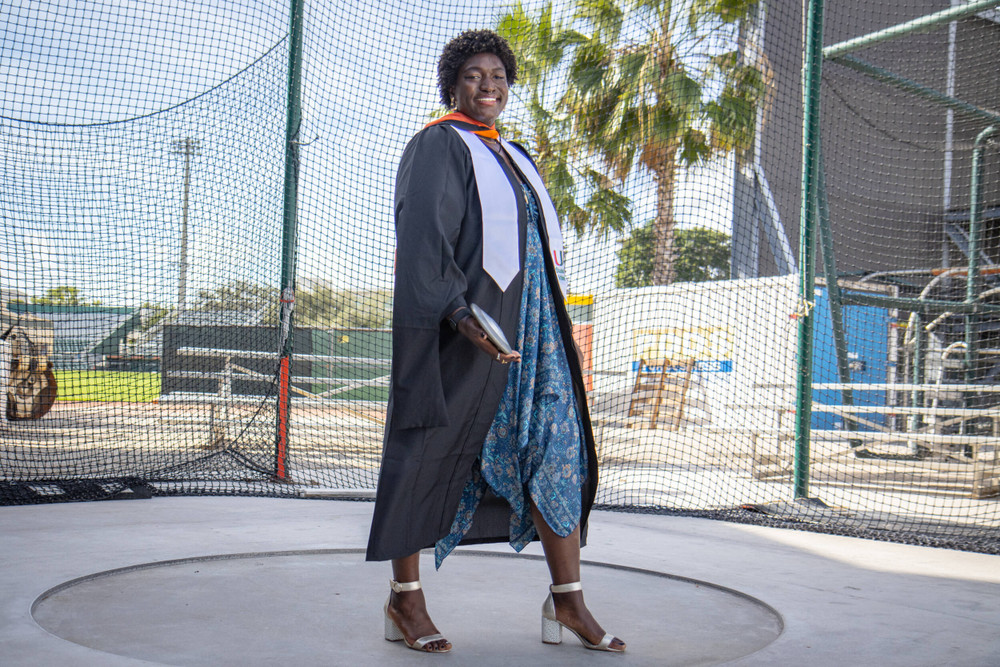 If she were able to make that work, those who know her best say it wouldn't be a surprise.
"She's really grown as an individual and as a person on and off the track," said Amy Deem, Miami's Director of Track & Field and Cross Country. "She was on a roll, had that big ACC indoor meet [in 2020] and then Covid [happened]. To work her way back, to put herself in a position to be in three events at the NCAA Championship just speaks to her determination and perseverance…She truly is a student-athlete. She has the academic honors. She's graduating with a master's degree in engineering. She's an All-American athlete. She's an ACC champion…She's very involved with Student-Athlete Advisory Committee. She's been out in the community. She's the epitome of a true student-athlete."
Said Ajagbe of her Miami experience, "I don't think I'd be the person I am today if I did not throw at UM. I don't think I would have stayed in the same progression in my results. I think I would have had a different attitude toward throwing. And it's about the people as well. In terms of community, I love all the people that I've met these past five years. I really appreciate my coaches. I really appreciate my teammates and the way they support me, the way we support each other…My Canes family pushed to do my best and pushed me to know that I can do anything and I'm capable of things…I would not change a single thing about my college career."
Ajagbe won't be the only Hurricane bidding for a national title this week.
Also competing at this week's national championship meet are sprinter Alfreda Steele, who qualified in the 100-meter dash and Moriah Oliveira, who qualified in the 400-meter dash.
On the men's side, Isaiah Holmes – the ACC Men's Indoor Field Performer of the Year – qualified in both the long jump and the high jump, while Russell Robinson – the ACC triple jump champion – qualified in both the triple jump and long jump.
Ayman Zahafi qualified in the 800-meter run, while Jeff Williams will compete in the discus. And Decio Andrade – who transferred to Miami after winning a Division II national title in the hammer throw at San Angelo College – will be looking for the second national championship of his career, this time at the NCAA's biggest meet.
"They're all very capable of making the finals," Deem said. "They're all ready to run, throw and jump at a level to get them into the finals."
Added Holmes, "I'm ready to give it everything I've got…leave it out there at the national championships. I've had my sights on a trophy for many years now. I think it's about time to come home with one."