Achong and Richardson Named ITA All-Americans
CORAL GABLES, Fla. – Daevenia Achong and Eden Richardson of the University of Miami women's tennis team are officially 2022 ITA All-Americans, as announced Monday afternoon.
The duo clinched the distinction by reaching the NCAA Doubles Championship quarterfinals. Achong and Richardson eventually went all the way to the national final, the third Miami pair to ever do so, and finished as the NCAA runners-up.
In addition to make the national title match, Achong and Richardson finished sixth in the ITA rankings, the best year-end position for a Miami doubles duo since 2014.
The pair logged a tremendous 29-11 record, including a 21-8 mark in the spring and a 15-7 ledger atop the lineup. The duo went 11-5 versus ranked foes, including 5-3 versus top-15 tandems, and tallied three top-10 victories.
Achong and Richardson form the first Miami doubles pair to claim ITA All-America honors since Stephanie Wagner and Wendy Zhang in 2016.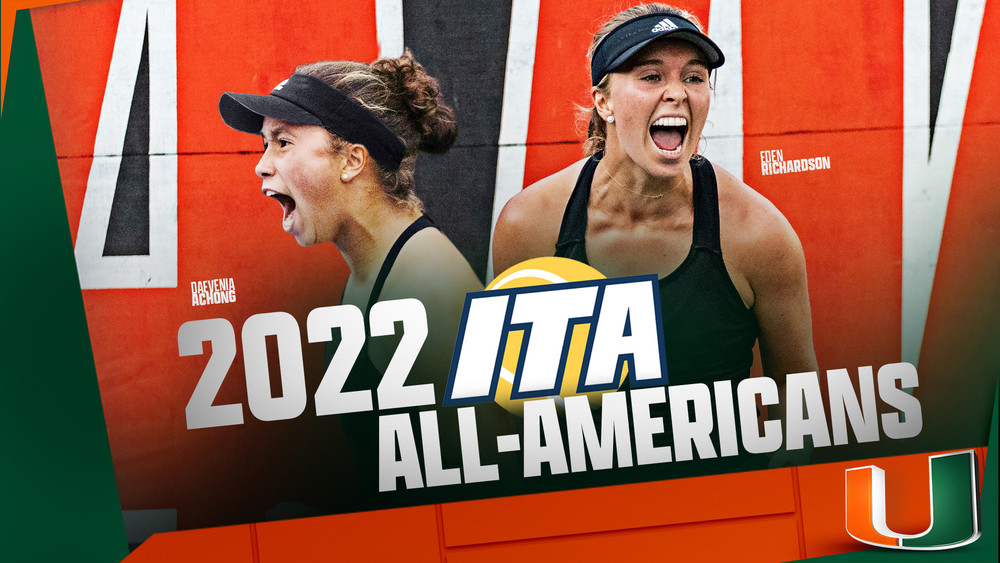 Richardson now owns three ITA All-America designations, as she made the cut in doubles in 2018 and in singles 2019, both during her career at LSU. It is the first time Achong has claimed the elite status.
This is the ninth consecutive year at least one Hurricane claimed ITA All-America plaudits, a streak that dates back to 2014. It is the fifth time during that stretch multiple Miami players made the list.
The Hurricanes have now been represented on the ITA All-America list in 18 of the past 19 years, dating back to head coach Paige Yaroshuk-Tews' third season in 2004.
Achong and Richardson are the 30th and 31st individuals in program history to earn ITA All-America distinctions, which were first awarded on the women's side in 1982-83. Their accolades are the 70th and 71st overall, including the 33rd and 34th in doubles. They also form the 13th unique Miami pair to claim the honor.
The full list of ITA All-Americans, in both singles and doubles, is available HERE. A total of 30 singles players and 15 doubles pairs, seven of which are from the ACC, made the cut.
To keep up with the University of Miami women's tennis team on social media, follow @CanesWTennis on Twitter, Instagram and Facebook.