Ajagbe Qualifies for NCAA Outdoors in Two Events; Four Canes Advance at NCAA East Prelims
BLOOMINGTON, Ind. – Debbie Ajagbe qualified for the NCAA Outdoor Track & Field Championships in both the hammer throw and shot put Thursday on the second day of the NCAA East Preliminary at Indiana University's Haugh Track & Field Complex.
Meanwhile, four members of the Canes women's team advanced to Saturday's final round of qualifying on the track, led by Kayla Johnson, who posted the best time of the first round of the 800 meters, running a season-best 2:04.20.
"I thought we did a really good job," Director of Track & Field/Cross Country Amy Deem said. "Debbie qualifying in two events — to continue to be strong at the end of her last collegiate season I am really proud of her and her energy. Kayla ran one of her best strategic and gutsy races to get through to the next round. We are in a good position. We just have to step up and execute on Saturday."
Ajagbe, who broke a 17-year-old school record in the hammer at the ACC Outdoor Championships just two weeks ago, set the record again with a personal-best throw of 66.25m. That throw was good for seventh place, which clinched her spot at NCAA outdoors in Eugene, Ore., which start June 8. Ajagbe closed the day with a throw of 16.50m in the shot put to punch her second ticket to nationals.
Moriah Oliveira, the ACC champion in the 400m, qualified for the next round with a time of 52.21. Jacious Sears and Alfreda Steele each advanced to the next round of the 100m, and Steele also qualified in the 200m, running 22.91.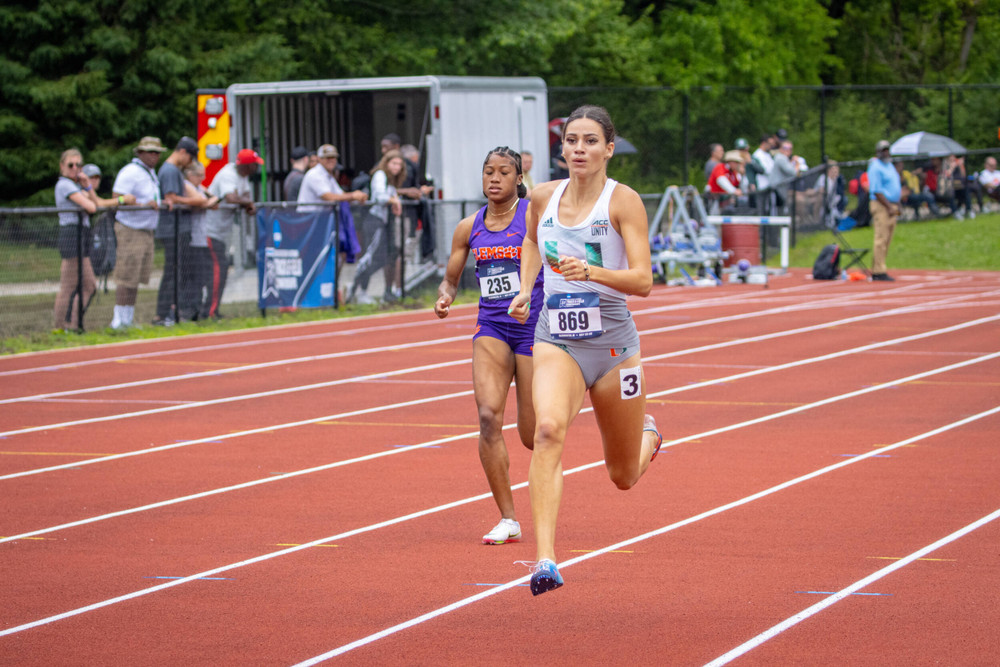 Kennedy Brace (400m), Selina Dantzler (shot put), Hannah-Sophia Hall (shot put), Lauryn Harris (100m hurdles), Erikka Hill (javelin), Daphnee Lavassas (10,000m) and Natalie Varela (800m) also competed for the Canes.
"I'm proud of Daphnee," Deem said. "She didn't advance but ran a gutsy race and to come in here and improve so much — she's got a bright future."
The NCAA East Preliminary continues Friday as the men return to the track, starting at 1 p.m. with the discus.
"I think we're going to have a really strong showing," Deem said. "The guys are performing with a lot of confidence."