Three Canes Earn NCAA Outdoor Berths on Day One of East Prelims
BLOOMINGTON, Ind. – Three members of the Miami men's track and field squad punched their tickets to the NCAA Outdoor Track & Field Championships Wednesday on the opening day of the NCAA East Preliminary at Indiana University's Haugh Track & Field Complex.
Décio Andrade (hammer throw), Isaiah Holmes (long jump) and Russell Robinson (long jump) each qualified in their respective events for the national meet, which will take place from June 8-11 in Eugene, Ore.
"The most important thing is to keep advancing and then anything can happen," Director of Track & Field/Cross Country Amy Deem said. "I think between Decio, Isaiah and Russ they really set the tone for the weekend."
Andrade finished fifth in the hammer throw competition with a throw of 68.72 meters to earn his spot in Eugene. e is a former NCAA Division II hammer throw champion, winning the title in 2019 and finishing runner-up last year while competing at Angelo State.
Robinson and Holmes finished 10th and 11th, respectively, in the long jump to qualify. Robinson jumped 7.59m while Holmes posted a top jump of 7.56m. This is Robinson's first trip to NCAA outdoors. Holmes competed at NCAA outdoors in 2021 in the high jump.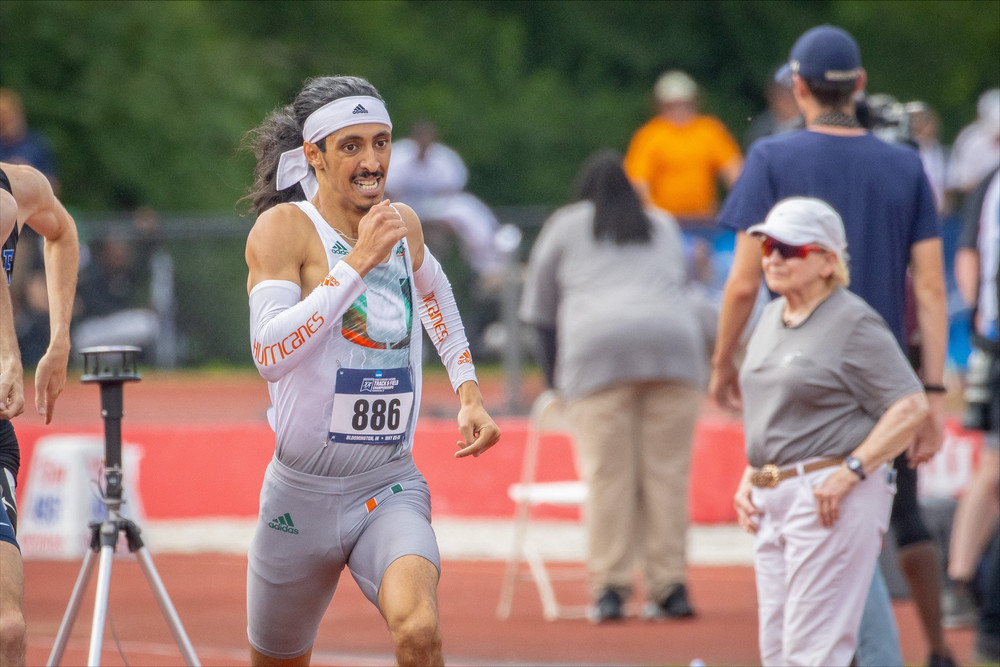 Ayman Zahafi and Oskars Bambals each advanced in the 800 meters. Zahafi finished first and Bambals finished second in their respective heats to earn the auto-bid to the next round, which will take place Friday.
"I thought Ayman and Oskars ran really well, too, and put themselves in position," Deem said. "On Friday with the men we've got the triple jump, the relay and then Oskars and Ayman in the 800. I'm really excited about where the men are."
Sincere Rhea (110m hurdles), Solomon Strader (400m) and Jeff Williams (shot put) also competed for the Canes Wednesday.
The NCAA East Preliminary continues Thursday as the women take the stage for the first time, starting with the hammer throw at 10 a.m. Miami's women's team has 17 competitors in Bloomington.
"Tomorrow is a big day for us," Deem said. "The biggest thing is to go in and attack it and run with confidence. We started out well at ACCs on Thursday and hopefully we're in a position where we can set the tone, be patient and execute our races. I think everyone can advance tomorrow."