Trio of Hurricanes to Attend National Team Trials
CORAL GABLES, Fla. – The University of Miami women's basketball team will be well-represented at national team trials this summer as rising senior Lola Pendande and incoming freshmen Kyla Oldacre and Lazaria Spearman will vie for spots on the Spanish and U.S. national teams, respectively.
Pendande will travel back to her home country of Spain to participate in the Spanish Women's National Team's 'Road to the Future Tour.' The tour consists of four games against the teams of Belgium, Italy and Slovenia.
The team will meet on May 24 to prepare for its first set of games in Melilla, Spain, against Italy (June 1) and Belgium (June 3). The third and fourth games will take place after another week of training against Slovenia (June 18) and Italy (June 19) in Cividale del Friuli, Udine, Italy.
The goal of the trainings and games is to solidify a group to compete on the international stage for Spain.
Pendande finished her first season with the Hurricanes averaging 7.0 points and a team-leading 4.9 rebounds per game. Pendande shot a team-best 52.9 percent from the field and was the only Miami player to total 20-plus blocks and 20-plus steals in 2021-22.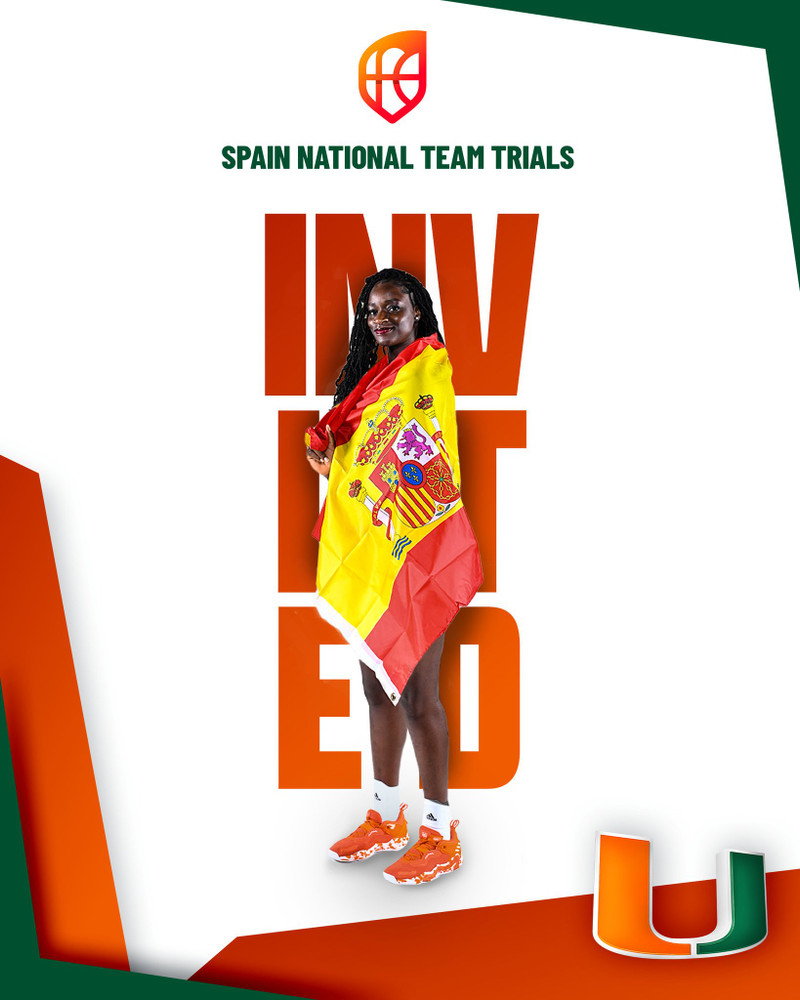 Closer to Miami, Oldacre and Spearman and will attend the 2022 U18 National Team Trials beginning on May 31. The trials are held at the U.S. Olympic & Paralympic Training Center in Colorado Springs, Co., and will last for five days.
Should they make the team, Oldacre and Spearman will compete alongside their fellow Americans at the FIBA Americas U18 Championship in Tijuana, Mexico, beginning on June 6. The FIBA Americas U18 Championship features eight national teams from North, South and Central American and the Caribbean.
The final team for the U18 Championship will be decided at the conclusion of team trials on June 4.
Oldacre and Spearman make up the best recruiting class in Miami women's basketball history, checking in at No. 13, according to ESPN. A 6-foot-6 center, Oldacre played in the 2022 McDonald's All-American Games as the No. 25 recruit in the country, while Spearman, a versatile forward/guard, is ranked No. 30 by espnW HoopGurlz.