Preston Greene Tabbed MBB Strength & Conditioning Coach
CORAL GABLES, Fla. – University of Miami head men's basketball coach Jim Larrañaga announced Thursday the hiring of Preston Greene as the program's new strength & conditioning coach.
Greene possesses 27 years of experience, including working with men's basketball programs at Power Five institutions for the last 14. He most recently spent 11 seasons at the University of Florida.
"First and foremost, I want to thank Jim Larrañaga for the opportunity to come work at such a prestigious institution with a top-notch basketball program," Greene said. "I'm grateful to him for his confidence in my abilities and I'm so excited to be here at the University of Miami. I look forward to working with our players to help get them in the best possible shape to perform at the absolute highest level. My goal is to put them in prime position to succeed every single time they take the court and will do everything in my power to make that happen."
From August 2011 until his hire at Miami, Greene served as the director of strength and conditioning at Florida, primarily working with men's basketball, while overseeing the men's golf and men's tennis strength efforts. The first five years came under the direction of two-time NCAA champion head coach Billy Donovan.
Over Greene's 11 years in Gainesville, Fla., the Gators went 249-127, averaging over 22 wins per season. Florida made the NCAA Tournament seven times, winning at least one game in each appearance and advancing to four Elite Eights in a six-year span. That stretch included a spot in the 2014 Final Four during a tremendous 36-3 (18-0 SEC) campaign.
Greene aided the Gators to the SEC regular season crown in 2013 and 2014, as well as the SEC Tournament trophy in 2014. He coached multiple future NBA players including Bradley Beal, a three-time All-Star, and Dorian Finney-Smith. Greene also heavily advised the design efforts of Florida's 2015 basketball weight room renovation.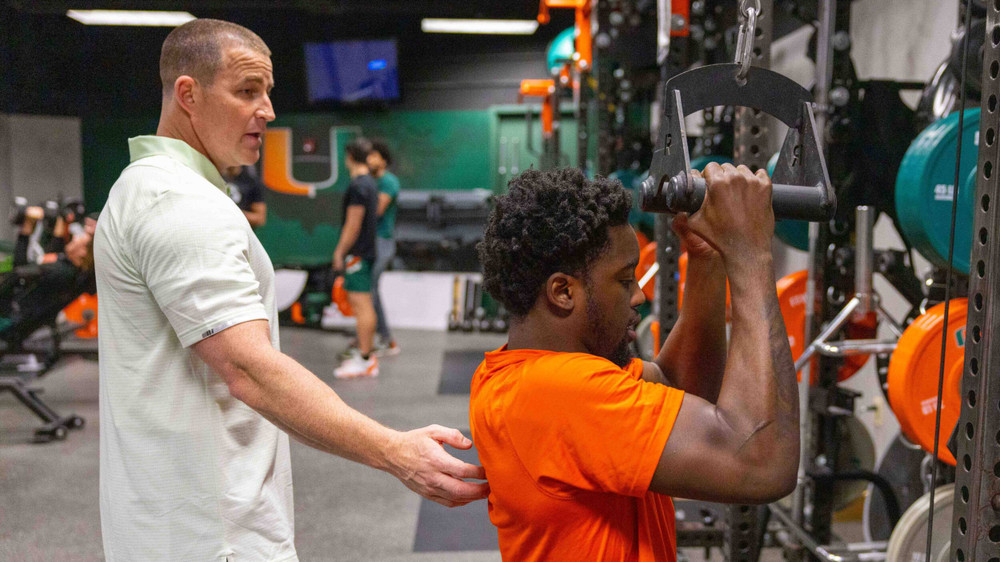 Before going to Florida, Greene worked as the head basketball strength & conditioning coach at Clemson University for two years. Serving under a different coach each season, Greene aided the Tigers to a pair of 20-win campaigns, a 43-23 overall record and two NCAA Tournament bids.
"Preston Greene is one of the most well-regarded individuals in the strength & conditioning industry. His resume, quite simply, speaks for itself," Larrañaga said. "Preston is an expert in his craft with decades of experience working with high-level collegiate basketball players, leading them to myriad successes. He is also already familiar with both the state of Florida and the ACC from his past stops. We're thrilled to have Preston join our program and know he will have a significant impact on our players."
In 2008-09, Greene was the head men's basketball performance coach at Stanford University. The Cardinal went 20-14 and reached the CBI semifinals in Johnny Dawkins' first year at the helm.
Greene got his start in men's basketball during a five-year stint, 2003-08, at the University of North Carolina at Charlotte, where he also aided the men's golf team. During his time in the Queen City, the 49ers logged four postseason berths, three 20-win seasons, two NCAA Tournament trips, one Conference USA regular season title and an overall record of 95-60.
In January 2001, Greene got his first full-time job at the University of Arizona, where he worked for two-and-a-half years as an assistant strength, speed and conditioning coach. Primarily responsible for women's basketball and women's soccer, Greene also aided with football, as well as directed the department's nutrition and supplementation program.
Greene got his master's degree in applied kinesiology and sports management from the University of Minnesota, where he worked as a graduate assistant in 1999-2000, assisting with the Gophers' football and men's hockey programs.
A 1999 graduate of Clemson with a degree in health science, Greene served as student and graduate assistant coach with the Tigers. He spent time there with the football, men's golf, women's soccer, men's tennis and women's volleyball programs.
Greene has contributed to multiple publications, including Digger Phelps' third edition of "Basketball for Dummies" and Stanford's "The Effects of Sleep Extension on the Athletic Performance of Collegiate Basketball Players" study. In addition, his first-year work with the Gators was featured on the cover of Bigger, Faster, Stronger magazine, while his 2019 efforts were profiled on ESPN's "Gymratts" show.
A native of Peachtree City, Ga., Greene holds numerous certifications, including from the National Strength & Conditioning Association and the National Association of Sports Medicine. A co-founder of the Eleiko Strength Summit, he is also certified in AED/CPR, brain performance, facial abrasion technique, flexibility specialization and neuromuscular facilitated stretching.
To keep up with the University of Miami men's basketball team on social media, follow @CanesHoops on Twitter, Instagram and Facebook.