No. 30 Miami Closes Out Regular Season on the Road
CORAL GABLES, Fla. – The No. 30 University of Miami men's tennis team hits the road for its final two ACC matches of the regular season this weekend, taking on No. 58 Georgia Tech and Clemson on Thursday and Saturday, respectively.
The Hurricanes (14-8, 3-7 ACC) look to return to the dominant doubles form they displayed against Virginia Tech, where they notched 6-3 and 6-1 victories on courts two and three, respectively, to confidently secure the doubles point against the Hokies.
First singles mainstay, Dan Martin, who cracked the ITA top-125 this week at No. 85, will also look to continue his win streak after earning two singles wins on the weekend, including an impressive victory over No. 35 Inaki Montes de la Torre of Virginia.
Martin will enter Thursday's match as the ACC Player of the Week after going 4-0 in singles and doubles action against the teams from Virginia.
The Hurricanes will face Georgia Tech (8-11, 3-7 ACC) on Thursday at 5 p.m. in Atlanta. The Yellow Jackets' last victory against an ACC opponent came on March 25 when they defeated Boston College.
Compared to the Hurricanes, the Georgia Tech roster is significantly younger as it does not feature a single senior. The Yellow Jackets have the nation's eighth-ranked doubles pair in redshirt sophomores Andres Martin and Marcus McDaniel. Martin is also tabbed as the No. 79 singles player.
The Hurricanes hold a 38-13 series edge over the Yellow Jackets but will look to avenge a loss in last year's ACC Tournament.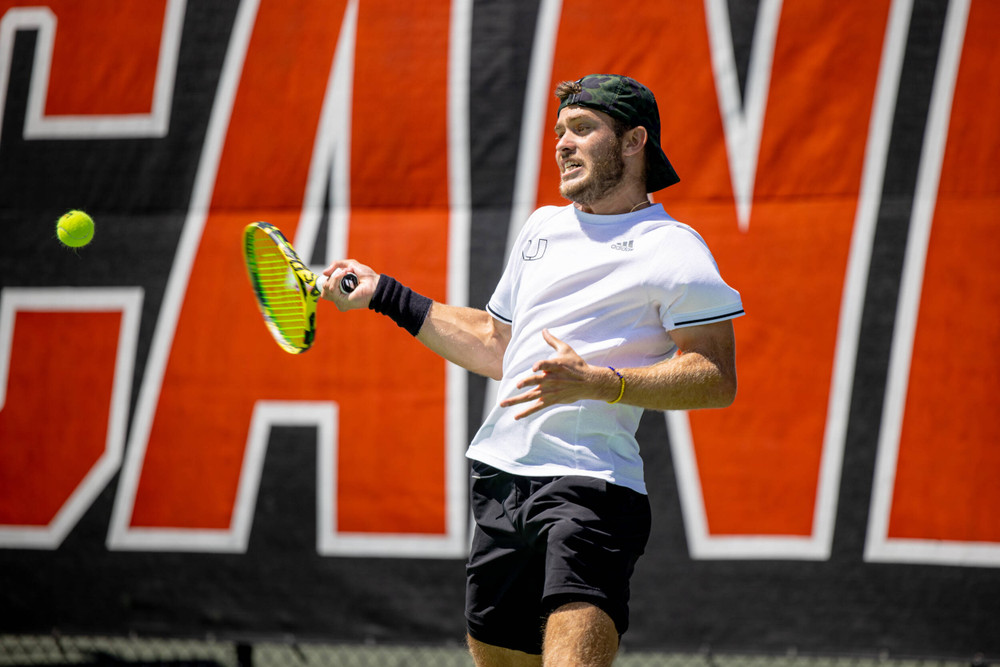 The action will continue into the weekend for the Hurricanes, who will travel to Clemson, S.C., on Saturday to face the Clemson Tigers (10-12, 1-9 ACC).
The Tigers have dropped four straight matches with their last home victory coming against Elon on March 27. Clemson's roster is highlighted by the 89th-ranked doubles duo of Ryuhei Azuma and Teodor Giusca.
The Hurricanes and the Tigers have already squared off once before this season at ITA Kick-off Weekend in Waco, Texas. Miami came away with the 4-1 victory, with singles wins from Martin, fifth-year senior Benjamin Hannestad and fourth-year juniors Oren Vasser and Juan Martin Jalif. The Hurricanes also tallied the doubles point in the January win.
Miami and Clemson sit tied in the all-time series at 29 matches apiece heading into Saturday's match. First serve at the Duckworth Family Tennis Center is set for 12 p.m.